Applying is easy! It only takes 5 minutes without a CV
Montreal warehouse clerk
Whether you're a student or looking for a new career, we're waiting for you!
Québec warehouse clerk | Student
Are you currently at school and going to be in the fall?

Salary is $23,09/hr when hired and will reach $24.65/hr once you pass your probation. Premiums are offered. Applicable as per the collective agreement. Learn more

A positive workplace with attractives benefits
Benefit from professional training, a cafeteria, social committee events, a million square feet of air-conditioned workspace, free parking, a group insurance program, a defined benefit pension plan and much more!

Join one of quebec's most respected institutions, an organization that puts social responsibility at the centre of its initiatives.
Handle product cases in accordance with productivity expectations
Use a forklift on a daily basis (Training offered as soon as you're hired !)
Be dedicated to provide quality work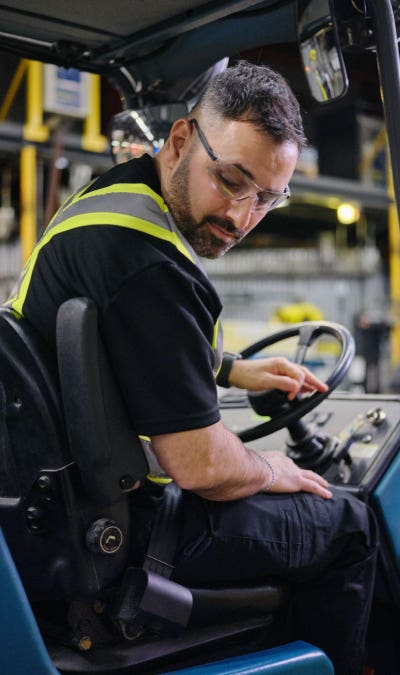 Capable of handling loads weighing around 38 lbs (17 kg)
High school diploma, vocational training or equivalent
Relevant physically demanding work experience
For the student position:
Proof of enrolement for the winter 2023 and fall 2023 semester.
Frequently asked questions
What is the job status?

To be a student warehouse clerk, you must be currently studying in an educational institution recognized by the Quebec Ministry of Education for the winter 2023 and fall 2023 semesters.

At the Quebec warehouse, we offer full-time schedules for students (38.75h/week).

At the Montreal warehouse, whether you are a student or not, we offer 30 HOURS GUARANTEED as soon as you are hired. Possibility of working up to 38.75 hours per week.

What is the salary ?

Where is the workplace located?

The SAQ operates two distribution centers: the Montreal Distribution Center which is located at 7500 Rue Tellier, Montreal, QC H1N 3W5 and the Quebec City Distribution Center which is located at 2900 Rue Einstein, Quebec, QC G1X 4B3. When you apply, you must choose the place that suits you according to the requirements.


What is the work schedule like?

Shifts are primarily evening, Sunday through Wednesday from 4:55pm to 2:10am and Thursday from 4:55pm to 9:40pm. BUT we also have needs for day and weekend shifts, so do be available!

What is the start date for this position?

We wish to hire you as soon as possible!

Will I hear back from the SAQ after submitting my application?

We thank all those who apply, but only those selected for an interview will be contacted.
Are you available to work at multiple stores in your area? Do you care about customer satisfaction and enjoy working in a team?

Read more