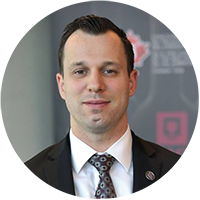 Pier-Alexis Soulière : winner of Quebec, Canada and Americas titles
It was on a rainy October morning that I joined him in the lobby of his hotel in Old Montréal for coffee and a chat. Pier-Alexis Soulière is one of the few to have obtained the title of Master Sommelier before the age of 30. His impressive career has led him to travel and realize himself all over the world. In preparation for his participation in the contest, he generously answered my questions.
1. How do you feel about representing your country for a second time?
In fact, when I won Best Young Sommelier in the World in 2014, I was representing Australia and my presence at the last World Cup was as Best Sommelier of the Americas, so it will be a first for me to represent Canada. I feel that I represent Canadian values such as hard work, respect, pacifism and social inclusion. There are incredible opportunities in Canada for the sommelier profession and Quebec has always been the leader in the field thanks to its hotel schools, the SAQ and an older know-how. My many trips within the country have allowed me to rub shoulders with talented individuals, which leads me to believe that Canada will become an extremely popular tourist destination in the coming years, for the pleasure of eating in a relaxed and friendly atmosphere.
2. Do you feel like you're perpetuating the work of your predecessors and the strong image of sommellerie in Quebec?
I have a lot of respect for the people who came before me. For me, the competition is only a formal way to express a know-how and is not an end in itself. Go see what is being done at Le Serpent restaurant, La Chronique or Le Monarque; none of their sommeliers entered contests, but I look at them all with extreme admiration. The contests are publicized, but the real work is done on the restaurant floor.
3. Is the fact that you have already been there an advantage?
It's a great experience for sure, but there are so many unpredictable factors, that you have to approach it differently. The Montréal Canadiens' training camp does not reward the best, but those who have met the team's standards. The Stanley Cup is no longer a question of standard, you have work hard to win it. No matter what people think of you, what you did before or will do after, it's the present moment that counts. I've already made the team, I'm the best sommelier in Canada, now it's up to me to get to the final and win. Very rarely in my life have I made the same mistake twice, that's how I was professionally trained, it's the "two-strike rule"... We don't have three chances.
4. Has the sommelier profession changed since you started?
The profession is above all based on French know-how, starting with an apprenticeship and companionship to then become an "ouvrier" (worker) and possibly an instructor. Today, we live in instantaneity, people want positions of responsibility quickly and I understand them. Young people are more educated and quick-witted, they don't want to burn themselves like many people have done in the past. They seek to understand and want to enjoy doing what they do. In my mentoring role, I try to focus on them first rather than trying to break them with a professional dictatorship. I have experienced psychological torture, in very high-end institutions, it's systemic and dangerous. I totally disagree with this military approach.
5. You have worked in several restaurants around the world, how would you describe the relationship of Quebec customers to wine?
Certainly open and, thanks to the SAQ, we are not chauvinistic. The Quebec clientele is curious and unapologetic about wine, because for them, wine is not cultural, but a celebration. When I see Quebeckers having a glass of wine, they do it to have fun. Opening a bottle is about sharing.
6. Do you have to work in the world's greatest restaurants to be best sommelier in the world?
Bern has a great hockey team in Switzerland, but it's not the Montréal Canadiens. This is where you will find the best players, coaches and facilities. When you go to work in Europe, in a big institution that has been around for a long time, it's like you're going to play soccer for Manchester United. If you haven't reached very high standards, you can't do or teach what you don't know. If you ask Pier-Alexis Soulière, the answer is no, but if you ask the jury members who have all been trained in this system, I cannot answer for them.
7. How do you see viticulture now in Quebec?
When I started, Quebec wine was not popular. Buses went to the Eastern Townships and left with cases of wine. Today, there are vineyards in Quebec that sell en primeur. The quality is better than it has ever been, but if you taste old Dietrich-Jooss wines (a Quebec vineyard from the early 2000s), the difference is not huge with what is done now. There are only more young people and dynamism. The wines that Les Pervenches made at the time were already very good, but Michael (the owner) was not able to sell them and, now, Marché Avril buys him pallets of wine. At every opportunity I have to travel and show something representative of Quebec know-how, I bring Frédéric Camy's wines. A guy from Lac-Saint-Jean, a tinkerer, an engineer who took risks to realize his dream and you know what? He made it!
8. What does first place change in the winner's life?
All the contestants are already at the top of their game. It's more of a confirmation day and, in the media, it makes people change their perception of you. What happens next is unique to each person. Olivier Poussier (winner in 2000), for example, started writing for La Revue du vin de France and Paolo Basso (winner in 2013) now selects wines for Air France.
9. If first place gave you the opportunity to open the bottle of your choice, which one would it be?
A magnum of Krug Grande Cuvée champagne, based on a 2002 vintage and which has been 10 to 15 years under the natural plug.
Because, for me, it's the greatest wine in the world.
Good luck Pier-Alexis, we're all behind you!