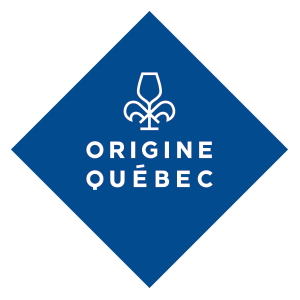 Madeleine and her brother took over the family business and continue to bring their off-the-wall sensibility to the venture, without veering away from sustainable agriculture and high-quality products. They currently manage a cheesemaking facility, which was their original project, as well as a vineyard and a distillery.
We met in the distillery, where they produce gin and eau de vie made of whey collected from the cheesemaking process. The distillery contains seven large tanks that Madeleine named after the members of S Club 7, a pop group and TV show from the '90s. Our conversation kicked off next to Tina and Bradley.
Their alcohols are sold under the label Charlevoyou and one of my first goals was getting to the bottom of this intriguing name.
Where does the name "Charlevoyou" come from?
"We knew we wanted to do things seriously, but we didn't want to take ourselves too seriously. It all started with the vineyard. We didn't want to have 'estate' or 'château' in the name—we wanted something a bit more unconventional. That's when we settled on Charlevoyou. It was originally an inside joke with my parents. My dad had cheekily mentioned that name to friends, too. But ultimately, it represents our alter ego. If we're doing Charlevoyou Friday for example, let's just say we'll be popping open more than just one bottle of wine. That's kind of how we think of it."
The conversation then turned to their processes and the importance of sustainable development in everything they do. Madeleine told me about the concept of intelligent winemaking.
Intelligent winemaking
"These days, you have to think of future generations. You have to think about long-term agriculture, too. Intelligent winemaking is about working in a sensible way, minimizing your footprint, and trying to do things properly.
We want low input because anything that goes into the soil will end up in our body when we drink the wine. We want everything to be as clean as possible. One of the reasons why we wanted our vineyard to be certified organic is because we literally live on the premises. If there are pesticides or heavier materials in the air, then that's part of our home. One day, we may have kids and dogs running around our land. From day one, it made sense to get our vineyard certified organic."
Charlevoyou: A brand unlike any other
If you visit the vineyard, not only will you enjoy beautiful sights you won't find anywhere else in Charlevoix, but you'll also have the opportunity to taste things that only exist in their store.
"We treat our store almost like a lab for our cheese, wine and spirits. We'll have small batches of cheese or goat milk yogurt that we don't want to launch all over Quebec.
Same thing for the wine. Actually, most of our wine is sold exclusively in our store. We also have ready-to-drink cocktails and little surprises in the summer that we save for the store. It's worth passing by simply because there's always something interesting to discover!"
We ended by talking about her favourite products, especially locally made ones that inspire her in her work.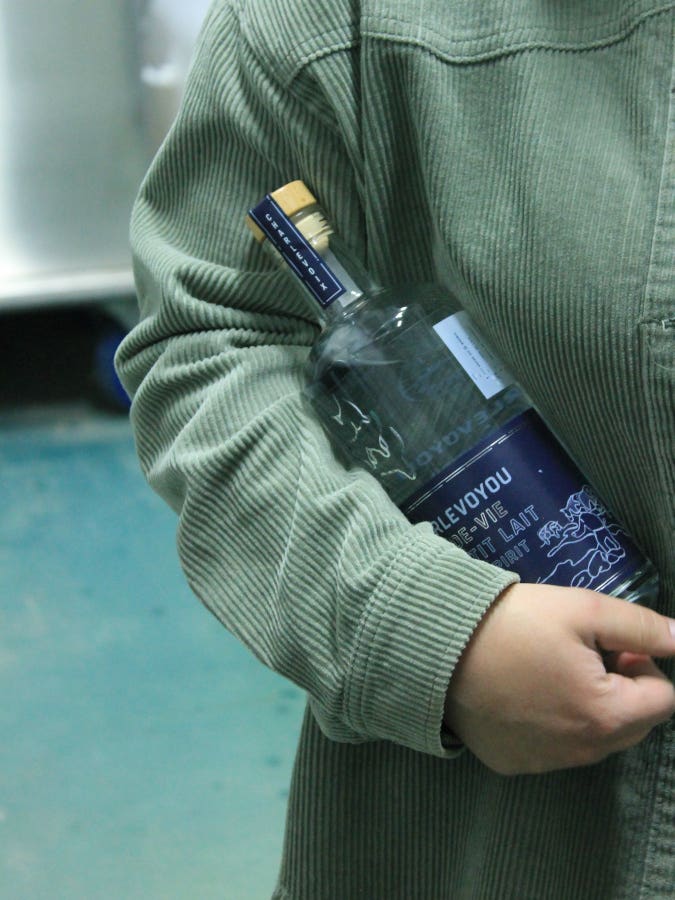 Drawing inspiration from the terroir
"There are so many things around the world that inspire us. But I also love looking at what we have right here. I'll see what plants grow locally and think of how we can use them. That can be really exciting.
Of course, there are tons of brands that I just adore. I'm obsessed with Japanese whisky. I'm also a fan of mezcal and tequila from Oaxaca. Here in Quebec, there are many amazing producers. I'm friends with the wonderful La Société secrète from Gaspésie. Cirka and Menaud, who are near La Malbaie, are fantastic too.
There are some people in Portneuf County who have a really cool way of distilling potatoes. There are many projects like theirs that celebrate agriculture, where you see they put their heart and soul into it. They'll transform raw materials and bottle it up. It means so much to us, because that's what we do too.
We have to raise our glass to everyone here. Our industry owes its strength to unity of all these producers. But for us, being 'farm-to-table' producers and being labelled Origine Québec on the SAQ's shelves makes a world of difference."
In partnership with Vaolo
Discover products by La Famille Migneron:
Charlevoyou Eau-de-Vie de Petit-Lait Eau de vie

|

750 ml

Canada

,

Quebec

Available

Online

Available

In store