Most of the varietals used in Quebec are hybrids. Generally, they're a cross between vinifera vines, for their quality, and north American vines for their resistance to cold weather. In the past years, some growers dared to venture in the culture of European varieties, and the result is quite stunning!
Discover five of the most planted varieties through this guide.
Quebec wine production overview

62 members
1,800 grape tons

1.7 m bottles

White wine: 45%

Red wine: 28%

Rosé wine: 17%

Sparkling: 7%

Ice wine: 1%

Other wine: 2%
In 2018, there were 399 hectares planted, 340 of them in production.
(Source : cvquebec.com)
The five main black grapes in Quebec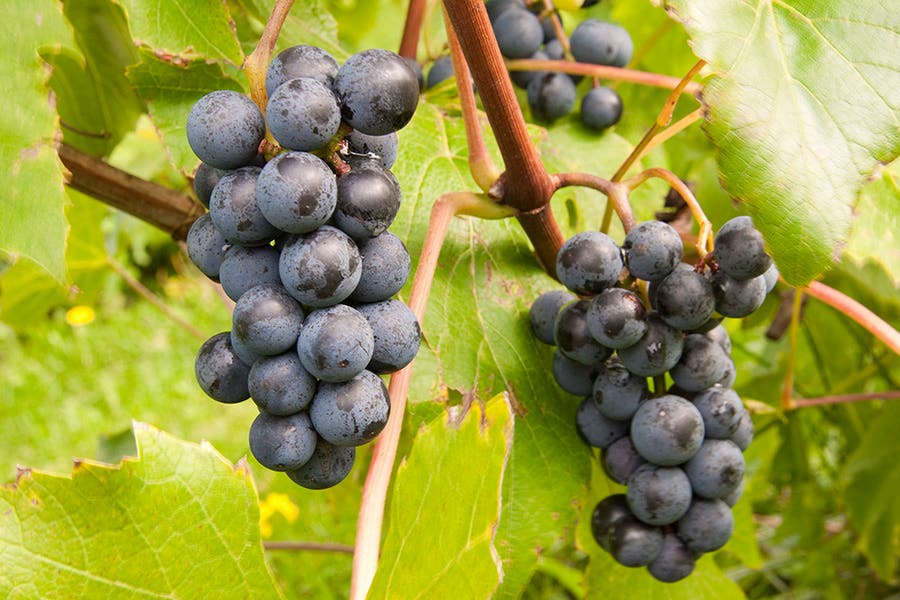 Frontenac noir (47,8%)
The most planted black grape in Quebec, Frontenac Noir is born from the hybrid program of the University of Minnesota. Versatile and productive, it yields colourful and aromatic wines. It offers seductive notes of black cherry, blackberry, cassis and plum. Makes for delicious rosés, fruity red or fortified wines.
Marquette (30,5%)
A cousin of Frontenac Noir and grandson of Pinot Noir, this varietal has more than doubled in vineyards in the past six years. You can find more and more fine and complex renditions marked by accents of black fruits, spices and flowers.
Maréchal Foch  (13,6%)
The French hybrid named in honour of Marshal Ferdinand Foch (1851-1929) is a small berry very coveted by birds. It yields a wine usually graced with aromas and flavours of herbs and fruits in a lovely balanced ensemble. Mostly blended, it can also handle some oak cask aging quite well.
Pinot noir (12,6%)
All but local, this picky variety produces lovely results when grown with great care. The best wines are supple and silky with fruity and spicy tones. Some aging in oak casks will bring beautiful woody and torrefaction accents. Truly one to watch over the next years!
Sainte-Croix (11,2%)
This is an American variety, very resistant to cold weather, that brings colour and simple aromas of fruits and spices. Not very acidic, it is a just complement to Maréchal Foch and Frontenac blends. It also produces nice fruity rosés and fortified wines.