Nothing but benefits!
Just like with wines of the New World, those of the Pays d'Oc IGP offer a simplified approach and clear indication of the varietals on labels, for easy selection based on the occasion. The 58 authorised varietals leave plenty of room for creativity. Single-varietal cuvées with a strong identity, novel blends, innovating packaging and attractive prices: Pays d'Oc wines offer everything we love and look for in everyday wines. Just what you need to bring to the table; something to please all palates.
The size of the vineyard between mountains, valleys and oceans, as well as the surprising soil diversity allow the same grape to deliver a different profile according to its roots. The vast territory is divided in three zones: the maritime plains in its littoral part, the first hillsides and finally, the vineyards in altitude.
For Vincent Chansault, winemaker at Domaine Gayda, there's no better playground: "I traveled the vineyards of the world and for me, the goldmine is right here, in the Pays d'Oc. We have the perfect climate that adapts to almost all varieties. Personally, I have a true affinity with Syrah. The wine will be different depending on where I plant my Syrah: in altitude, it will yield very peppery aromas while here, on the hillsides, it will produce much more fruity aromas. In the mouth, it always has very silky, very round tannins and plenty of aromas. It speaks to me, really! I feel free to create here, to write my story."1
Pairings for all tastes
Representing more than half of the total Languedoc-Roussillon wine production, the Pays d'Oc IGP is an endless wine source for the amateur in search of new discoveries. Both at the vineyard and at the table, it's all about diversity.
For example, wake up your taste buds at your next aperitif with the citrus notes and the well-marked freshness of Sauvignon Blanc, or try Viognier's distinct personality with Asian cuisine. An aromatic and round Chardonnay is perfectly suited for a local cheese plate, while a rosé's pink hue will catch the eye and your attention at Sunday brunch thanks to its fruity and floral accents.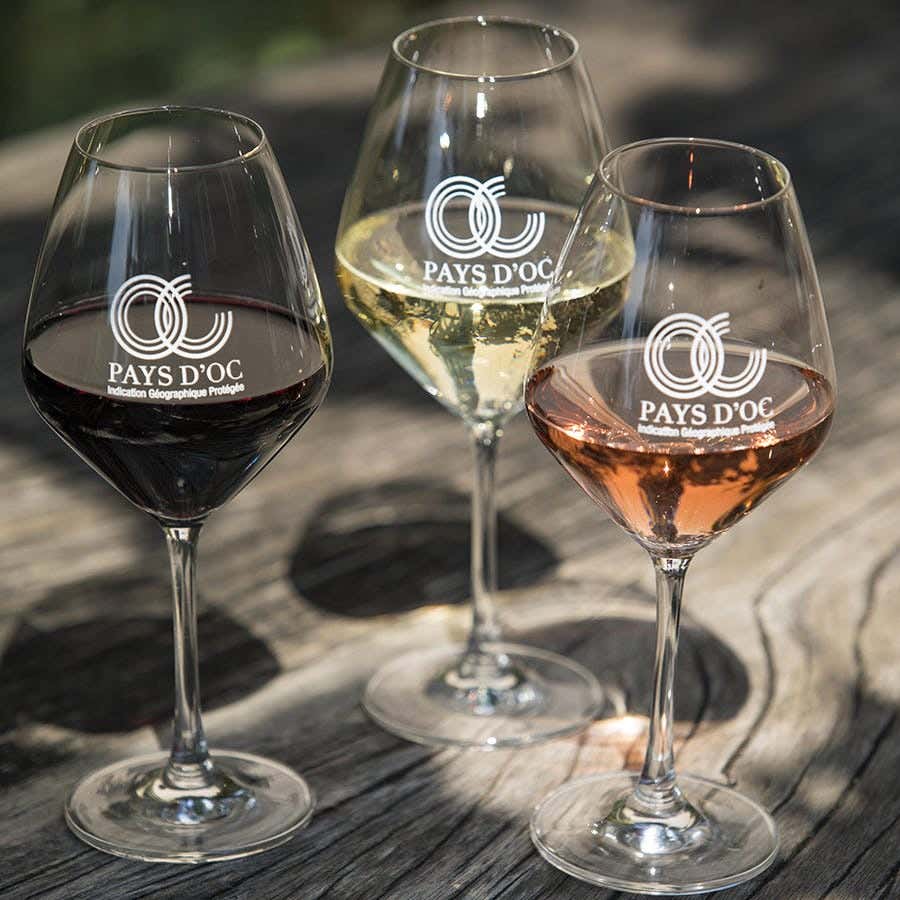 You prefer reds? Thirty minutes in the fridge is all it takes to highlight the fruity and easy-drinking nature of Pinot Noir or Merlot paired with charcuteries, pork loin or roast chicken. Alone or blended with Grenache and Mourvèdre, Syrah will sing paired to game terrine, beef stew or lamb chops, thanks to the wine's violet, pepper and black fruit notes. If steak frites is on your mind, Cabernet Sauvignon's tannins and power will suit it perfectly.
Diversity and versatility allow the Pays d'Oc IGP wines to enhance all your moments shared at the table, from brunch to aperitif to dinner time.
Varieties to discover
Ready to create the perfect pairing? Fall for this selection of Pays d'Oc IGP wines and discover the assortment of grape varieties for which this region is famous.
Portrait of a vineyard
Located in the south of France and covering both the Languedoc and the Roussillon on over 120 000 hectares of vines, the Pays d'Oc vineyard spans over four departments of the Hérault, Gard, Pyrénées-Orientales, and Aude. Like a theatre overlooking the sea, this croissant benefits from a Mediterranean climate influenced by the Atlantic in the west and continental in the east, allowing natural ripeness of the fruits and good health of the vines. In an environment so favourable to organic and biodynamic agriculture, it's no surprise that the Pays d'Oc IGP plays a leading role in France with a quarter of total production in this field.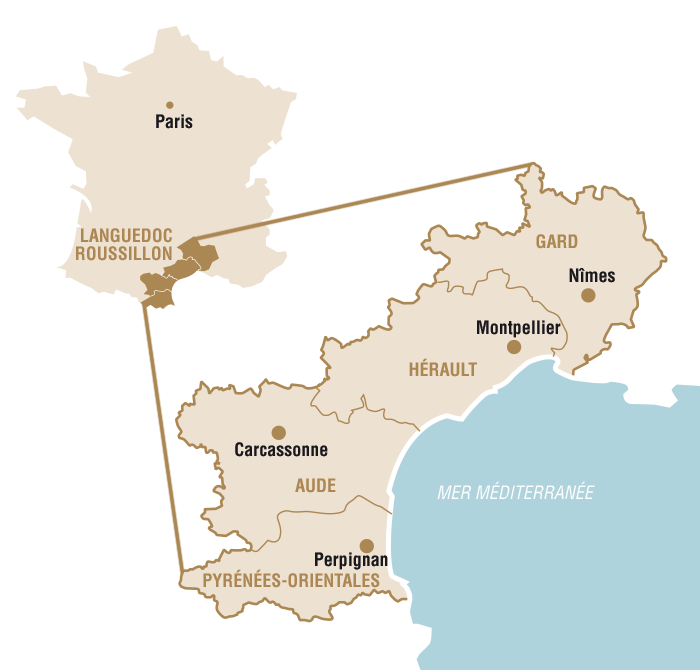 Photo : pays-docwines.com
Freedom of expression
With close to 60 varietals at their disposal, a dream climate to favour their development and a mosaic of terroirs crafting their identity, the possibilities to reveal different flavours are infinite. True contemporary artists, the Pays d'Oc IGP wine producers have the freedom to create cuvées from single varietals, two varietals or to be maestros at blends, revealing the characteristics and aromas of every variety used. This freedom of expression is behind the unparalleled diversity, quality and pleasure-price ratio.
About the IGP
As part of the new European segmentation, the Pays d'Oc wines became Protected Geographical Indication (IGP) wines on August 1, 2009. The wines are subject to precise specifications recording production rules and area, as well as to a professional tasting for each wine type to express a Pays d'Oc typicity. A recognition to crown thirty years of hard work.
More permissive and far from the restraints imposed by the AOC, the Pays d'Oc IGP is a great way to get acquainted with the world of wine through varietals, to understand their true nature, identify personal preferences and from there, start exploring blended wines, all without having to reach deep into your wallet. What else could you ask for? So! How about a Pays d'Oc wine tonight?