About 40 minutes are needed from Montréal to reach Rougemont, in the heart of the Montérégie region. Quebec's true pantry, this region is the most important agricultural are in the province, with a quarter of its cultivated land. Its long growing season, the high fertility of its soils and the frequency of its rainfall have always distinguished its vegetable and animal production, but also offer an ideal playground for cider and wine makers.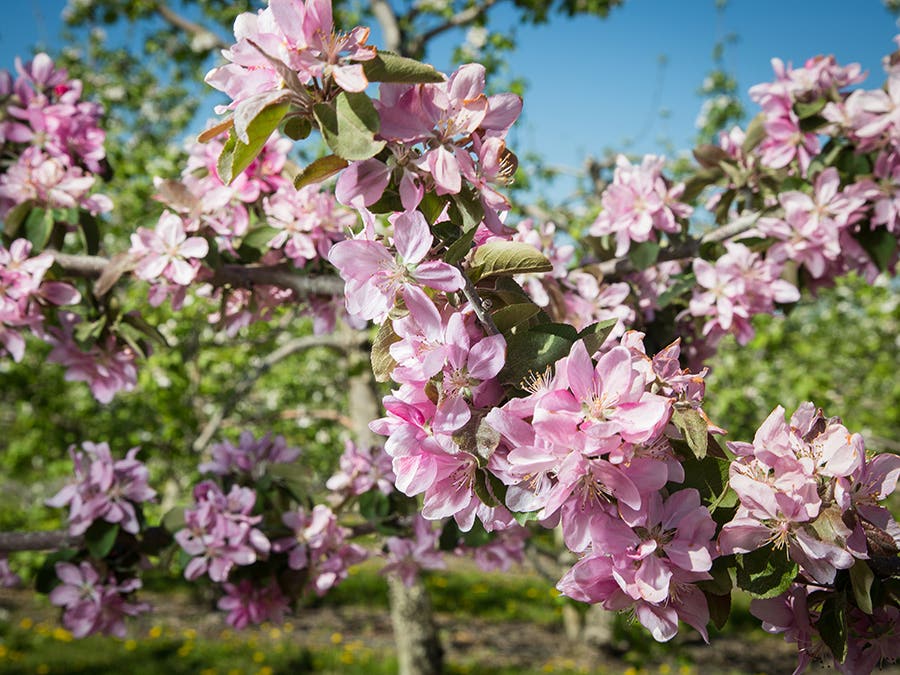 Vines at the beach
Like its fellow Monteregian hills, a group of 10 hills formed 90 to 125 million years ago, Mont Rougemont contains deposits of sand and gravel left by the ancient beaches of the Champlain sea on its flanks and edges. On this terroir with gentle and well-drained slopes, hybrid and international grape varieties take root.
More recent than elsewhere in Quebec, Rougemont's viticulture is made up of 3 estates. Coteau Rougemont is by far the most imposing, followed by estates De Lavoie and Cartier Potelle. The quality of the installations and the surrounding beauty is an invitation to take a break, to lose yourself in the scenery, glass of wine in hand. A tasting on site not only allows you to make a choice among an impressive array of products, but also to learn more about how they're made. Whether they're sparkling, still, fortified or ice wine, each cuvée has a strong identity.
The Napa Valley of apples
Who hasn't quenched his thirst with a Rougemont apple juice as a child? Almost timeless, this brand owned by the Lassonde family allowed many people to locate this city beating to the rhythm of the heart of its apples.
The transition to adulthood was accompanied for some by the Grand sec d'Orléans or by a St-Antoine-Abbé, two industrial ciders that were at the time the only alcoholic alternatives to beer sold in supermarkets. The luckiest witnessed the rebirth of the industry thanks to the qualitative vision of pioneers such as Michel Jodoin, one the first to get an artisanal production permit.
Rougemont is described as the Napa Valley of apples. Recognized in the industry as one of the best climates in North America for orchards, it shares its 500 000 apple trees among 35 producers, 9 of which are authorized to make cider.
The production is mainly obtained from regular apples, the same ones that are picked in the fall. The resulting ciders are extremely well made, and their balance is impeccable. On the other hand, a new generation of producers is trying a different, more traditional approach. Ciders made with old or wild apple varieties, spontaneous fermentations like with beer, the use of wild yeasts or maturing in oak barrels. In short, unique ciders, farm-produced-style, with rich and complex flavours.
Difficult to decide on what charms the most in this locality. Do we go back for its landscapes, to revel in its local products or for its caring and creative people? We go back, because it offers much more than apples.