Surprise dessert
Don't stress over making an innovative apple dessert for your fall feasts, this recipe is simple, impressive and needs just a bit of patience. The first step is to cut pie-crust rounds that fit into muffin cups. Then, place apple slices in a circular fashion so they resemble flower petals. (Don't peel the red apples: You want your "blooms" to look magnificent!) You can cook apple slices in red cranberry juice for an added boost of colour.
Ice cream and rum sauce: as easy as pie
Vanilla ice cream is the ideal accompaniment for this mini-tart, and a splash of rum will put you in seventh heaven! Use store-bought or homemade ice cream (Making ice cream is really easy!) and pour the rum-and-brown-sugar mixture on top. You can also add chopped nuts for a lovely crunchy texture.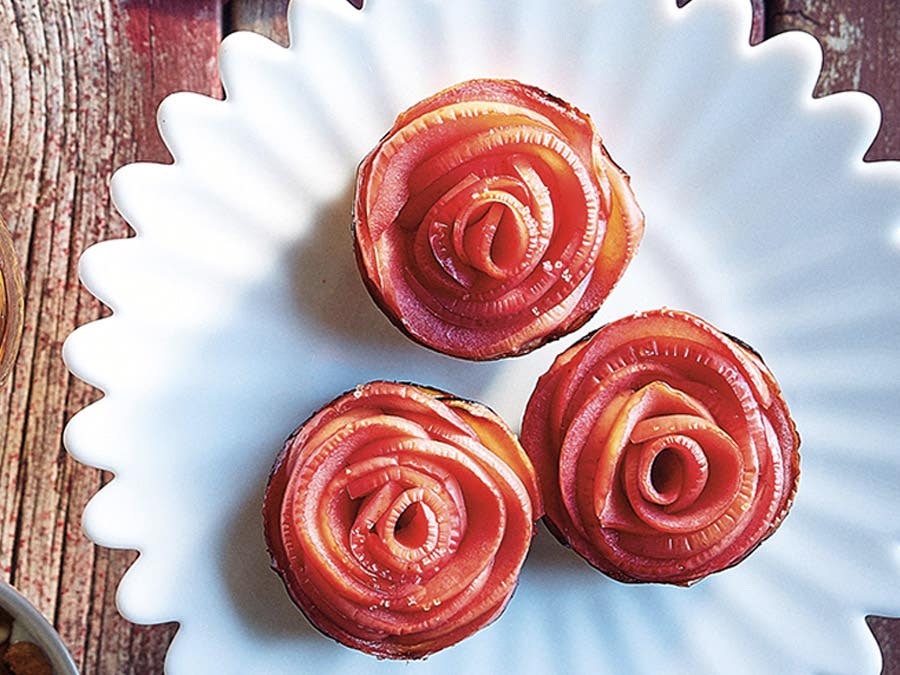 Apple blooms
Preparation: 45 minutes
Cooking: 30 à 35 minutes
Cost per serving: $1.50 (tart + sauce)
Makes 12
Ingredients
Tarts
Puff pastry
15 mL (1 tbsp) bread crumbs
4 apples, Pink Lady or Gala
500 mL (2 cups) red cranberry juice
60 mL (1/4 cup) apricot jam, or marmalade
60 mL (1/4 cup) melted butter
15 mL (1 tbsp) cane, or white, sugar
Sauce for vanilla ice cream
180 mL (3/4 cup) water
125 mL (1/2 cup) dark brown sugar
5 mL (1 tsp) salt
15 mL (1 tbsp) flour
30 mL (2 tbsp) rum
Candied nuts, optional
Preparation
1. Preheat oven to 200°C (400°F).
2. Grease a standard-sized muffin pan.
3. Roll puff pastry to 0.6-cm (1/4-in) thickness and use 5-cm (2‑in) round cookie cutter to form 12 disks.
4. Sprinkle each muffin cup with bread crumbs, gently press a pastry disk into each cup, and place in freezer.
5. Bring cranberry juice to a boil.
6. Core and thinly slice apples, then cook in cranberry juice for one minute. Drain.
7. Remove muffin pan from freezer. Spread 5 mL (1 tsp) of jam in each cup then place apple slices, two at a time opposite one another, working your way to the centre of the cup. Roll a last slice to form the centre of the "bloom".
8. Brush with melted butter and dust with sugar.
9. Bake for 25 to 30 minutes.
10. Sauce: In a pot, combine ingredients. Bring to a boil and let simmer 5 minutes.
11. Serve tarts with ice cream, rum sauce and, if desired, nuts.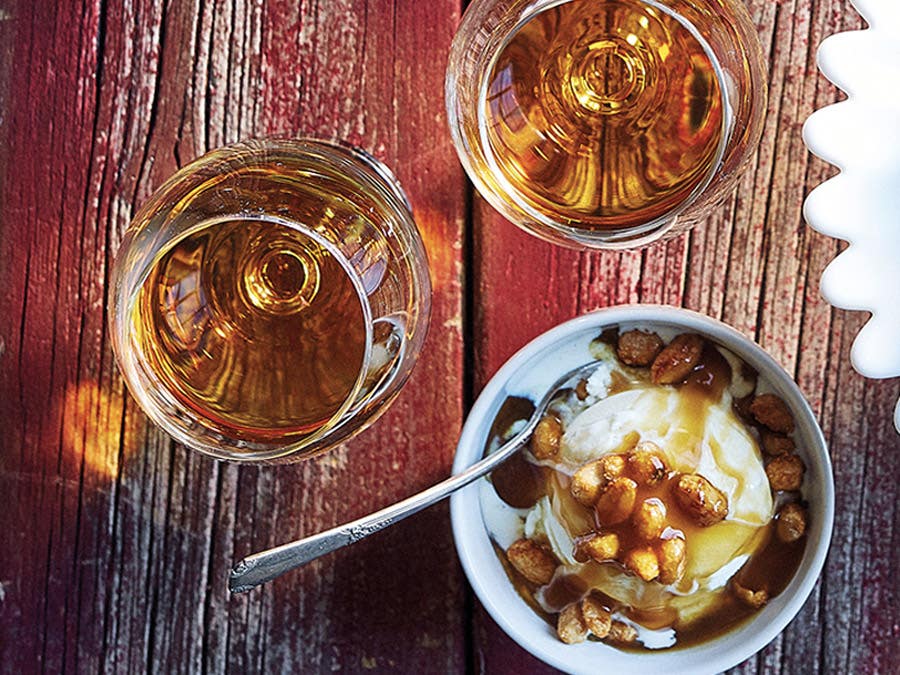 Vanilla ice cream
Preparation: 10 minutes
Freezing time: 4 hours minimum
Makes about 1 L (4 cups)
Ingredients
500 mL (2 cups) 35% whipping cream
300 mL (1 can) sweetened condensed milk
2 vanilla pods, split and scraped
Preparation
1. Whip cream and vanilla. Using a spatula, gently fold in condensed milk.
2. Transfer mixture into a container and place in freezer for 4 hours or overnight before serving.
What to drink with these desserts
LE CIDRE de Glace Verger Hemmingford Ice cider

|

375 ml

Canada

,

Quebec

Available

Online

Available

In store

Domaine Cartier-Potelle Réserve du Domaine Ice cider

|

200 ml

Canada

,

Quebec
---
What to drink with this dessert?
Apple-based desserts are fabulous when served with rum. Flor de Caña is barrel-aged, giving it vanilla and caramel notes that complement the apple mini-tarts as well as the vanilla ice cream. The rum's cooked-fruit flavours also pair well with the jammy notes in this recipe.
Tip
Just like whiskies, aged rums develop complexity during barrel-aging. To appreciate all of rum's subtle nuances, drink it straight-up in a glass that will let it express itself – a balloon glass is a perfect choice.
Not available

Online

Available

In store