Pie, cheese and company
Raclette pie is easy to make and, with a green salad, makes a great meal. Ham and mushrooms add a nice touch, either in the preparation or as an accompaniment. You'll find several types of raclette cheeses in grocery stores, some flavoured with beer, fruit or spices. Incidentally, Quebec produces excellent raclette cheeses, like Griffon, Religieuse and La Belle Humeur. And Comtomme or Gré des Champs are good substitutes. When it comes to raclettes, just make sure to use a rich, fragrant and very firm cheese.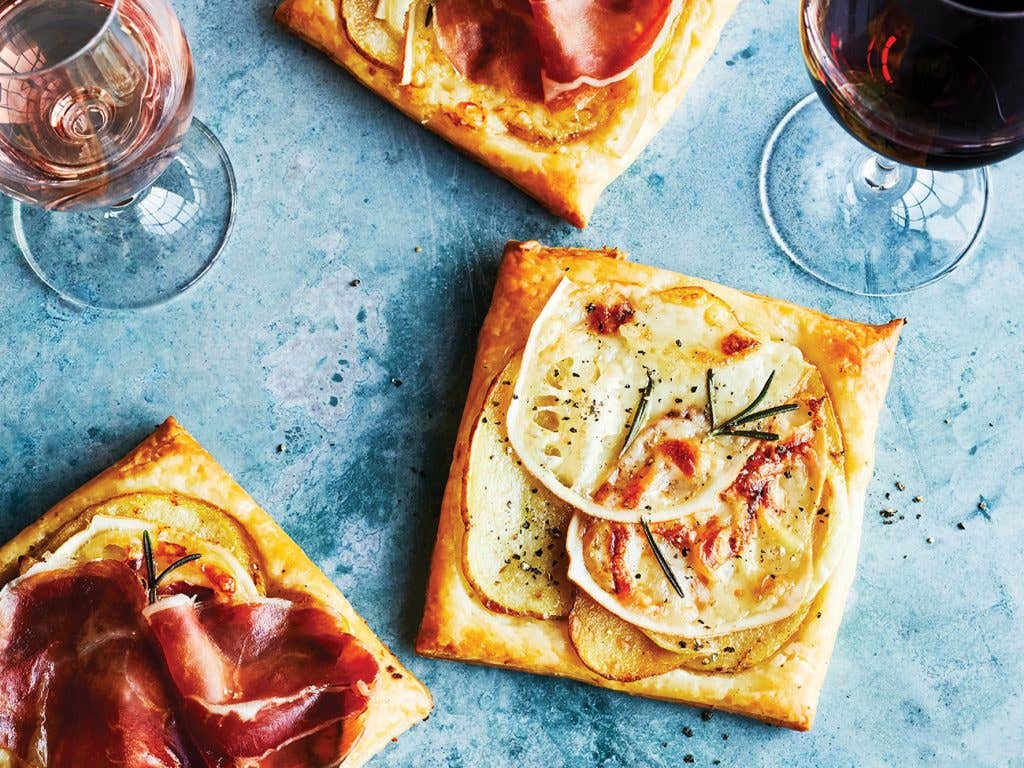 Raclette pie
Preparation: 30 minutes
Cooking: 30 minutes
Cost per serving: about $2.50
6 to 8 servings
Ingredients
1 sheet puff pastry
2 large potatoes, thinly sliced
2 onions, minced
60 mL (1/4 cup) 35% cream
8 slices raclette cheese
6 sprigs rosemary
6 sprigs thyme
Salt and pepper
Garnish
Charcuteries (prosciutto, grison, jambon de Bayonne, etc.)
Roquette
Preparation
1. Preheat oven to 220°C (425°F).
2. In a skillet, heat oil and fry potatoes until slightly golden. Add onions and continue cooking for a few minutes.
3. Add cream and reduce to half. Let cool.
4. Season and spread mixture over puff pastry. Garnish with cheese and rosemary.
5. Bake in oven until pastry is golden, about 20 minutes.
6. Let cool slightly before topping with charcuterie and seasoned arugula.
What to drink with this raclette pie
An unusual blend of Chenin Blanc, Chardonnay and Viognier, the A.A. Badenhorst will make an excellent match. Its generous texture – and peach-and-apricot notes – will echo those of the cheeses. So, you'd rather have a red? Even with a cheese-based dish, try the fruity Canti, slightly redolent of currant, strawberry and raspberry. If you can't decide between red and white, the Languedoc rosé Cazal Viel will suit just fine. Made from Syrah, Grenache and Cinsault, all red fruits to be sure, it provides enough mellowness to complement the pie.
A.A. Badenhorst The Curator 2020 White wine

|

750 ml

South Africa

,

Western Cape

Not available

Online

Available

In store

Not available

Online

Not available

In store

Not available

Online

Available

In store