When it comes to flavours, bitter often gets a bad rap. Yet, as many an Italian drink shows, bitter provides energy and a surprising amount of freshness to a variety of drinks (coffee, anyone?).
What makes an Aperol Spritz such a great drink? To a large extent, it's the bitter elements of Aperol, a bright orange North Italian liqueur that recently celebrated its 100th birthday.
Created in 1919 by Luigi and Silvio Barberi, just after they took over the family company from their father, Aperol began its ascent to planetary success just after World War II, when the famous spritz started to reach out from its Venetian stronghold to gain worldwide fame. In the last couple of decades, it's become a fixture of summer fun pretty much anywhere warm enough to jump in a pool.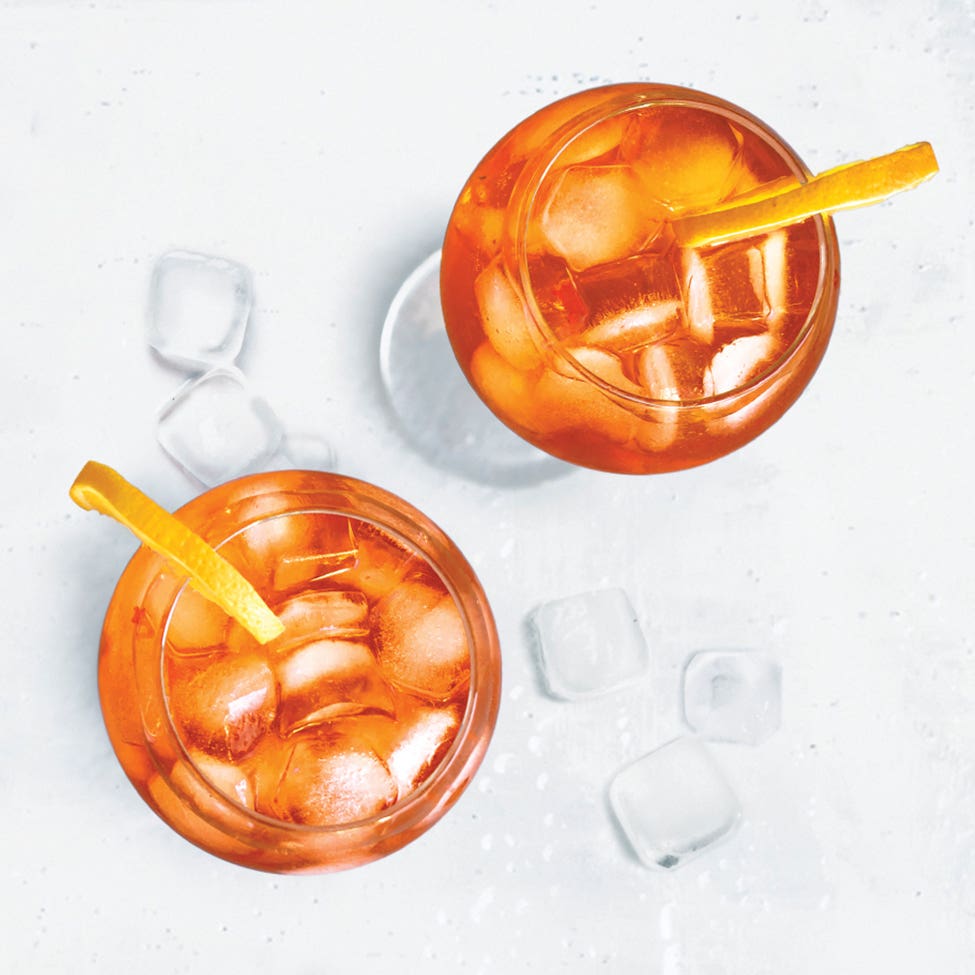 Aperol spritz
At home, the easy recipe is to fill a wine glass with ice, pour 2 ounces of prosecco, then 2 ounces of Aperol, top the drink with about 1 ounce of soda water, and garnish with a slice of orange. A perfect refresher, with lots of character.
From orange to red
If you want to turn the dial one notch higher on the bitter scale, Campari is certainly your aperitivo of choice. In the very simple Campari-soda, it just sings with its bright red colour and energetic aromas. Created in 1860 by Gaspare Campari, in the Italian town of Novara, it's also an essential element to one of the world's great classic cocktails: the Negroni, made with equal parts gin, red vermouth, and Campari. While there are many delicious variations that play with different spirits and bitter liqueur (like the Boulevardier, which uses bourbon instead of gin), a Negroni needs the Campari element to be called a Negroni.
Each year, the popular drink even gets its own worldwide celebration: Negroni Week (September 14 to 20), during which some 12,000 bars and restaurants serve classic and reinvented Negronis, all while supporting charitable causes. Since its creation in 2013, it has helped raise over 3 million dollars, from Africa to Alaska.
Before and after
There are different categories within the large family of bitter alcoholic drinks, which also includes vermouth. Like vermouth, Aperol and Campari are more generally associated with before-dinner drinks, and therefore classified as aperitivo. However, there is also a wide range of after-dinner herbal and bitter drinks, renowned for their digestive qualities and often showing some deeper, darker flavours. That family is called amaro, and each is built on a distinctive proprietary recipe, fiercely guarded by their producers, found all over Italy.
The ingredients can vary widely. Cynar, a pretty intense north-Italian bitter, is made using... artichokes! Meanwhile, the Sicilian Averna, adapted in the 1860s by the Averna family from a recipe apparently created by Benedictine monks, is mainly based on citrus, herbs, and spices, and shows notes of lemon, caramel, and rosemary or sage, as well as a hint of pomegranate.
Averna is delicious on its own, served on ice with a slice of orange, a splash of soda, and maybe a sprig of rosemary. Like other dark amari, it can also make some beautiful cocktails, especially when combined with whiskeys and elements like citrus or bitters – or maybe some cold brew coffee. Once you start playing with amari, you'll discover a world of possibilities – and you'll start thinking that all that bitter stuff is pretty sweet!
Not available

Online

Available

In store