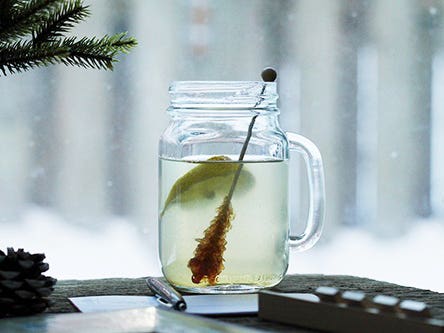 Gin hot toddy
To soothe a winter cold, what could be better than your grandmother's recipe for ponce, a kind of hot toddy made with gin? While the old-time original recipe called for genever, like that made by De Kuyper, I much prefer using a dry gin, which offers a more delicate flavour and aroma, such as the Quebec gin Ungava with its lemony colour, aromas of Nordic juniper and slightly spicy flavour thanks to the addition of Labrador tea.
Ingredients
2 oz. (60 mL) gin
2 tsp. (10 mL) honey
¼ tsp. (1 mL) whole cloves, or a pinch of nutmeg
1 lemon, freshly squeezed
1 slice of fresh lemon
1 cup (250 mL) boiling water
Preparation
Pour the dry gin, lemon juice and honey into a cup or hot toddy glass. Add the cloves or pinch of nutmeg. Fill the cup with boiling water, let infuse for several minutes and slowly savour!
---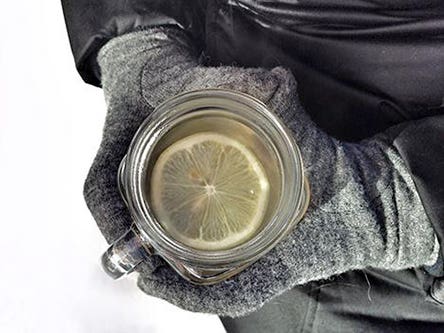 Here's an unbeatable drink for sipping in front of the fire. You'll love to savour this winter cocktail that soothes the throat and intoxicates you with its gentle cinnamon scent. Try varying the traditional recipe by replacing the rum with a modern alternative: whisky, cognac or calvados. Another idea: Why not add the ingredients of the original recipe to a hot cider?
Ingredients
1½ oz (45 mL) white rum
1/2 oz. (15 mL) lemon juice
A pinch of sugar
1 lemon quarter
1 cinnamon stick
2 or 3 whole cloves
2½ oz. (75 mL) boiling water
Preparation
In a toddy glass, add the rum, lemon juice and sugar. Add the lemon quarter, cinnamon stick and cloves to the glass. Add the boiling water. Stir with a spoon and you're done!
Bacardi Superior White rum

|

750 ml

Canada

,

Ontario

Regular Price

$23.50

Special Price

$22.50

Available

Online

Available

In store
For a more bracing alternative:
Dégel Still cider

|

750 ml

Canada

,

Quebec

Not available

Online

Available

In store