A touch of exotic
Feel like making a dessert... on the BBQ?! Fruit are a fantastic option! On top of being healthy, their natural sugars mean they caramelize nicely. This summer, try various combos on the grill: peaches with maple syrup and nutmeg, plums with Port and cinnamon, or even honeydew melon with citrus liqueur and honey. Incredibly easy to make, our featured recipe will satisfy your sweet tooth and charm you with its delicious contrast of warm pineapple and cold ice cream... not to mention our irresistible bourbon caramel!.
Sweet and salty combos!
Although they're delicious served as dessert, topped with melted chocolate, whipped cream, yogurt, or ice cream, grilled fruit also pair nicely with savoury dishes. Spicy grilled mangoes, for example, are simply succulent tossed into an Asian shrimp or chicken salad. You can also add cubes of rum-marinated pineapple to your pork skewers.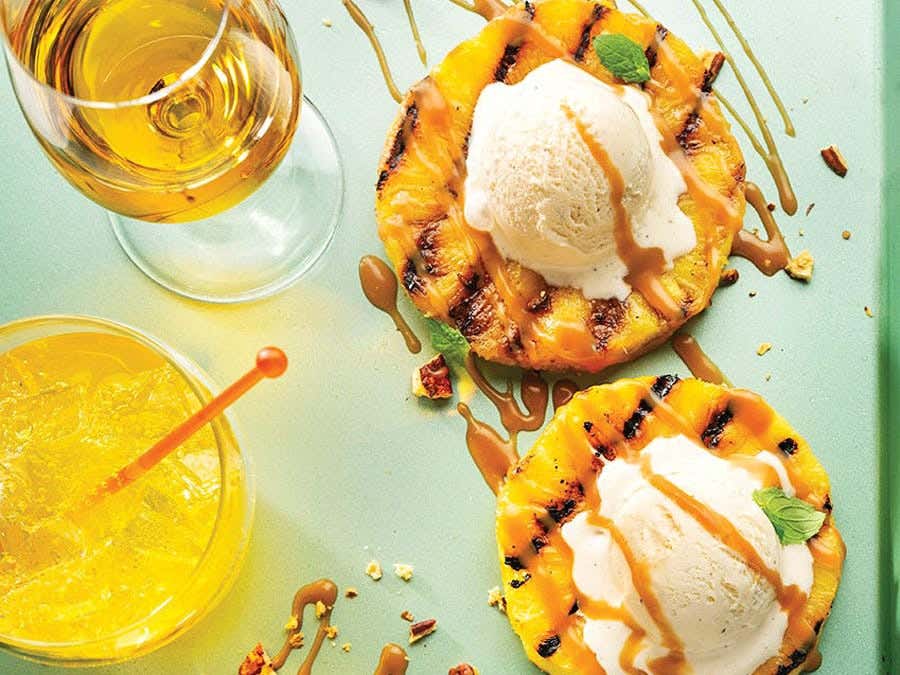 Grilled pineapple, vanilla ice cream, and bourbon caramel
Preparation: 15 minutes
Cooking : 6 to 8 minutes
Cost per serving : About $2
Makes 4 to 6 servings
Ingredients
Pineapple
1 pineapple, cored and cut into slices
1 cm (0.40 in) thick
15 mL (1 tbsp) canola oil
45 mL (3 tbsp) brown sugar
Bourbon caramel
250 mL (1 cup) sugar
45 mL (3 tbsp) water
250 mL (1 cup) 35% M.F. cream
45 mL (3 tbsp) butter
30 mL (2 tbsp) bourbon
Vanilla cream
Grilled pecans
Preparation
Pineapple
1. Preheat barbecue to medium-high heat.
2. Coat the pineapple slices with oil and sprinkle with brown sugar.
3. Grill the pineapple slices a few minutes.
Caramel
4. In a saucepan, heat the sugar and water, without stirring, until caramel forms.
5. Remove from heat and add cream and butter.
6. Return to heat and stir until the caramel is smooth.
7. Incorporate the bourbon and let cool.
8. When serving, top each grilled pineapple slice with a scoop of vanilla ice cream. Spoon some caramel sauce and top with a few toasted pecans.
Tip
For perfectly grilled fruit, start by making sure your BBQ is set to high. Next, drizzle your fruit with a bit of oil so that they don't stick to the grill. And finally, only grill them on one side, otherwise they'll end up too soft. You can cut your fruit up into thick slices and cook them directly on the grill, or cube and skewer them instead.
What to drink with this grilled pineapple?
A rum-based ready-to-drink bursting with pineapple and citrus flavours is the ideal pairing for our exotic dessert. As an end-of-meal libation, you could also opt for a dessert wine with a "fruity and extra sweet" taste tag. Not only will such a wine elevate the dessert's caramelized notes, it'll also balance out the rich ice cream and bourbon flavours.
Not available

Online

Available

In store

Vignoble du Marathonien Vendange Tardive 2020 White wine

|

375 ml

Canada

,

Quebec

Available

Online

Available

In store

Bacardi Breezer Island Pineapple Spirit-based cooler

|

6 x 355 ml

Canada

,

Quebec

Not available

Online

Available

In store