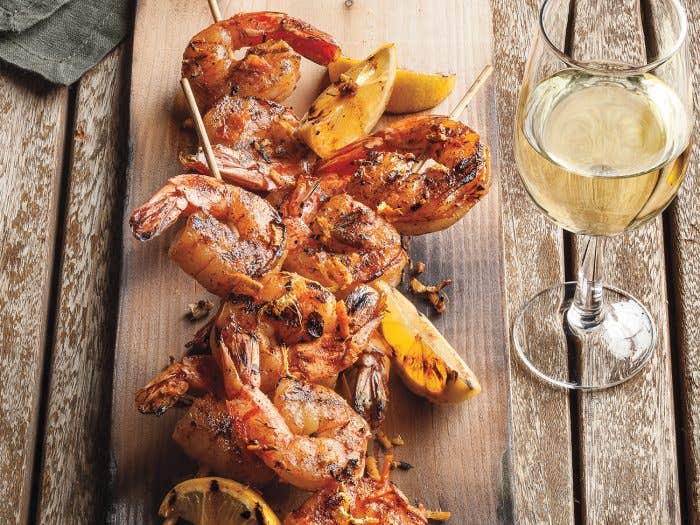 Caribbean Salud!
Want a skewer that's sure to please and easy-peasy to make? Give our Caribbean shrimp a try. Skewer shrimp sprinkled with Cajun spices, that's all! Serve with a cocktail made with tropical juices and rum: mojito, piña colada, punch—whatever you enjoy! Or make it even easier by cracking open a cooler. These drinks are refreshing, and are made with genuine spirits—unlike similar products sold in grocery stores or depanneurs.
Creole Colour!
Add a splash of colour to your table! Shades of blue ranging from navy, to sky to turquoise are refreshing to the eye, and look great next to bamboo torches, flower garlands, or any other exotic addition, including sea shells or starfish. Don't forget to get a tropical playlist in order, and delight your guests' ears with the sounds of the islands. Next thing you know your patio will become an idyllic paradise!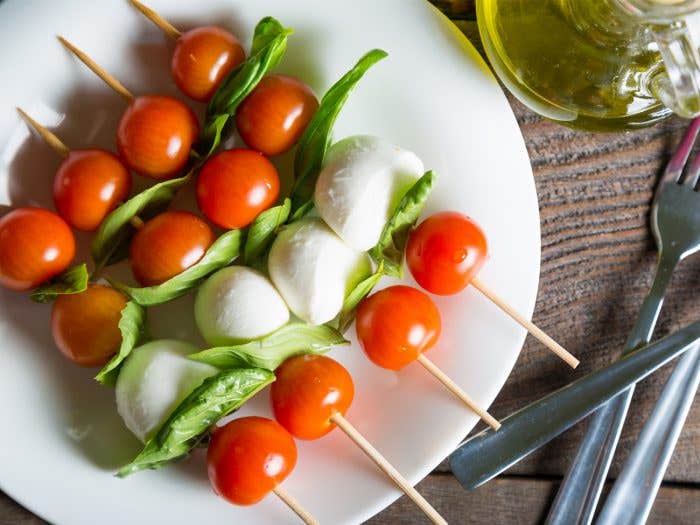 Viva Italia!
Embrace Italian tonight! Kick things off with an Italian Kiss cocktail, and serve caprese skewers: cherry tomatoes, medium-sized Bocconcini balls, and basil leaves. A splash of olive oil and balsamic vinegar make for a savoury dressing. Have carnivores coming? Whip up some marinated Italian sausage skewers and everyone will happily feed. Raise a glass to Caesar, with an Aromatic and Supple taste tag Italian wine with refreshing acidity.
Roman carnival
Welcome Italy to the table with red, white, and green—the colours of the Italian flag. Put up some flags, pennants, or lanterns, add a dash of confetti and your patio is party-ready. As you feast, make sure you have some Sicilian or Neapolitan music to listen to!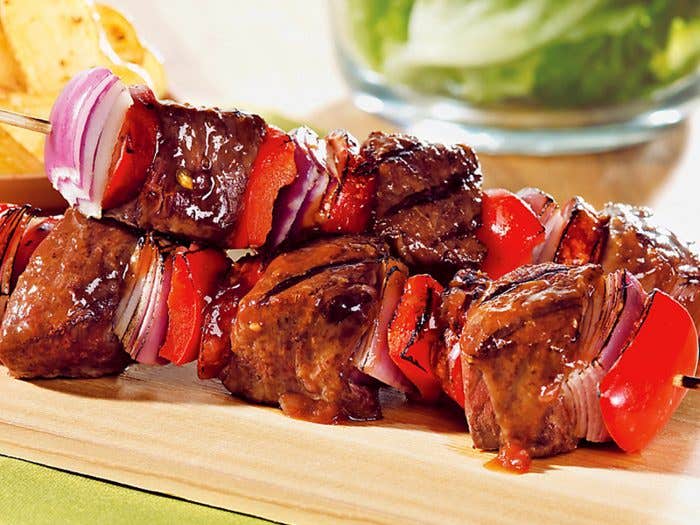 Olé Espana
A summery Spanish vibe will come to your backyard when you open a sangria wine cooler. This ready-to-drink beverage can be poured right into guests' glasses—entertaining has never been so easy! Besides, you'll be busy at the barbecue cooking up some delicious skewers using beef and chorizo with plum and coriander! Compliment these skewers with a Aromatic and Robust taste tag red wine from Spain with meaty, blackcurrant and roasting flavours for a perfect pairing!
Iberian fiesta
Your barbecue area will celebrate Spain when you decorate with its national colours: red and yellow. Garlands, banners, napkins and plates are all great and colourful ideas. Why not add some maracas, or don a black Spanish hat with its trademark red mini pompoms. To serve your meal, use Spanish-flag toothpicks. Turn up that flamenco music and everyone will be saying Olé Espana!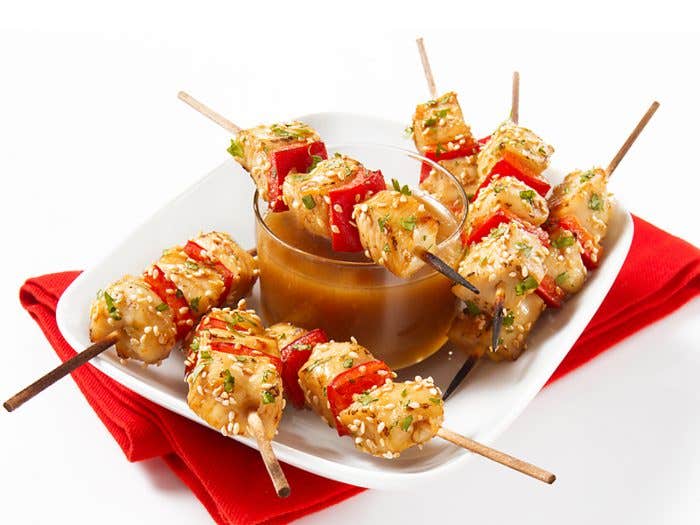 Escape to Asia
Take everyone's taste buds on a trip to Asia! Your flavourful flight takes off with Asian Sun punch, an exotic cocktail that will have everyone feeling the rays of the land of the rising sun. On the menu are delectable honey-sesame chicken skewers. Enjoy them with a Fruity and Sweet taste tag wine, like a Pinot Grigio with floral and fruity aromas.
A glamorous Bali atmosphere
Make your patio an enchanting oasis that recalls Bali, India, or another exotic Asian locale with themed décor: bamboo sticks, lotus flowers, orchids, traditional Japanese or Chinese lanterns, Asian-inspired printed fans or candleholders.
Our top tips
Cooking
If you have a charcoal BBQ, spark it up roughly one hour ahead of your desired cooking time, so you can ensure good grilling. It's a good ide to marinade grillables before cooking them on the barbecue so they'll be able to retain their melty softness—this particularly applies to meat.
How much?
If you're making a full meal using mini-skewers, plan for 6-8 per person. If you want to serve skewers as an aperitif, 3 to 4 sticks per person should suffice.
Presentation
Use wood sticks that have been soaked in water (for at least 20 minutes); this ensures the wood skewers don't burn while the food cooks. For easier barbecue turning, use sticks that are flattened on one end. Metal skewers, rosemary or lemongrass sprigs are also interesting skewer servers!
Vegetarian at heart? Have a look at our vegetarian BBQ recipes and pairing suggestions.