The secret's in the sauce
Yes, it's poutine… but it's homemade poutine! The secret? The sauce is made from duck stock, demi-glaze and Port. This recipe features duck, but we also have a version made with Toulouse sausage and Emmental cheese and another one with mushrooms and Brie. If you want to make a vegetarian version, simply replace the duck stock with a mushroom or vegetable broth.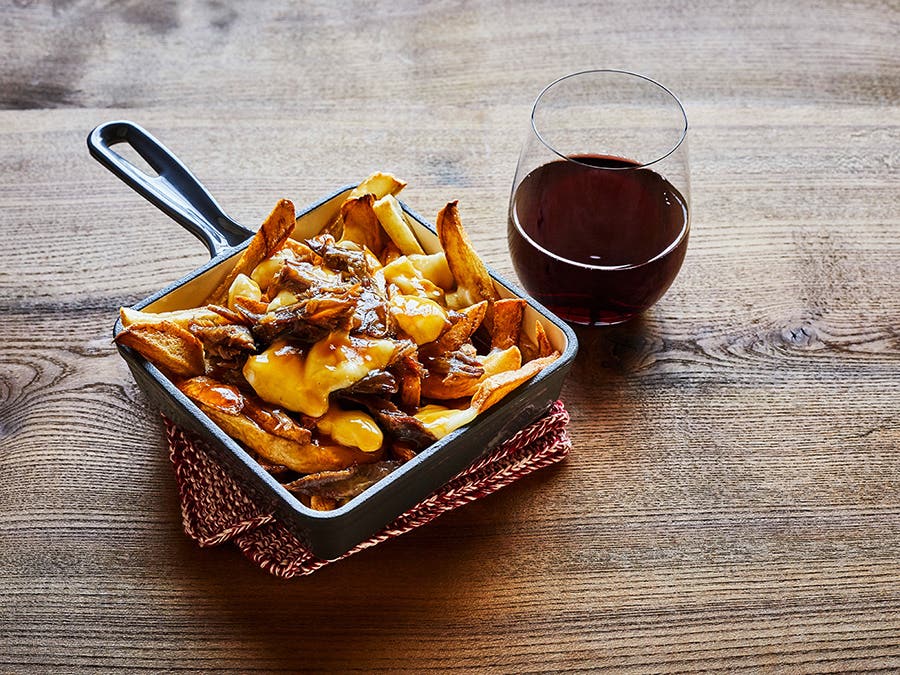 Pulled duck confit poutine (from Chez Victor)
Preparation: 20 minutes
Cooking: 30 minutes
4 servings
2 duck legs confit, skinless and pulled (homemade or store bought)
Oil for frying (peanut or canola)
30 mL (2 tbsp) butter, softened
30 mL (2 tbsp) flour
125 mL (1/2 cup) port
1 grey shallot, finely chopped
250 mL (1 cup) demi-glace
250 mL (1 cup) duck stock
500 mL (2 cups) cheese curds
Salt and freshly ground pepper
6 Russet or Idaho potatoes (you can also use store-bought fries and follow the manufacturer's cooking instructions.)
Préparation
1. Heat the oil to 150°C (300°F) in a deep fryer or a heavy-bottomed saucepan.
2. Preheat the oven to 150°C (300°F).
3. Place the pulled duck in a baking dish and warm in the oven.
4. Using a spoon, combine the butter and flour in a bowl to make a beurre manié.
5. In a small saucepan, boil the port with the shallot until the liquid has completely evaporated. Pour in the demi-glace sauce and duck stock, and bring to a boil. Beat in the beurre manié and let boil for 2 minutes. Season with salt and pepper. Reduce the heat to low to keep the sauce warm.
6. Peel and rinse the potatoes, then cut into strips. Precook the potatoes by frying them in 2 batches, 3 to 4 minutes per batch. Transfer to a baking sheet lined with paper towel.
7. Raise the temperature of the oil to 200°C (400°F), and fry the potatoes a second time, 3 to 4 minutes per batch. Transfer them to a baking sheet lined with fresh paper towel. Season with pepper.
8. Divide the fries, cheese and pulled duck among 4 bowls, then drizzle with sauce, to taste.
Root veggie poutine
Root vegetables are abundant during the winter months, so why not use them in your poutine? Try replacing traditional potatoes with a colourful medley of parsnip, rutabaga, carrots and sweet potatoes. Simply julienne the vegetables, drizzle them with olive oil and bake them in the oven until crispy. Yum!
Easy-peasy poutine
Don't rush by trying to make your poutine sauce at the very last minute. Easy dinners are supposed to be, well, easy! So make sure you always have sauce base on hand (whether in the fridge or freezer). As for the fries, you can make them yourself, or grab some ready-made ones from the grocery store. Fun fact: Store-bought fries are actually less fatty than homemade ones (unless you bake your homemade fries in the oven instead of deep-frying them).
What to drink with poutine?
Pulled duck confit (from Chez Victor)
The caramelized side of the duck and the Port sauce are enlivened by the mouth-filling flavours of cherry, rhubarb and smoke notes of this Pinot Noir. A Chilean cuvée with a welcomed freshness to balanced out the fat of this fancy version of the recipe.
Available

Online

Available

In store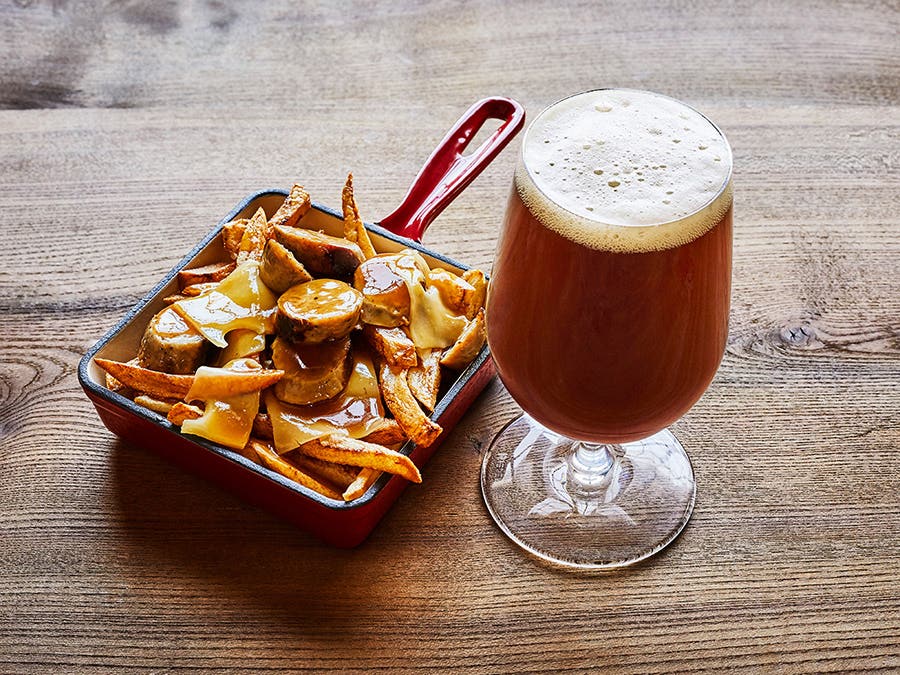 Beer and sausage, now that's what we call a classic pairing. La Voie Maltée produces a strong brown beer with caramelized and torrefaction accents that will please fans of beers with a richer, more complex profile.
La Voie Maltée American Brown Ale Brown Ale

|

473 ml

Canada

,

Quebec

Not available

Online

Available

In store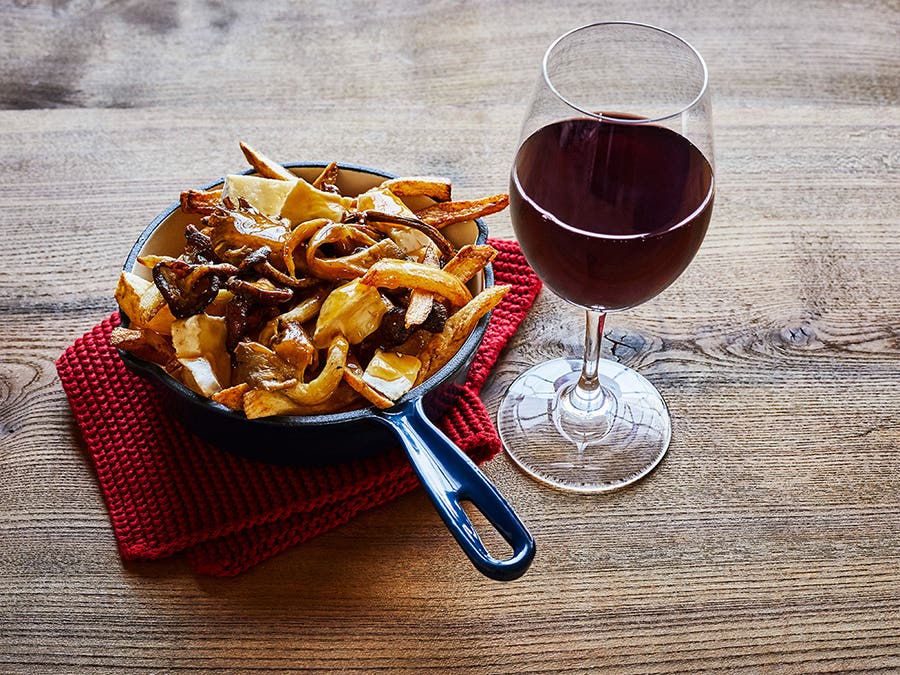 An excellent price-quality ratio, Spanish wine Monasterio de Las Viñas Crianza presents woody aromas that perfectly highlight the mushroom flavours in this recipe.
Available

Online

Available

In store