The MVP of side dishes
Most of us have fond memories of eating a traditional potato salad with hard-boiled eggs, mayonnaise, celery, and relish—usually served alongside turkey, meatball stew, or meat pie. For a more modern take on this much-loved classic, oven-roast your potatoes and toss with arugula, creamy feta, and a rich yogurt and fresh herb dressing.
Amazing add-ins
Add a bit of crunch and flair to your potato salad by mixing in toasted grains or nuts, minced fennel, or diced apples. For an even more gourmet version, throw in some crumbled blue cheese or grated firm cheese like Gruyere or Comté. Want to spice things up? Sprinkle in some powdered curry, mustard seeds, or ground coriander.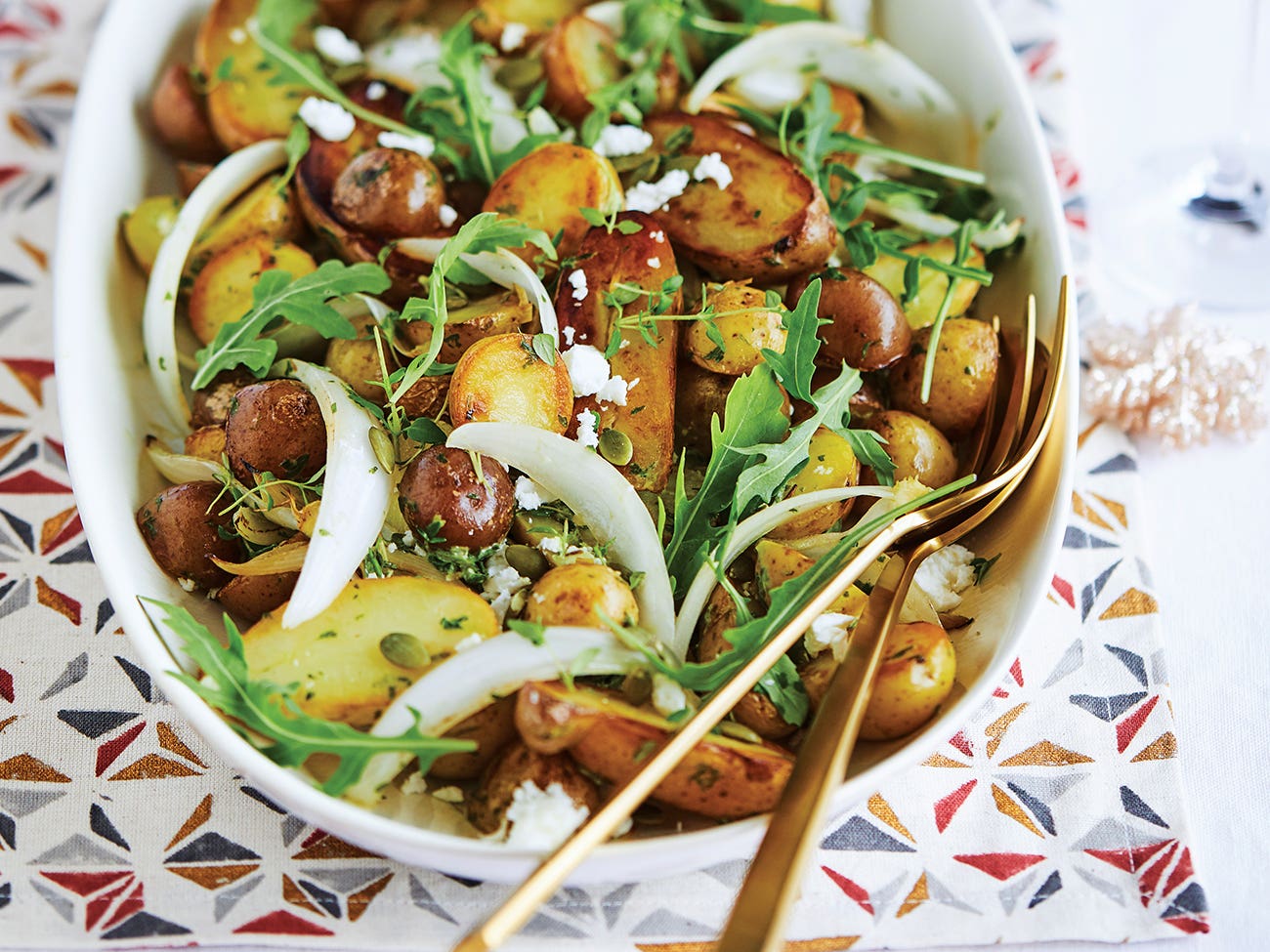 Potato salad
Preparation: 30 minutes
Cooking: 30 minutes
Cost per serving: About $2.60
6 to 8 servings
Potatoes
1.5 L (6 cups) variety of potatoes
(baby, fingerling, etc.), halved
1 onion, cut into eighths, then pulled apart
45 mL (3 tbsp) olive oil
4 sprigs of thyme, leaves removed
Salt and pepper
Green dressing
250 mL (1 cup) plain yogurt
60 mL (1/4 cup) olive oil
30 mL (2 tbsp) white balsamic vinegar
1 small garlic clove
1 L (4 cups) various herbs (chives, parsley, dill, tarragon, etc.)
Juice of 1 lemon
Salt and pepper
Garnish
Arugula (or other greens)
Toasted pumpkin seeds
Creamy feta, crumbled
1. Preheat over to 200°C (400°F). 2. Combine potatoes, onions, thyme and oil. Season with salt and pepper. 3. Lay mixture on a baking sheet and roast in the oven for approximately 30 minutes, or until potatoes are golden and tender. 4. In a food processor, purée all the ingredients for the dressing. Season with salt and pepper. 5. Once cooled, toss the potato mixture with the dressing. 6. Place potato salad on a serving platter and garnish with arugula, pumpkin seeds, and feta.
What to drink with this salad?
A bubbly with notes of white fruits and citrus would pair nicely with the acidic yogurt and lemon dressing. Or be original and uncork a bottle of rosé with dinner! A supple rosé with notes of fruit (think southwestern France) would really highlight the fresh herbs used in this recipe. If you decide to add cheese or spices to your salad, opt for a Pinot Noir from Oregon.
Available

Online

Available

In store

Not available

Online

Available

In store
Bridgeview Vineyards Pinot Noir Southern Oregon 2019 Red wine

|

750 ml

United States

,

Oregon

Not available

Online

Available

In store