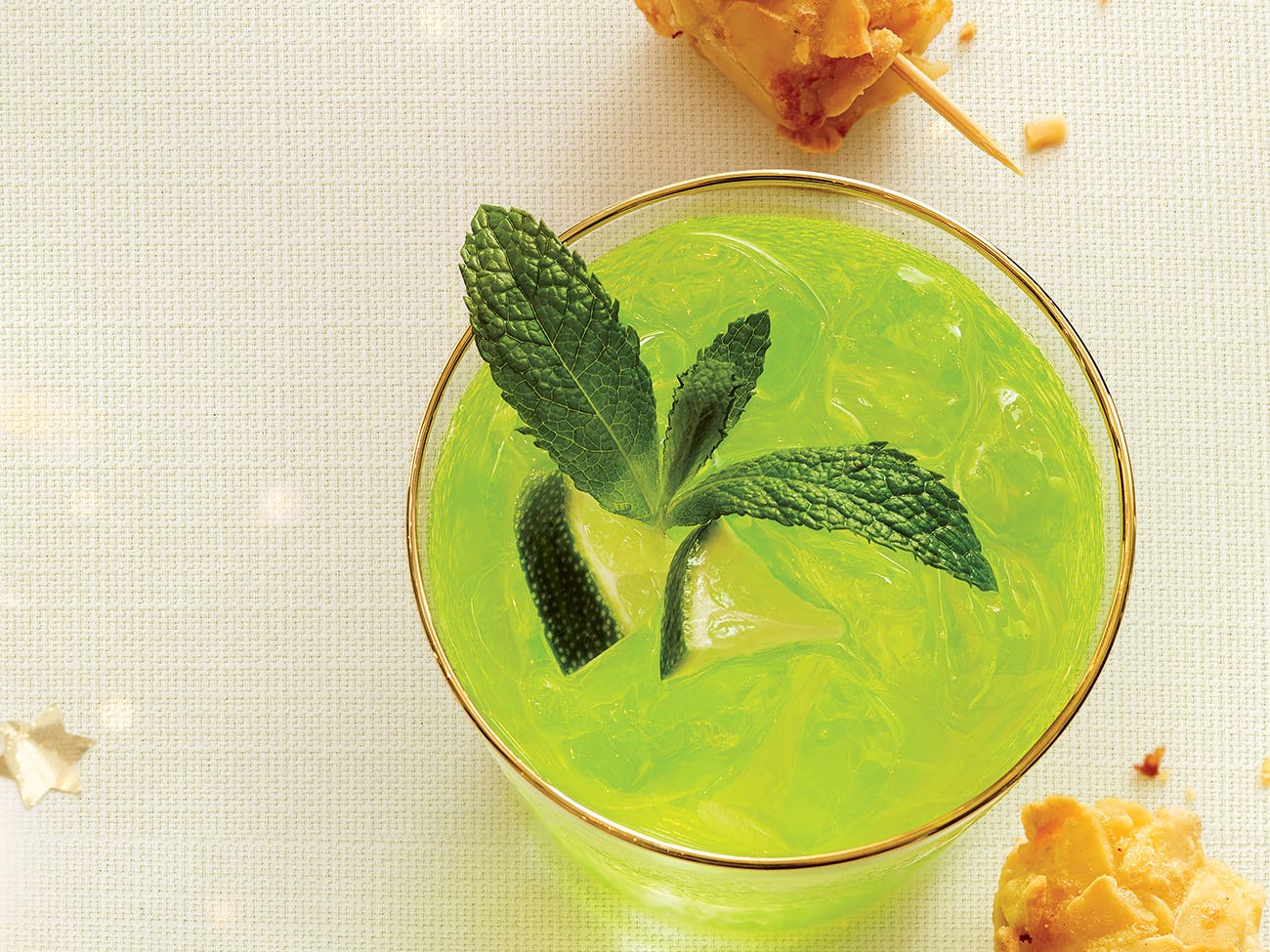 Green Xmas
Preparation:
Pour rum, mint leaves and lime twist into a highball glass. Coarsely crush with a spoon or pestle. Add ice cubes, lemon juice and soda. Slowly pour the melon liqueur over the back of a spoon to form a layered drink. Garnish with mint leaves and lime twist.


Hint
Try frozen honeydew balls, instead of ice cubes, in our Green Xmas cocktail: Use a melon baller (or small ice-cream scoop) to spoon out balls of honeydew and place in ice-cube trays in the freezer for at least three hours.
Let's talk about rum!
White, amber, dark or spiced: Rum comes in four styles, and there are two distillation methods. Commercial rum is made from molasses, while the more complex agricultural rum comes from sugar-cane juice. This spirit makes a great base for a variety of punch recipes, and as such takes pride of place in every home bar, especially during the holidays.
A question of size
Looking for a party punch recipe? Simply adjust this Green Xmas cocktail quantities and you've got one: 180 mL (6 oz) rum, 180 mL (6 oz) melon liqueur, 720 mL (24 oz) lime soda and 60 mL (2 oz) lemon juice. Add more ice cubes and mint leaves as a final touch.
Potato and OKA cheese croquettes
Preparation: 30 minutes
Cooking: 25 minutes
Servings 24 portions
Ingredients
454 g (1lb) Yukon Gold potatoes, peeled and cubed
225 g (1 small wheel) Oka cheese, grated
60 mL (1/4 cup) softened butter
45 mL (3 tbsp) finely chopped parsley
45 mL (3 tbsp) chopped chives
Salt and freshly ground pepper
Crust
250 mL (1 cup) flour
2 eggs, beaten
500 mL (2 cups) slivered almonds, crushed
Oil for frying
Directions
1. Cook the potatoes in boiling salted water until tender, about 20 minutes. 2. Drain well and mash with the cheese and butter. Add the herbs. Season with salt and pepper. 3. Refrigerate for one hour or until the mixture is firm and easy to shape. 4. Shape croquettes into 5-cm (2-in) balls and place on a lightly floured baking tray. 5. Place the flour, eggs and almonds in three separate bowls. 6. Coat each croquette first in flour, then dip in the egg, then roll in crushed almonds. Return to the baking tray. 7. Preheat a deep fryer or a saucepan of oil to 180°C (350°F). 8. Fry the croquettes 2 to 3 minutes or until golden brown on all sides. 9. Set on paper towel to absorb excess fat. 10. Serve with lemon wedges, and a sauce of your choice—we suggest spicy sauce.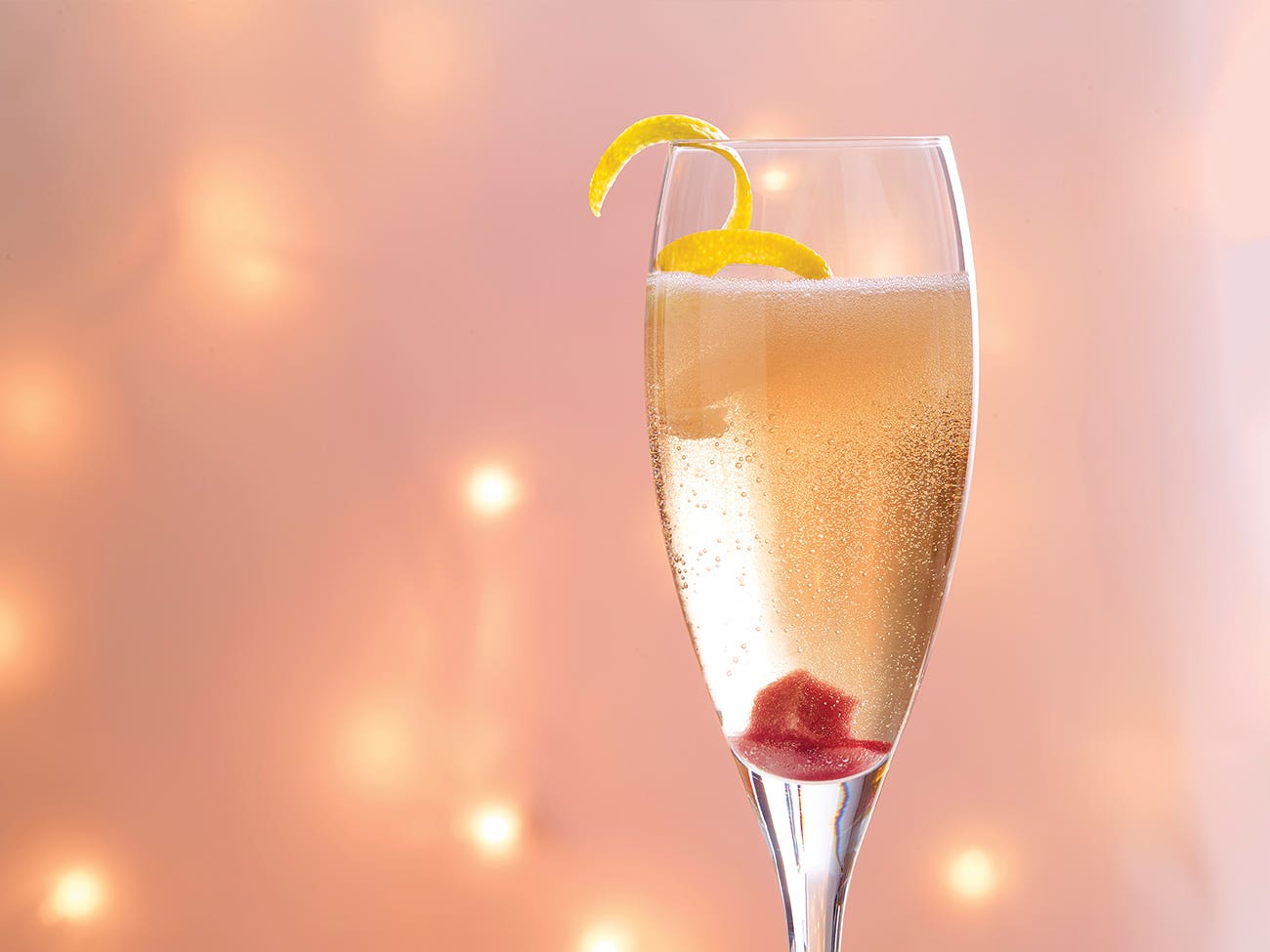 Holiday bubble
Preparation
Soaked sugar cube: Pour some crème de cassis into a bowl. Dip in sugar cube until
it turns completely pink. Remove before it dissolves, and set aside. (You can prepare
cubes in advance. They'll be easier to handle.)
Drink: Place a sugar cube in a flute. Pour in almond liqueur. Top up with sparkling wine.
Grate lemon and orange peels over flute
Hint
Add punchy pizzazz to your bubbly drinks with sugar cubes soaked in your favourite fruit liqueur or Angostura bitters. The cubes can be prepared in advance and placed in each flute ready for serving.
Available

Online

Available

In store
Sparkling cocktails
There's nothing like the pop of a cork to set the scene for the evening. Start with a fizzy base to mix with your favourite spirit (gin, vodka, cognac) or fruit liqueurs. Our Holiday Bubbles cocktail, for example, uses almond liqueur.
Spiced almond brittle
Preparation: 10 minutes
Cooking: 20 minutes
Serving 8 portions
Ingredients
125 g (1/2 cup) blanched almonds
125 g (1/2 cup) granulated sugar
45 mL (3 tbsp) water
1 pinch ground nutmeg
1 pinch ground clove
1 pinch ground cinnamon
Directions
1. Preheat the oven to 180°C (350°F). 2. Spread the almonds on a baking sheet lined with parchment paper. Roast the almonds in the oven for 15 minutes, or until golden. 3. In a saucepan, dissolve the sugar in the water to make a pale, caramel syrup. Add the still-hot roasted almonds to the syrup, and gently coat using a wooden spoon. Add the spices and pour the mixture onto parchment paper. Let cool completely. With your hands, break into bite-sized pieces. Store in an airtight container.
Irresistible liqueur
Hazelnut liqueur is definitely a holiday treat! You can use it in creamy cocktails, alcoholic coffees or hot chocolates. Or try it to aromatize desserts like tiramisu or chocolate mousse. Served at the end of the meal, our Nutcracker cocktail will bring a smile to the sweet tooth among your guests!
A touch of sweet
Why not add a playful element to your evening? Install a candy bar and let the guests
choose their own sweet, colourful rim garnish – mini candies, sugar crystals or grated coconut. First rub a little honey or lemon juice on the rim of the glass to make it sticky. You can also decorate the dinner table with attractive jars filled with candy canes, mini marshmallows, cotton candy… even jujube skewers!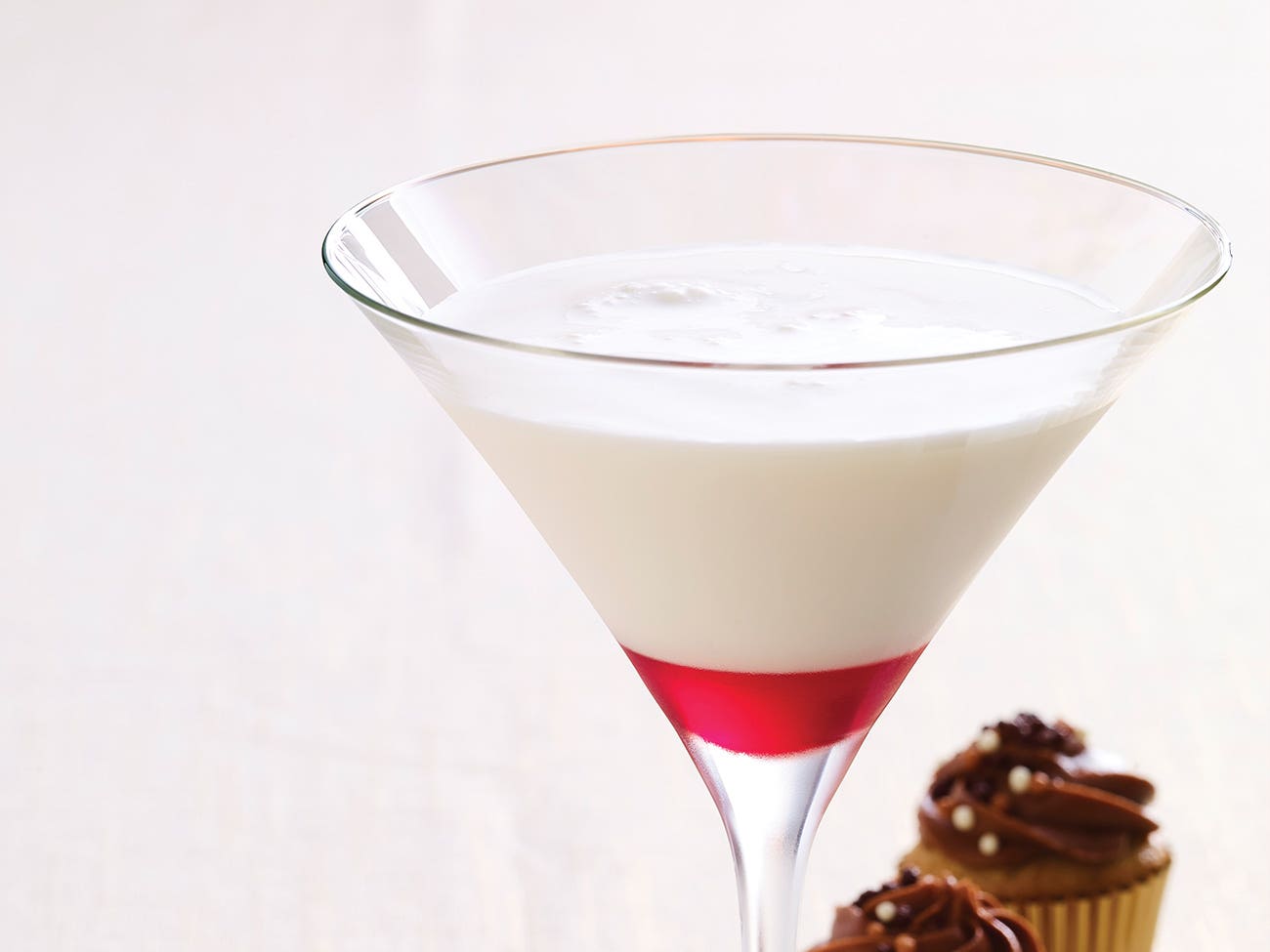 Nutcracker
Préparation
Combine the hazelnut liqueur, vodka and crème fraîche in a shaker filled with ice cubes. Shake vigorously for 8 to 10 seconds. Using an ice strainer, strain into a martini glass. Gently pour the grenadine syrup over the back of a spoon to create a layered cocktail. Garnish as your inspiration commands!
Chocolate and hazelnut cupcakes flavoured with liqueur
Preparation: 15 minutes
Cooking: 20 minutes
Serving 12 cupcakes
Ingredients
Cakes
190 ml (3/4 cup + 1 tsp.) flour
5 ml (1 tsp.) baking powder
160 ml (2/3 cup) hazelnut powder
4 eggs, beaten
185 ml (3/4 cup) sugar
165 ml (2/3 cup) softened
Icing
500 ml (2 cups) icing sugar
1 egg white
Juice of 1/2 lemon
45 ml (3 tbsp.) Nutella
15 ml (1 tbsp.) amaretto
12 whole hazelnuts
Directions
Cakes
1. Preheat the oven to 180°C (350°F). 2. In a bowl, mix together the flour, baking powder and hazelnut powder. 3. With a whisk, add the eggs. 4. Add the sugar and stir. 5. Add the butter and mix until evenly combined. 6. Place in a 12-cup muffin pan lined with paper liners. 7. Bake in the oven for 20 minutes.
Icing
1. In a bowl, with a whisk, mix together the icing sugar and the egg white. 2. Add the lemon juice, Nutella and amaretto. Stir well. 3. If the icing seems too liquid, add some icing sugar. 4. Refrigerate for 1 hour. 5. Using a pastry bag fitted with a fluted tip, decorate the cupcakes with the icing. 6. Garnish each cupcake with a hazelnut.
+Read our interview with mixologist Fanny Gauthier and discover her holiday secrets
+Discover more tips for unique and memorable new year's eve parties.