Crazy for veggies
For the past few years, vegetables have gone from being simple sides to much-loved mains, so much so that they're at the heart of culinary inspirations of chefs the whole world over! Our grilled cauliflower steak recipe, served with an Argentinean-inspired fresh herb sauce, is absolutely divine, loved as much for its simplicity as for its unique taste! Traditionally used in Argentina as a marinade or side for grilled beef, chimichurri sauce pairs just as well with vegetables.
Even more ideas!
Grilled cauliflower is yummy on its own, but you could also add it to a ton of grain-based salads. Think quinoa-cherry tomatoes-sliced almonds, barley-cucumber-green onions, or wild rice-kale-toasted pine nuts.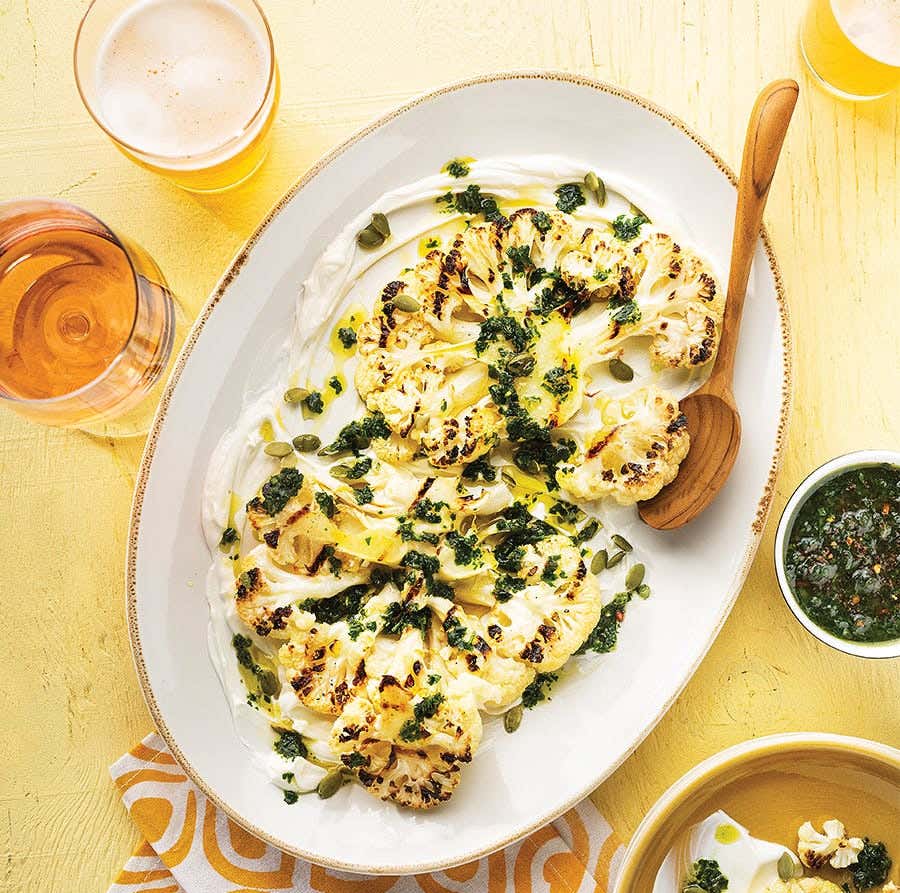 Grilled cauliflower steak with chimichurri sauce
Preparation: 15 minutes
Cooking: About 10 minutes
Makes 4 to 6 servings
Ingredients
1 cauliflower, cut into 2.5 cm (1 in.) slices
Chimichurri sauce
500 mL (2 cups) fresh parsley
125 mL (1/2 cup) fresh cilantro
60 mL (1/4 cup) fresh oregano
2 garlic cloves, peeled
1 shallot, chopped coarsely
250 mL (1 cup) olive oil
5 mL (1 tsp) pepper flakes
1 lemon, zest and juice
Salt and pepper
Topping
Greek yogurt or Labneh
Lemon zest
Pumpkin seeds, grilled
Préparation
Chimichurri sauce
1. In a food processor, chop the herbs, garlic and shallot. Add the oil, pepper flakes, and lemon zest and juice. Season with salt and pepper.
Cauliflower
2. Preheat barbecue to medium heat.
3. Coat the cauliflower slices with chimichurri sauce and place them on the grill. Cook 5 to 6 minutes on each side, or until golden brown.
4. Remove from the grill.
5. Spoon Labneh or Greek yogurt onto a large serving dish. Add the grilled cauliflower slices. Pour the remaining chimichurri sauce and top with pumpkin seeds.
Tip
Consider cooking the whole cauliflower on the BBQ, wrapped in aluminum foil. For full-on flavour, pour your favourite marinade over the cauliflower before tightly sealing the foil. Let cook approximately 30 minutes, check to make sure that desired tenderness has been reached, and enjoy!
What to drink with these cauliflower steaks?
Spring is synonymous with rosé, especially when it comes to happy hour. Try pairing your cauliflower steaks with a "fruity and light" rosé with dominant notes of red fruit and a refreshing mouthfeel. Whites are also a great terrace-time option. Opt for a Sauvignon Blanc with vegetal notes and a citrusy fragrance; it'll highlight the lemon and herb flavours in the sauce nicely. Finally, for a simple, laid-back pairing, crack open a refreshing bottle of white ale... the perfect accompaniment to your tasty vegetable steaks!