Discover a wide variety of delicious poutines, from Gaspésienne lobster to Tex-Mex ground beef, and of course, the popular pulled pork poutine. Yes, poutine can be enjoyed a thousand different ways!
Poutine Week is a great way to make February a little less blah. From February 1 to 7, 2021, some 700 restaurants across Canada will be serving up their exclusive poutine recipes to the public. At the end of the week, every region, from Québec to British Columbia, will declare a winner based on votes tallied at Lapoutineweek.com. It's the perfect occasion to discover new restaurants and enjoy exciting versions of our much-loved emblematic dish.
A new feature to help support local restaurants
This year, restaurants have been hit hard by the pandemic, which is why Poutine Week has decided to partner with SkipTheDishes and offer free delivery during the entire event. An excellent way of supporting and celebrating our local restaurateurs. Note: You can even order your favourite poutine after the 8 p.m. curfew via the Skip delivery service!
For the third consecutive year, Poutine Week is giving back to a cause that matters. For every poutine sold in participating restaurants, $1 will be donated to Anorexia and Bulimia Québec (ANEB).
Flashback
In the late 2000s, poutine experienced a renaissance. Today, it is no longer found only in fast-food joints, but also in some of the world's trendiest restaurants. Quebecers can now enjoy this traditional dish in true gourmet style, like in Chef Martin Picard's foie gras poutine, available at his restaurant Au Pied de Cochon. Extremely popular, our much-loved comfort food classic has inspired chefs across Canada. Lobster poutine, braised beef poutine, and duck confit and goat cheese poutine are just a few examples of the high-end recipes people can now enjoy!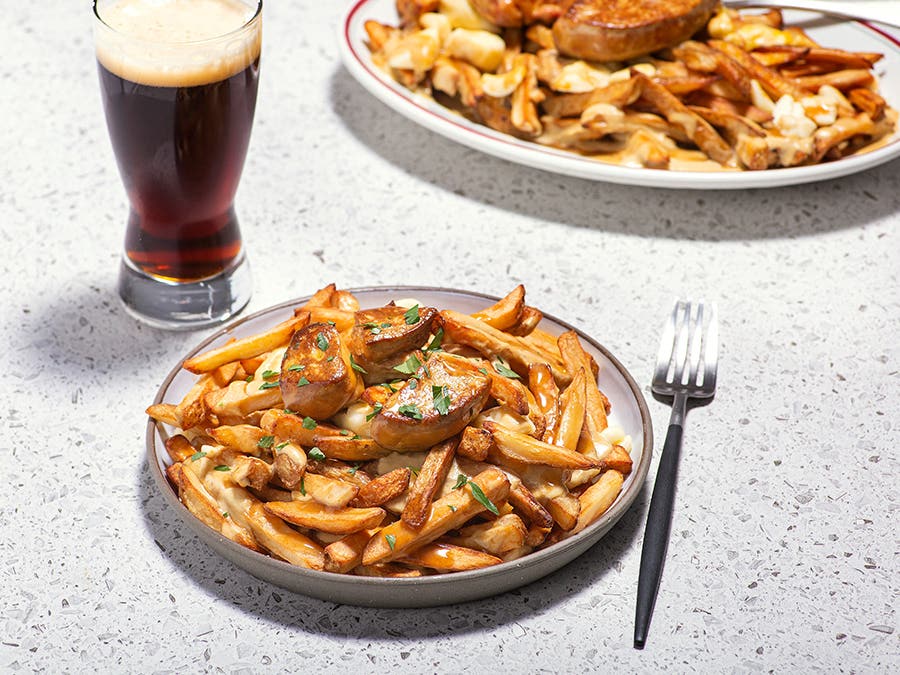 FOIE GRAS POUTINE
By Chef Martin Picard
Photo: Valeria Bismar
---
Ingredients
4 fresh foie gras escalopes, 100 g (1/4 lb.) each, sliced 2.5 cm (1 inch) thick
400 g (14 oz.) cheese curds
4 potatoes, sliced into fries
Frying oil (2/3 tallow and 1/3 peanut oil)
Foie gras sauce

200 g (7 oz.) fresh foie gras
6 egg yolks
600 ml (2 1/2 cups) Pied de Cochon (available on site) or store-bought poutine sauce
60 ml (1/4 cup or 2 oz. or 4 tbsp.) 35% cream
Preparation
Foie gras sauce
In a pot, bring the poutine sauce to a boil.
Set aside 100 ml of the sauce to drizzle onto the poutine.
In a food processor, combine the egg yolks, foie gras, and cream at high speed.
Gradually add 500 ml (2 cups) of the poutine sauce to the food processor.
Pour the sauce into a pot and heat, stirring constantly, until temperature reaches 80°C (175°F).
Remove from heat. Stir another 30 seconds. Keep warm.
Foie gras escalopes
Preheat oven to 230°C (450°F).
In a hot pan, sear the escalopes until they are golden. Transfer to a baking sheet and continue cooking in the oven 4 to 5 minutes.
Fries
Cook the fries in a fryer until golden, then transfer to a plate laden with cheese curds.
Assembly
Place a foie gras escalope over the fries and drizzle with foie gras sauce.
Drizzle with poutine sauce. Serve immediately.
Two perfect poutine pairing ideas
Rich and savoury, this poutine requires a robust pairing. Opt for a strong beer with aromas of malt, caramel, and dark and baked fruit, such as St. Bernadus Pater 6. This beer is full-bodied, with a thick foam and powerful flavours that will highlight the rich foie gras.
When it comes to wine, opt for a Pinot Noir with enveloping notes of vanilla, roast, and jam — the perfect balance to this decadent dish.
Not available

Online

Available

In store

Available

Online

Available

In store
Photo: La Semaine de la Poutine