Trout tartare
Salmon might be the more popular choice for tartare, but you must try it with trout! In Quebec, it's readily available – from oceans and rivers – so be sure it's fresh! And cut it into tiny cubes using a very sharp knife. When selecting your fish, it's a good idea to tell your fishmonger how you'll be using it.
Harmony of flavours
An ultra-fresh fish is delish, so what you add to it must complement it. Our recipe includes hazelnuts, fresh tarragon (milder than dried tarragon) and a hint of lime juice. These ingredients are understated, which lets the delicate taste of the trout shine through.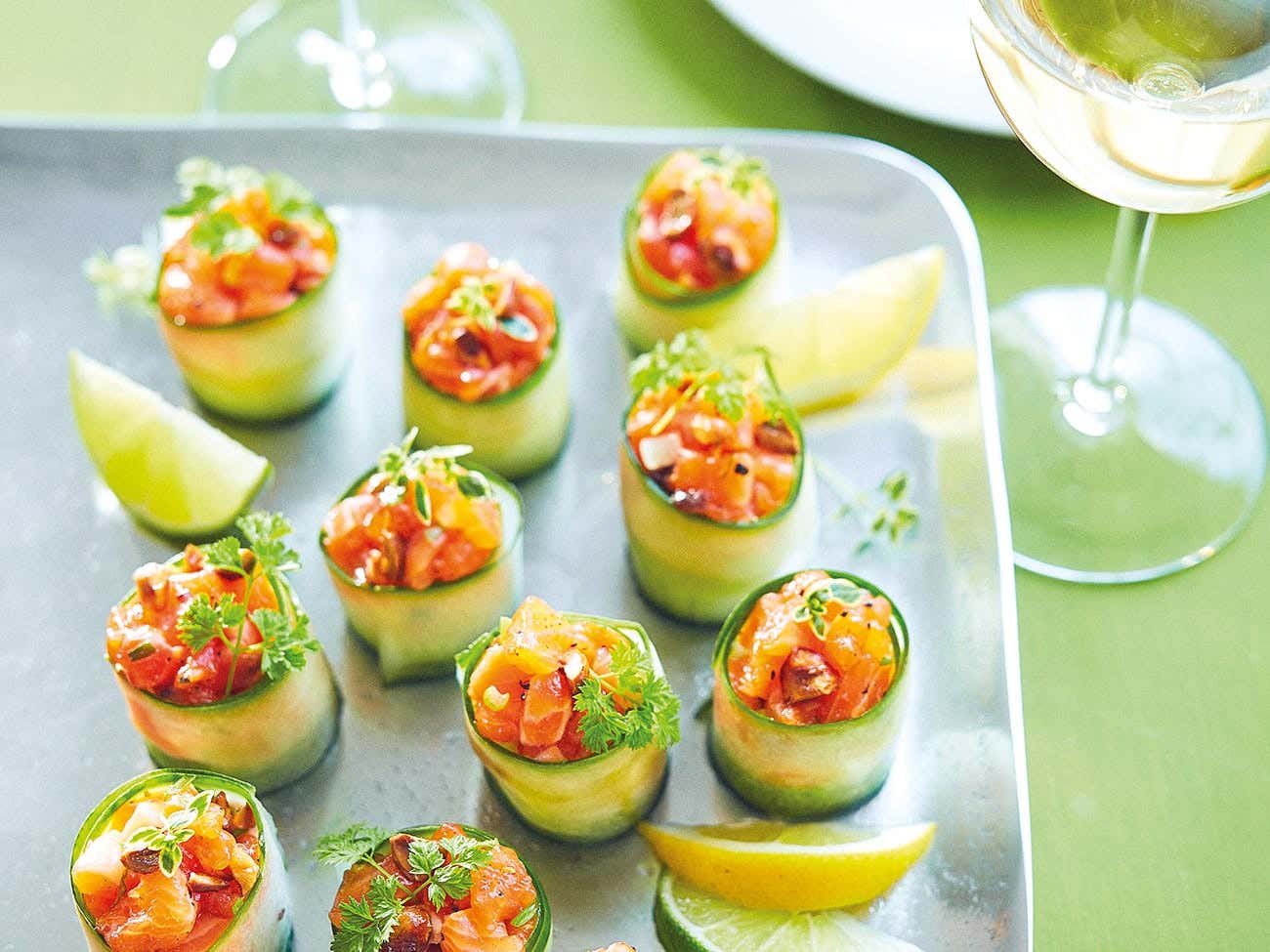 Trout tartare with hazelnuts
Preparation: 10 minutes
Resting: 30 minutes
Cost per serving: about $2.00
4 servings
Ingredients
250 g (1/2 lb) very fresh trout* filet, skinned
30 mL (2 tbsp) fresh lime juice
15 mL (1 tbsp) walnut oil
Ground black pepper, to taste
1 green onion, finely chopped
30 mL (2 tbsp) crushed hazelnuts
5 mL (1 tsp) fresh chopped tarragon
60 mL (1/4 cup) English cucumber in strips, drained
*This recipe may also be prepared with fresh salmon.
Preparation
1. Use a knife to finely chop the trout and place it in a bowl. Add the lime juice and oil.
2. Add pepper and let rest for 30 minutes in the refrigerator.
3. Meanwhile, in another bowl combine remaining ingredients, except the cucumber.
4. Stir in the trout, correct the seasoning as needed, and serve immediately rolled in strips of cucumber.
What to drink with this trout tartare?
Henry of Pelham Sauvignon Blanc is a perfect pairing for these tartare bites, thanks to its delicate aromas of grapefruit and apple, with a hint of minerality. The subtle notes of pear, passion fruit and almond found in Vignes de Nicole from Domaines Paul Mas highlight this dish's delectable aromas. If you're looking for a wine that goes well with all sorts of salads, fish and seafood, definitely try Yalumba Viognier. It's a fantastic all-purpose white with exotic notes of fruit and a lively hit of freshness.
Not available

Online

Available

In store

Available

Online

Available

In store

Available

Online

Available

In store