Millennials are curious… yet sober
The "sober curious" as they're often called aren't against the consumption of alcohol — they consume it occasionally — but they tend to mostly consume more conscientiously or deliberately. And this greater awareness doesn't stop at just alcohol. Younger generations are more concerned with their impact on the environment and want to make food choices that are both healthy and ethical. In keeping with the movement towards greater responsibility, younger generations are increasingly inclined to reduce their alcohol consumption.
This doesn't necessarily mean that Millennials are only interested in drinking water — no way! This major demographic group is instead constantly searching for new low-alcohol products offering rich and unusual flavours.
Just search for the common hashtags "sober is sexy" or "sober curious" on Instagram and you'll discover hundreds of alcohol-free cocktail ideas consumed by a segment that just loves novelty. It all started with interest in low-alcohol beer, which offered the same flavour and refreshing qualities as its traditional formulation. Now, the trend in mixology and alcohol-free cocktails is opening a door on infinite possibilities for these conscientious consumers.
Just follow a few mixologists on social media to discover flamboyant creations that are sure to make converts out of even the most skeptical. This is one trend you shouldn't miss!
New products
The selection of low-alcohol products is a lot bigger than what it was 20 years ago. Among these, note that ciders are on the rise. They have less alcohol than wine, making them an interesting alternative for those looking to reduce their alcohol consumption. Quebec producers have learned a lot in recent years, so every cider lover can now find just the right product to suit their tastes.
NOROI: 4 delicious alcohol-free products
If there's been one Quebec producer who has really understood the alcohol-free trend, it's Distillerie Noroi! No matter which of their four alcohol-free products you choose, you'll definitely recognize in their refined flavours that this is a distillery with a lot of skill and will appreciate the exceptional ingredients highlighted in each product.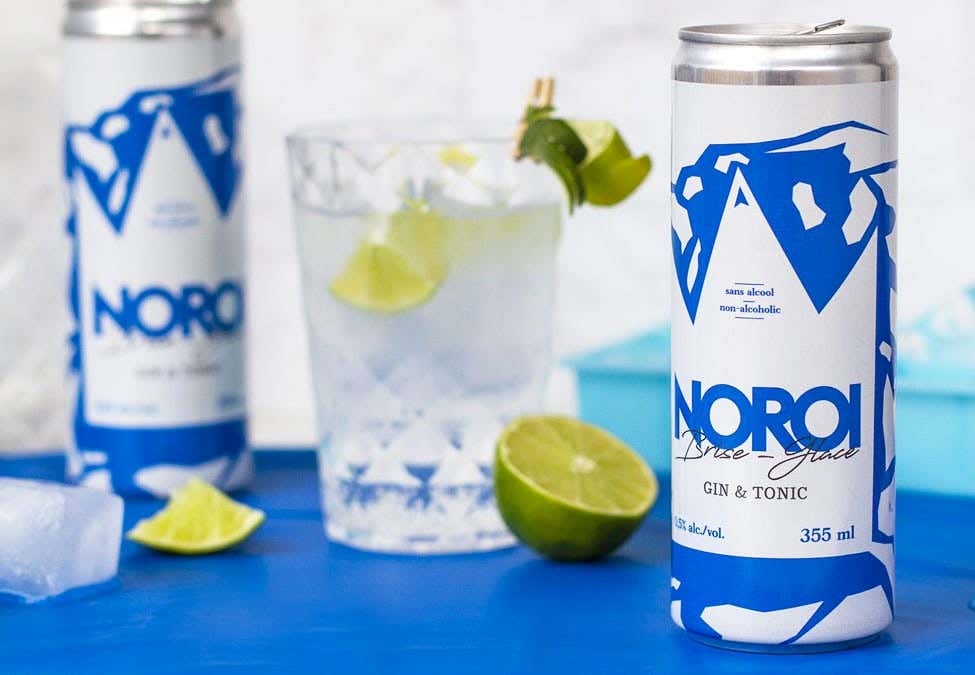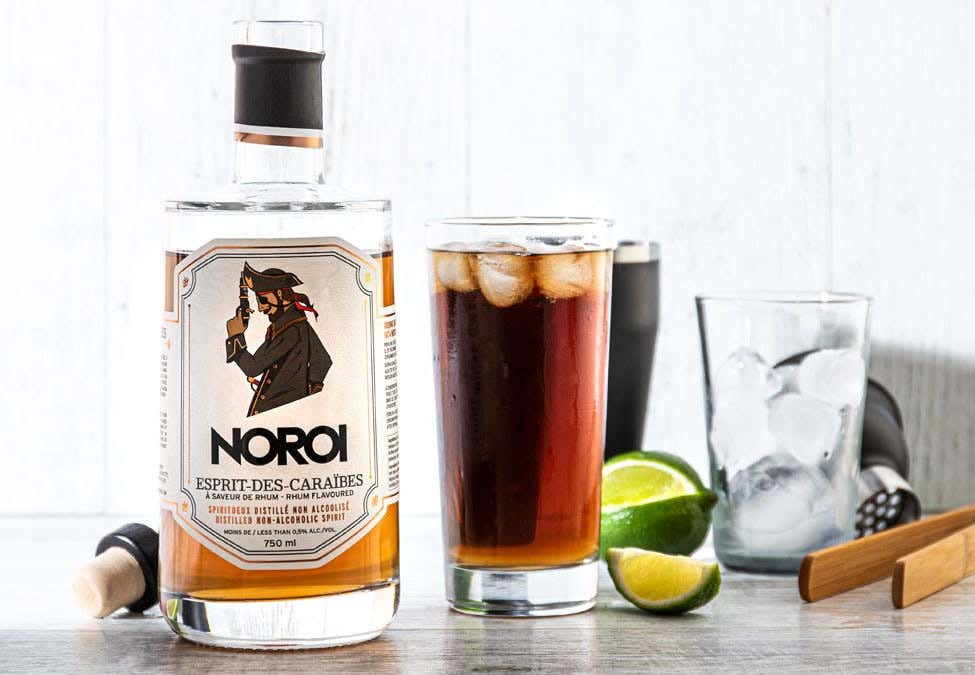 No other cocktail is as refreshing and elegant as the simple, yet delicious gin and tonic. The fact that it's currently everyone's favourite is certainly thanks to the superb Quebec gins that have recently come out. This alcohol-free, ready-to-drink version is no slouch compared to the cocktail with alcohol. Brise Glace has it all — a lemony touch, freshness, and elegance.
This is a refined, distilled, alcohol-free spirit. Noroi is able to offer an authentic product of superior quality thanks to technology that is a world first in the industry. Their still enables the extraction of subtle flavours from raw ingredients that would otherwise be lost or changed in the classic distillation process. Here you'll find the delicate flavours of molasses combined with a house blend of spices. To be enjoyed without moderation!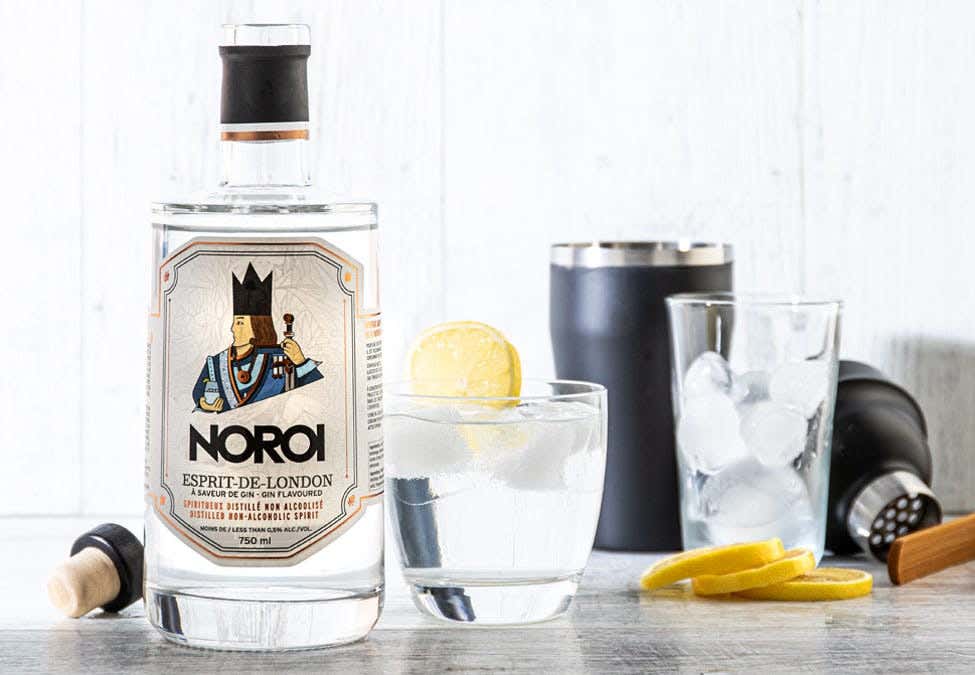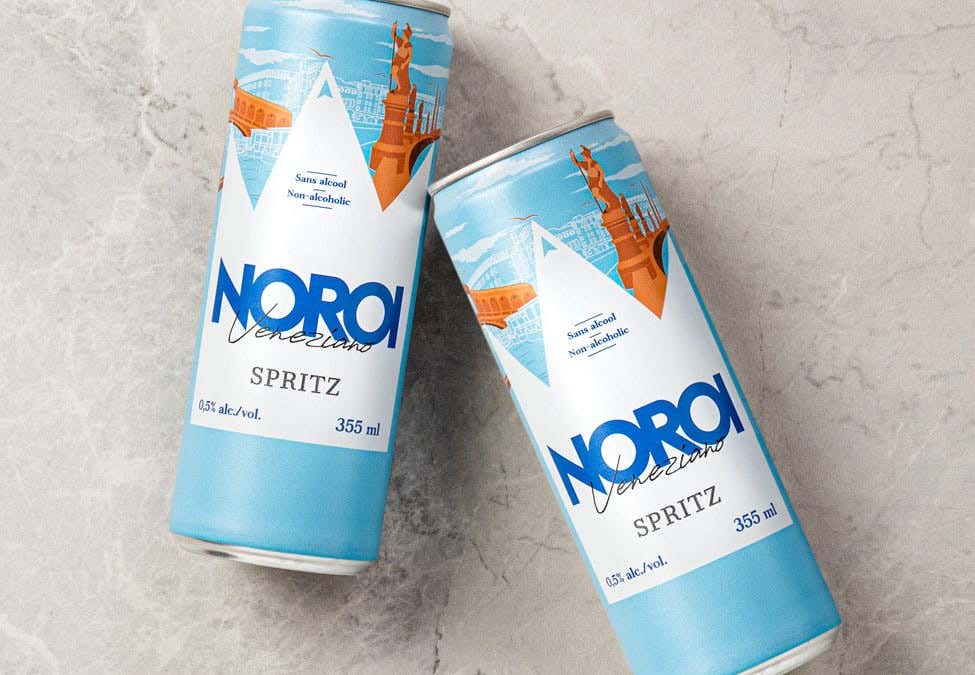 Here juniper berries, coriander, angelica, elderberry flowers, ginger, bitter orange, lemongrass, and fresh lemon are blended to produce a complex spirit that is alcohol-free.
Inspired by the traditional bitter cocktail of Italian origin, Veneziano pays tribute to the famous orange-flavoured original. You'll be hard pressed to tell the difference between the alcoholic version and this spritzer. Delicious!
Spritzol: The new alcohol-free spritzer
Fans of spritzers should know that there's now an alcohol-free version of Spritzol, which first appeared on tables everywhere last spring. Made from a base of sparkling bitter cider, Spritzol is vegan and made entirely of natural flavours with no added artificial colouring. The alcohol-free version is just as delicious, well balanced, and refreshing as the original. This Quebec-made product is available in four-can packs!
Discover all our low-alcohol or alcohol-free products.
To learn more about awareness campaigns
Campaigns encouraging alcohol restriction for a one-month period (such as Quebec's 28 Days Sober Challenge or France's Sober January — in French only) have experienced an explosion in their numbers of participants in recent years. Scientists agree on the benefits of abstinence, even if it's only for 28 days, and on the physical benefits that are perceptible even as long as six months later. Better overall physical health and deeper sleep are just a few of the positive effects cited by experts. And that's not to mention the reduction in your cholesterol levels or even weight loss benefits. It's easy to see why the alcohol-free movement is attracting so many followers.
28 Days Sober Challenge
The 28 Days Sober Challenge was created in 2013 when two young professionals decided to stop drinking for the entire month of February. Drawing on this experience, a committee was created at the Fondation Jean Lapointe (in French only) with the goal of spreading the challenge for the purposes of fundraising. By partnering with well-known ambassadors and maximizing their presence on social media, the organizers of the 28 Days Sober Challenge have made this event an increasing success in Quebec with each passing year.
To participate, visit: fondationjeanlapointe.org (in French only)