Since its founding, the SAQ has taken Quebecers' passions to heart!
In the beige store located in Place Repentigny, Alain Souchon's latest hit Foule sentimentale is playing on Cité Rock Détente. It's 1993. My mother has tasked me with a mission: find a bottle of wine to offer Dad at Christmas. I have been given carte blanche.
At the time, the best in-store advisor was called Michel Primeau. And he was very familiar with my father's taste in wine. "1990 for Pauillac was an even better year than 1989. We just received a small shipment. You don't want to miss out on it!" I opted for a Château Latour. I was 18 years old. Nervous, I asked the cashier who entered the barcode into the giant cash register to place the bottle in the usual brown paper bag (which we used for our blind tastings), and then to slide it into a large plastic bag emblazoned with the SAQ's iconic burgundy logo.
As you read these lines, that bottle of Latour still rests in my family's basement, and Michel has since taken a much-deserved retirement. But you know what? In 2021, as the SAQ gets ready to celebrate its 100th anniversary, the best in-store advisor is still called Michel. Michel Beauchamp, to be exact. And he works at SAQ Beaubien in Montréal, a store that can brag about having one of the most impressive inventories in all of Québec. Is Michel Beauchamp's hipster beard as long as Michel Primeau's ponytail was back in the day? Who knows! But one thing is for sure: both these advisors encompass what it means to be passionate about wine; they're the kind faces that represent our Crown corporation, a corporation that has taken Quebecers' passions to heart for an astounding 100 years.

Buy local
When I think back on my first Québec wine tastings, "ordinary" is the word that comes to mind! Today, in terms of quality, Québec wines are up to par with other wines. Not only has Québec production increased, it has also diversified. Wines, especially top-quality wines (and there are more and more of them), stand out for their singularity. Seeing the potential of local wines, the SAQ has started promoting Québec wines, as well as Québec ciders and spirits. In fact, Québec spirits have experienced a sort of revolution in recent years and today, there are more local products available at the SAQ than ever before.
Quebecers are becoming more aware of the importance of buying local. As a result of the current COVID-19 situation, it has become more essential than ever to support the local economy. After having created the "Origine Québec" logo, the SAQ has now added distinctive identification to all Québec-made products. The new "Made in Québec" and "Bottled in Québec" logos make it easier to find local products when shopping at the SAQ.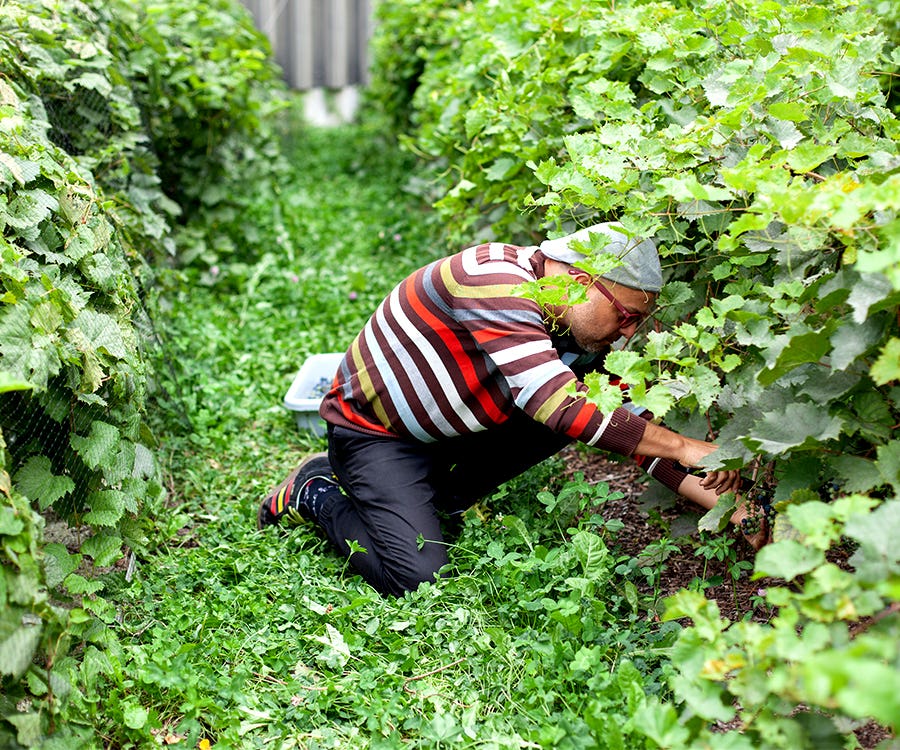 Gardens galore
Québec society is in constant evolution, and the SAQ is committed to following this movement and staying on top of the latest trends and issues. Gardens are popping up everywhere: balconies, flowerbeds, alleys. The SAQ has partnered with Montréal's Laboratoire sur l'agriculture urbaine and launched the Vignes en ville project. This project aims to plant dozens of vines on urban rooftops and produce the first-ever 100% made-in-Montréal wine. Furthermore, the organization mixes crushed glass into its topsoil, thus ensuring that wine bottles are recycled and given a second life.
Natural wine
According to Michel Beauchamp, natural wine, along with organic and orange wine (see next section), is by far the biggest trend at the SAQ right now. "It's probably what my customers ask about most often," points out the seasoned advisor. So it comes as no surprise that it's the latest genre to make its way into the SAQ's repertoire. In fact, natural wine now has a category all its own and bottles can be easily identified thanks to the earth-coloured icon found on their label.
So what exactly is natural wine? Essentially, it's a wine that has been made in the most natural way possible. Producers of natural wine usually adhere to a "no intervention" policy when it comes to barrel-aging a wine, respect organic agricultural standards, and typically run smaller vineyards. They do not use industrial yeast in their production, nor do they add sugar to the must. Furthermore, no vinification techniques, such as micro-oxygenation or reverse osmoses, are applied. And lastly, natural wines are filtered very little or not at all, and the use of sulphites is limited to very small doses (10 to 40 times less than the authorized amount). The result? Wines that are unique in texture and in taste.
The "natural wine" trend kicked off in Parisian bistros in the late 2000s. Formerly available as private imports and reserved for but a handful of restaurants, natural wine officially made its debut appearance in SAQ stores during the summer of 2015. At the time, only a few stores offered the product and kept only a dozen or so varieties on hand. Today, thanks to the multiplication of promotional agencies specialized in natural wines, as well as the 2018 Montréal edition of Raw Wine (the biggest natural wine tradeshow in North America), the SAQ now has over 200 varieties to choose from.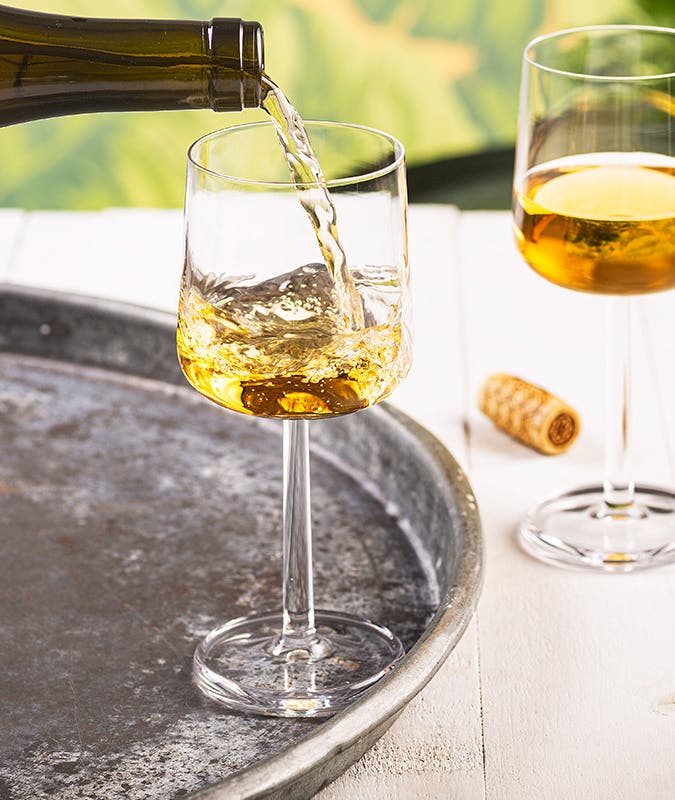 Orange wine
Amidst the natural wine craze, orange wine has slowly but surely won over the hearts of enthusiasts seeking out new experiences. Orange wine? Yes, orange — you read that right. Orange wine is made according to a very ancient technique that consists of making white wine in much the same way you would red wine, meaning macerating the grape skins with the juices — which gives the wine its golden-orange colour. The end result is a little... different. On the nose, orange wine exudes notes of dried fruit and exotic spices (as opposed to fresh fruit). It also has a more structured mouthfeel and the finale is more bitter, almost tannic, as a result of the skin maceration process.
Orange wine is typically considered a gastronomic wine, rather than an aperitif. It should be served like a young red wine, in the 15-16°C range, in order to fully revel in its flavours and texture. Created in 1990 in Friuli, just northeast of Italy, by winemaker Stanko Radikon, the orange wine craze quickly made its way to Québec. Today, many local producers make exceptional orange wine, and the SAQ offers an impressive assortment (close to a hundred, in fact!).
Canned wine
Recycling has been a part of Quebecers' habits for quite some time, as we become more and more aware of our carbon footprint. So it comes as no surprise that canned wine has recently gained in popularity. With its practical format and affordable price, canned wine fits in perfectly with the "drink in moderation" trend (see below) that's in full swing. Now all that's left to do is cross our fingers that more winemakers hop on board so that the SAQ can start offering a wider variety of these eco-friendly wines!
Ready-to-drink cocktails
Ready-to-drinks are, without a doubt, the latest trend to emerge. Practical, low in alcohol, and available in a wide range of flavours, ready-to-drink cocktails have never been so popular. Plus, there is a large selection of Québec products to choose from. Whether it's for happy hour, a picnic, around a fire, or while cooking, they can be enjoyed straight out of the can or in an ice-filled glass for maximum freshness.
Eat better, drink better
The SAQ doesn't just keep up with wine trends. It is committed to going that extra mile and adapting to Quebecers' priorities. In the Montréal Beaubien location, wine advisor Michel Beauchamp can testify to this: "Consumers' tastes have changed; they've evolved, have become more specific. People are much more open to discovery than before. They inform themselves, they travel. Quebecers want dry wines. They scrutinize a bottle's sugar levels. Drinkability and digestibility are important factors."
The fact of the matter is that Quebecers' tastes are changing as much as their lives are diversifying. People are more informed than ever and seek out niche products that correspond to their habits. We only have to think about our diet to see that this is true. Thirty years ago, we all pretty much ate the same thing. Today, you've got your vegetarians, vegans, organic, keto, paleo, gluten-free eaters, those who watch their sugar intake, etc. Many of these trends have influenced producers and winemakers, who today offer organic, biodynamic, vegan, low-sugar, and low-alcohol wines. And the SAQ now takes care to indicate a wine's alcohol level, sugar level, and whether or not it is certified organic.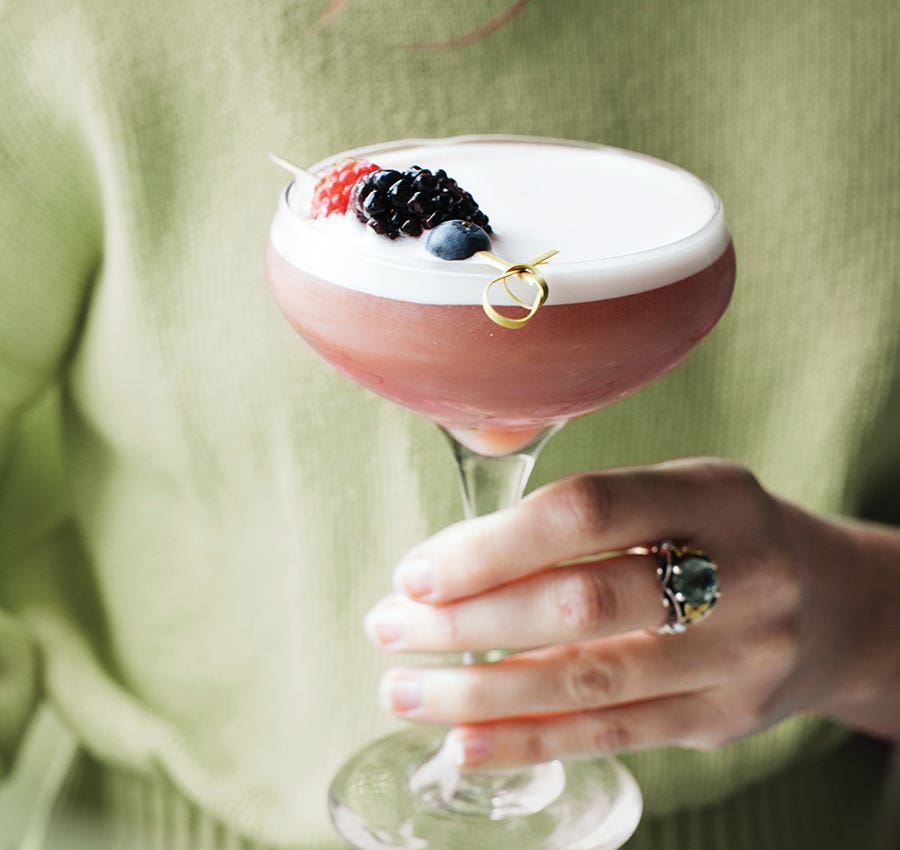 Drink less, drink smarter
Although Generation Y are well within the legal age to drink alcohol, a sobriety trend, including opting for wines with a low alcohol content, is on the rise. In keeping with this trend, the SAQ now offers a variety of low or no-alcohol products to choose from and showcases a selection of alcohol-free cocktails on their website.
Future projects
Online buying has never been as popular among Quebecers as it is now, and the pandemic only accelerated this trend. As part of its 2021-2023 strategic plan, the SAQ aims to make all their products accessible via their website, all while reducing delivery times.
Photos: Archives SAQ (cover and gardens); Valeria Bismar (orange wine).