An overview of the estate
Elian da Ros is one of the few independent winemakers in the Côtes­-du­-Marmandais appellation in the south-west of France, an appellation that was once 95% a cooperative.

Da Ros' vines are biodynamic, with no added chemicals, and he has a "natural" approach to winemaking: he relies on natural yeast fermentation and adds a very moderate amount of sulphur during bottling.

Located south-east of Bordeaux, the vineyard is planted with Bordeaux's main grape varieties (Cabernet, Merlot, Sauvignon, Sémillon), and also includes some Gamay, Fer­Servadou, Syrah and Abouriou—the latter an indigenous grape that is generous both in colour and taste.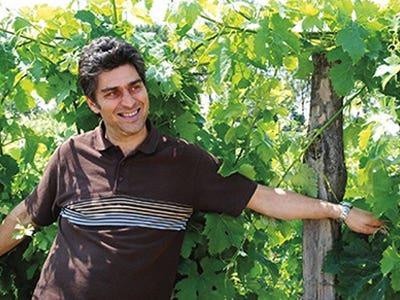 Now leading the family business—which began when they immigrated from Italy—Elian Da Ros is charming the whole world over with his very unique wines.
A family affair
Elian da Ros' grandparents, originally from Italy's Dolomites, arrived in France in 1922. During the early years, his grandmother ran a two-hectare vineyard on which she planted grapevines to produce sweet whites. In the late 70s, Elian's father planted 7.5 hectares of red grapes, which marked the naissance of the current estate, which Elian took over in 1998.
Learning the ropes
"I wanted to be a farmer but my parents didn't approve, so I thought about becoming an agricultural engineer. And they agreed to that," explains Elian during at interview for French magazine Le Rouge et le Blanc. After studying viticulture and oenology, from 1992 to 1997 he worked at Zind­Humbrecht, where father and son duo Léonard and Olivier, showed him the ropes.
His wines
With more than 20 hectares of land, Elian da Ros vinifies each of his cepages individually in cement tanks before maturing them in aged barrels and casks. The result? A line of simple wines that express their terroir and offer the perfect mix of robustness and suppleness. Smiles guaranteed.
Elian Da Ros Vin est une fête 2019 Red wine

|

750 ml

France

,

Sud-Ouest

Not available

Online

Available

In store
Related posts
The Jeanjean family has been cultivating vines in the Languedoc region for 6 generations. Today, they are at the head of several vineyards in the area and produce a variety of wines, all of which provide a great deal of pleasure. Discover the wines of the Languedoc through this great family history.

Read more

Long in the shadow of Italy's great regions, Puglia is increasingly attracting attention thanks to its spectacular beach coastline, its gastronomy rooted in tradition and the quality of its wines. Follow us on this journey through the history, land and wines of Puglia.

Read more

From October 13 to 16, at the Institut de tourisme et d'hôtellerie du Québec (ITHQ), the 29th edition of Sélections Mondiales des Vins Canada will take place. Are you familiar with this major event?

Read more