Deep-rooted movement
Despite the challenges, more and more winemakers are giving the transition to organic a go. So much so, in fact, that the number of applications for Ecocert certification—the reference in organic farming—has skyrocketed. According to Mélanie Gore of the Quebec Wine Council, 35% of the province's growers intend to seek organic certification within the next five years. And it's not only small vineyards that are turning to organic: several large operations are also taking the plunge. A shift appears to be in motion. To find our way through the organic vineyard, we spoke with two leading figures in Québec's wine industry who are driven by the same passion and deep respect for the land.
Domaine Bergeville: organic from day one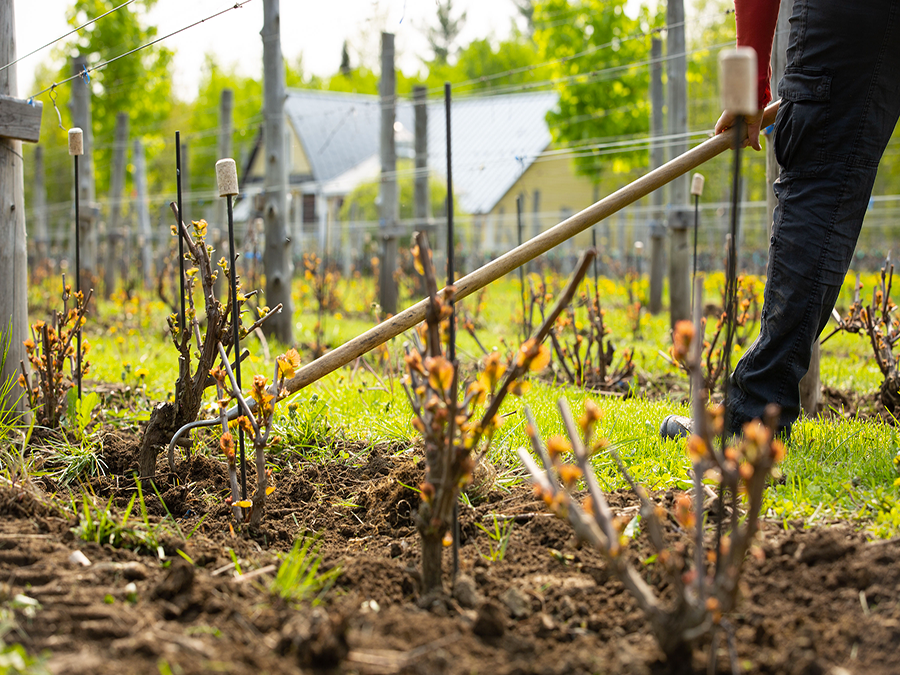 Scientists by training and winemakers by vocation, Eve Rainville and Marc Théberge are bound together in business and life. Their Domaine Bergeville is the only producer to have chosen to go the organic and biodynamic route from day one.
In 2008, the couple acquired grassland in Hatley, in the Eastern Townships, which happens to be the cradle of Quebec's organic movement. "As soon as we began planting, we applied for organic and biodynamic certification," explains Eve. Their vine stocks have therefore never been in contact with any chemicals or synthetic pesticides—something all the more important since the vineyard is where they are raising their children.
Biodynamics 101
Speaking of family, Eve treats every vine like a child she must help grow and become self-sustaining. "We have to give them a solid foundation and guide them, but we also have to grant them their freedom. That's what biodynamics are all about: making our vines self-sufficient in terms of their health," she says. This way of seeing the land as a living organism is at the core of biodynamic agriculture. "We want to be out there every day. We want to be in synergy with the vineyard," Eve affirms. In other words, it's all about teamwork.
While organic and biodynamic have as much to do about the vineyard as they do the cellar, the same rules don't always apply across the board. "Being biodynamic is much more restrictive than organic, if you will. From the very beginning, we intervene as little as possible during the vatting process. We can do that for organic and biodynamic wines because the grape is of such incredible quality. As winemakers, our role is to guide the juice so it remains unstable and alive as wine without turning to vinegar," she reveals.
According to Eve, the investment in time, meticulousness and energy is what creates the virtuous circle: "In conventional agriculture, we take so much from the land and give back very little. In biodynamics, we give back more than we take."
"To me, organic is giving the land as much as it gives us." - Eve Rainville, Domaine Bergeville
Château de cartes takes the organic leap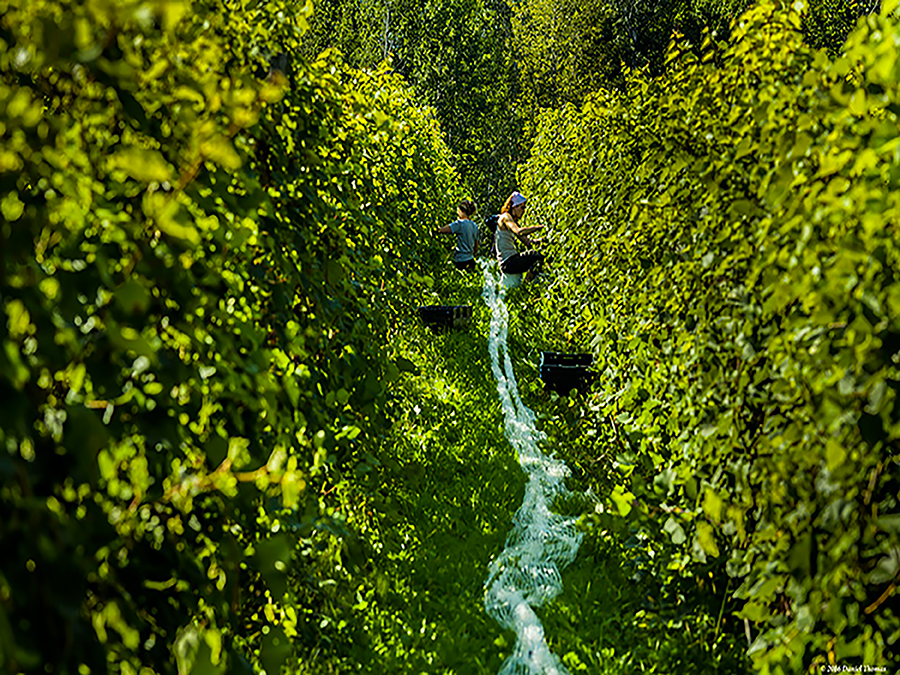 After about a decade in the industry, Stéphane Lamarre of Château de cartes wine and cider in Dunham is ready to take the organic leap. "I've always relied on integrated farming, which is like a hybrid between conventional and organic. I was reluctant because the road to organic is much less clear than the traditional one," he explains.
What convinced him? "I have friends who grow organic and they opened my eyes," Stéphane says. "Rather than doing a 180 in his vineyard, he started speaking with organic growers and learning from them to get a better idea of where he was headed. Then, one day, he took the first step and stopped using systemic pesticides, an effective but highly synthetic treatment.
Plotting it out
On three of his eleven hectares, Stéphane planted Cayuga White. "It's a solid old variety that requires virtually no intervention," he says. The plot will be grown using organic cultivation this July, once the Ecocert certification has been granted. But the first vintage won't be this year.
Stéphane emphasizes the distinction between organic wine and wine made from organically grown grapes: "I'm starting with all organic grapes. I can't commit to producing organic wine right now. That's another step. I've given myself three years to get there."
One hectare at a time
Organic or not, things are humming along nicely at the Château. "I've been making wine for 30 years and I run out every year!" jokes Stéphane. So, why change a winning formula? "It's a personal process, first and foremost. If consumers like it, even better. But I want to prove to myself I can do better."
For the wine producer, the approach is more of a sign of respect than a challenge. "I see it as asking myself what I can do for the planet, for the small square I cultivate and selfishly claim as my own. I try to be the drop in the ocean that could make a difference in the long term. How can I respect the land here? I see it as my way of saying thank you," he confides.
Stéphane believes that it's a combination of small actions that will reduce our environmental footprint.
"It's my way of saying thank you." - Stéphane Lamarre, Château de cartes
A trend that's here to stay
Domaine Bergeville opened its cellar doors for the very first time 2014. Seven years later, Eve Rainville notes how much consumers' reasons for choosing her wines have changed. "At first, being organic brought in maybe 2 or 3% more customers. The wow factor was that we were producing sparkling! Today, people truly want vegan, organic and natural wines. It's the younger generations who grew our customer base. They care about what's most natural and authentic," she explains.
The buy local trend, which gained momentum in the COVID-19 pandemic, also benefitted producers. "Things are crazy! Even more so this year. I just finished bottling my whites and rosés and I don't have a single one left!" exclaims Stéphane. "Quebecers are wine drinkers! Last year, when the pandemic hit, I had to handle the deliveries myself because I didn't want to put my employees at risk. By being in direct contact with merchants, I was really tuned into the kindness of people who want to support local, and that really gave me a boost."
There's no doubt that organic and local are what today's consumers are looking for, but will the trend turn out to be just a fad? Mélanie Gore believes it is a deep-seated movement that has been taking shape for a while now. The transition to organic has been at the core of growers' concerns for at least the past five years and goes hand-in-hand with the artisanal approach that many local producers have adopted. "Certification ticks all the last boxes. Growing organic builds on their drive to evolve and improve their products," she affirms.
Eve Rainville agrees: "The way things are going, it looks like it'll be around for a long time! If, as a population, we have the opportunity to get back to the land, I think the movement will endure. I believe current circumstances are bringing people back one way or another."
Organic lexicon
Organic: Organic agriculture does not rely on insecticides or pesticides but rather on natural methods to maintain soil and vine health.
Biodynamic: Biodynamic winemaking takes the principles of organic farming one step further.
Natural wine: Natural wines are made using a constraining technique. Producers use only organically or biodynamically grown grapes and no additives.
Demeter wine: Demeter is the largest certification organization for biodynamic agriculture. It verifies that biodynamic products meet international standards and guarantees high quality products.
Learn more about organic and natural wines here.
Bottling organic
To be certified organic, wines must meet stringent criteria that include:
climate and environment protection
conservation of soil fertility
preservation of biodiversity
respect of natural cycles
absence of chemicals, synthetic products and GMOs
Domaine Bergeville at the SAQ
Domaine Bergeville Le Blanc Brut 2020 Sparkling wine

|

750 ml

Canada

,

Quebec

Not available

Online

Available

In store
Château de cartes at the SAQ
Château de Cartes Vin Gris 2021 Rosé

|

750 ml

Canada

,

Quebec

Available

Online

Available

In store

Château de Cartes PetNat 2021 Sparkling wine

|

500 ml

Canada

,

Quebec

Available

Online

Available

In store