Whether we think of James Bond and his martini (with a shaker, not a spoon!), Don Draper from Mad Men and his old fashioned, or Bill Murray's character in Lost in Translation, always with a whisky in his hand, alcohol—and spirits in particular—have often been associated with a very masculine universe. However, women are far from strangers to it: many have even made it their profession!
This is not just a matter of modern history. Historically, women were numerous in the world of alcohol manufacturing in Europe and North America. As early as the 16th century, they were already a major influence in the world of aqua vitae (eau de vie/brandy).
Today, they keep some of the world's largest distilleries thriving, whether as master distillers or through the unique perspective they bring to spirits.
Stephanie Macleod – Dewar's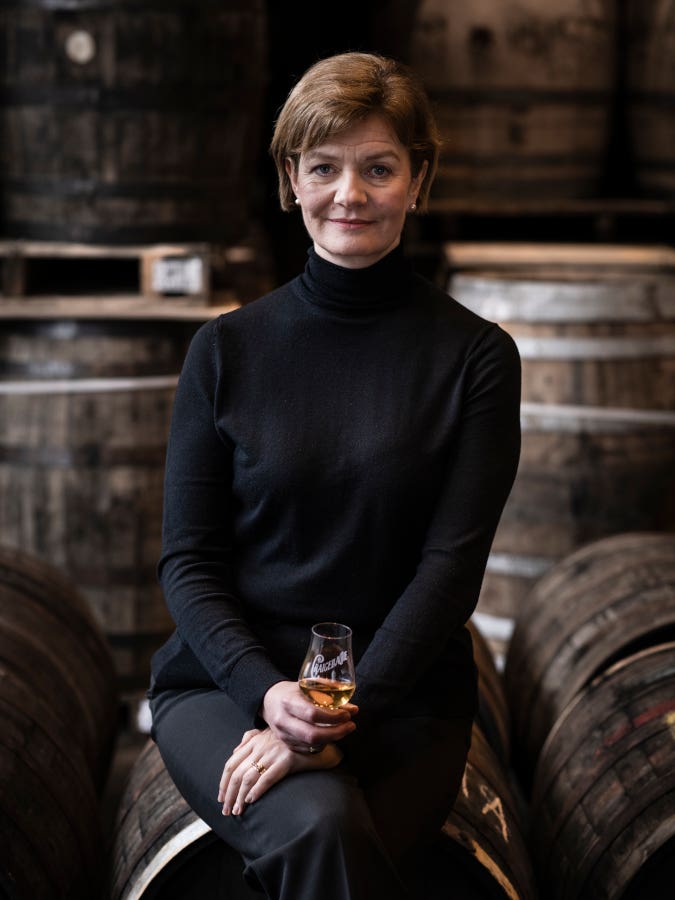 Stephanie Macleod became an icon in the whisky industry when she was awarded Master Blender of the Year at the 2019 International Whisky Competition. The first woman to receive the award, she is now driven by the same passion that plunged her into the wonderful world of distilling in 1998.
While she never envisioned a career as a distiller during her studies, it was her first work experience at the University of Strathclyde's Food Quality Centre in Scotland that led her to her calling.
"I have been working at Dewar's since 1998. Prior to that, I worked at the University of Strathclyde's Food Quality Centre, where I studied the flavour of Scotch whisky in relation to its chemical composition," she explains. "At Dewar's, I held various positions in quality, then took over management of the laboratory, before becoming a designated distiller and finally master distiller in 2006. I am very proud to be a Master Distiller at Dewar's, a company that is carrying on 176 years of distilling traditions and shaping them for the future."
Today, Stephanie Macleod is helping to highlight and promote the different opportunities that exist in this business for women: "In recent years, at Dewar's, we have been determined to not only market ourselves to students and graduates, but also to invite them to join our internship and graduate programs. We now have new talent and most of them are women, and we're proud of that!"
For Stephanie Macleod, the greatest recognition as a master distiller is in the conversations she has with consumers: "The ultimate recognition for me is when one of our customers tells me what our whiskies mean to them. Our whiskies are part of life's celebrations: weddings, birthdays, etc. Knowing this, we make sure that each bottle deserves a place in the moments that matter in people's lives. Last year, I was also awarded the title of Master Blender of the Year for the third year in a row by the International Whisky Competition, thanks to our beautiful Double-Double 32-year-old Scotch whisky. It was a very proud moment."
Marissa Fortin - Hera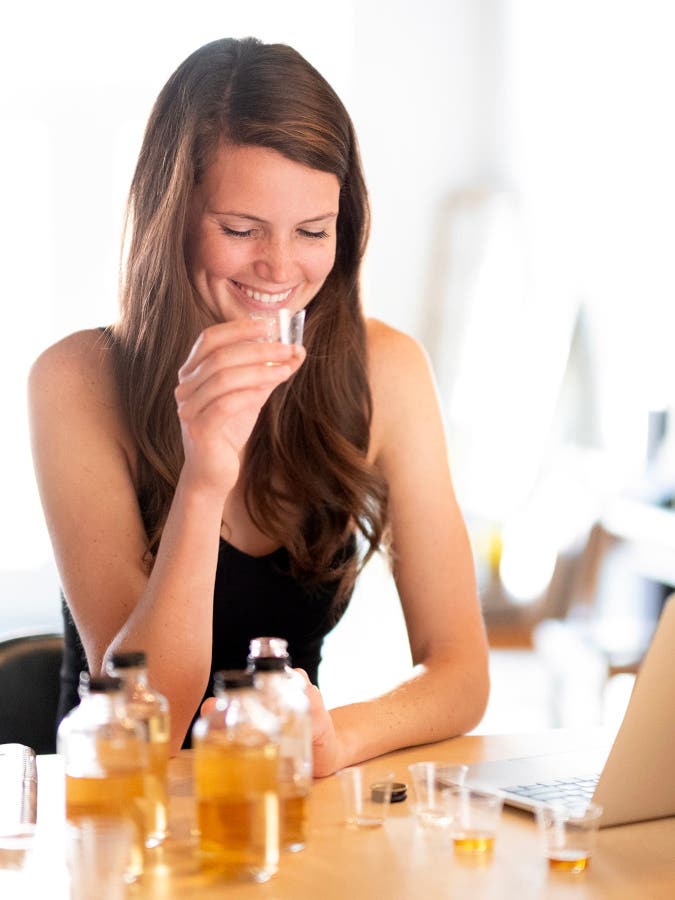 Founder of the new Quebec-based spirits brand Hera, Marissa Fortin launched her first product a little over a year and a half ago; a whisky with an alcohol content of only 25%—something never before seen in the industry. The idea for Hera came from my personal taste, because I really like the flavours and subtlety of whisky, but I think it's too strong," she says. Over time, I realized that there were a lot of people like me who wished they had access to a milder product."
Marissa Fortin doesn't consider herself a distiller, but rather a creator, as she doesn't distill her own whisky: "I use a five-year aged Canadian whisky. Even though I don't distill my own alcohol, it was very important to me that it be local," she says.
Inspired by discovery, progress and diversity, Fortin has created an elegant and refined product with a lower alcohol content that accommodates society's changing tastes.
"The competition in the whisky industry is strong, yes, but I don't consider myself to be competing with brands that have been around for centuries, such as Glenlivet. I've created a product that is new to the market and meets a different demand. I think that designing a new product should be done for the right reasons," she concludes.
Marissa Fortin also wants her business to have a positive impact on society, which is why she has committed to donating a portion of the profits from each bottle sold to local initiatives that support women in need.
Lesley Gracie - Hendrick's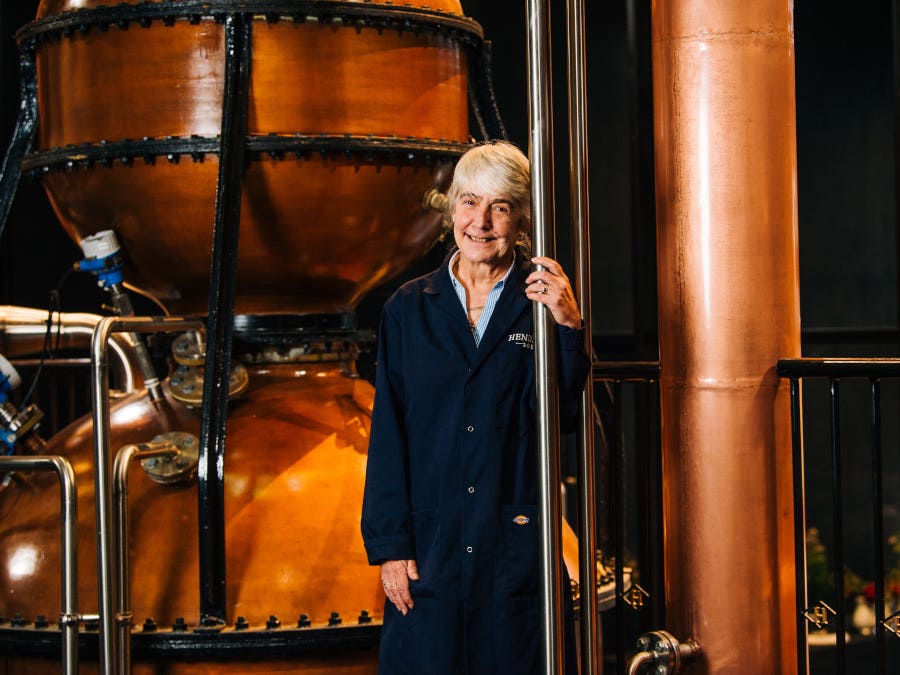 Lesley Gracie hardly needs an introduction. The legendary master distiller revolutionized the gin industry more than 20 years ago by creating a unique rose and cucumber infused Scottish gin recipe that is unlike any other gin in the world. Since then, she has strived to continually innovate to maintain the brand's global reputation.
"With my background in chemistry, I started working in the pharmaceutical industry playing with different flavour combinations to mask the bitterness of new drugs, so that they would taste good enough to drink," she confides.
"I then moved to Scotland and started working at William Grant & Sons. And then one day Charlie Gordon asked me to create a new gin, which was a bit of a surprise, to be honest, because gin wasn't very popular at the time. But it was an extraordinary challenge and I had the freedom to do absolutely everything differently! That's what we did, and I loved the whole process from start to finish. I guess the rest is history," she says.
She likes to say that she got into this industry by accident, that it was a result of chance and beautiful encounters, but admits that she has always been drawn to plants and blends of all kinds: "For as long as I can remember, I have always been passionate about plants and I have always made concoctions with them. As a child, I used to make teas with flowers."
"Whenever I find myself somewhere, I always look at a plant or flower and wonder what it would smell like. What it would taste like? I'm weird like that," she says with a laugh. "I usually pick up a leaf or flower and rub it in my hands to see what kind of fragrance it gives off. Inspiration can be found anywhere if you look for it."
Throughout her professional career, Lesley Gracie has never felt any real competition with her fellow artists. "I have personally found this industry to be friendly and supportive," she explains. "To me, it's less about competition and more about camaraderie. I am currently the Grand Rectifier of the Gin Guild. In my role, I want to make sure that every member of the Gin Guild has the same support and camaraderie that I have enjoyed over the years."
Isabelle Rochette - Cirka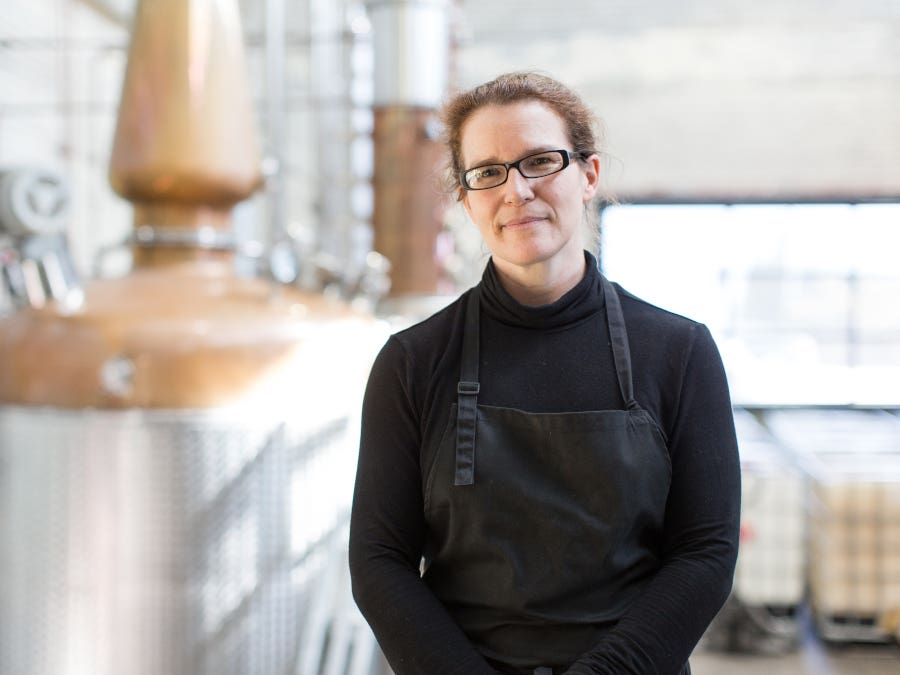 Isabelle Rochette was one of the first women to master the still in Quebec at the beautiful Cirka distillery. Isabelle has had several lives before turning to the profession of distillation. A career path that makes her an exciting and passionate distiller.
"I always say that my career path has been long and winding and that becoming a distiller is a happy coincidence. I have dabbled in design, photography, worked for a long time in IT at Ubisoft, and studied sommellerie. My entire journey resonates in what I do today, especially the sommellerie. Because in distillery as in sommellerie, you are always learning, you never stop learning, and that's precisely what I like most about my job", she summarizes.
She has an enlightened and visionary view of the spirits industry that is not limited to a local perspective. "When you create a new product, you have to evolve. You have to move away from taking the easy way out. We can see it right now: the gin market is saturated. You have to think local and of a circular economy, but also international when you conceptualize a new spirit. That is to say, you don't create a product that is only adapted to the Québécois palate, but to the world's palates while representing the best of our terroir.
Isabelle Rochette is very enthusiastic about the place of women in the spirits industry. "When we started, there were two of us, now there are eight women*, but I don't think that's totally representative. I think women have always been present in the industry, you can see it in the history of whisky where women are very present. It's not a "boys club" as we tend to think. They have earned their due because they have their place. I don't think that today in Quebec there is any discrimination, it's the product that will speak, whether the distiller is a man or a woman," she concludes.
---
*Some Quebec distillers to watch out for:
Madeleine Dufour at Charlevoyou
Pascale Vaillancourt at Ubald
Sarah Renau-Céré at Ménaud
Geneviève Blais at La société secrète
Amélie-Kim Boulianne at La société secrète
Marilynn D. Legault at Domaine Lafrance
Jennifer Nadwodny at Domaine Lafrance
Hélène Dumont at Distillerie Fils du Roy
---
​Sources
Phillips, R. (2017). Une histoire de l'alcool. Presse de l'Université Laval
Hera Spirits. Histoire. https://www.heraspirits.com/#histoire
On vous recommande
Meet four women winemakers who are energizing the wine world and making their profession, their domain, and their wines shine.

Read more

To celebrate International Women's Day, we are pleased to highlight a selection of wines and spirits with one thing in common: a woman at the helm. Sometimes distiller, master blender, owner or winegrower, they have carved out a place of choice for themselves in a traditionally male world. Fortunately, times are changing! Discover the story and know-how behind these extraordinary women.

Read more

History reveals that the relationship between women and alcohol had quite its ups and downs. Let's go back in time and take a closer look at this evolution!

Read more