To highlight the extraordinary work of women winemakers around the world, we present today four remarkable women who work in viticulture and wine production. Whether alone or with their families, on prestigious terroirs or on more avant-garde domains, they bear witness to the dynamism and variety of wine-making practices that are constantly evolving, in both the Old and New Worlds.
Women have always occupied an important place in the vineyards, but have not always enjoyed the visibility associated with their role. They have long been relegated to an anonymous role, often working in the shadow of their male colleagues.
Up until the Second World War, rural women were prohibited from training in viticulture, and instead took up agricultural housework; which required them to do traditional chores (picking grapes, gathering shoots or grafting). It was only later, in the 1970s, that women finally took their rightful place in viticulture1.
Today, they hold a variety of positions in the industry and are emerging as the new face of wine. Some have taken over the family business, others started from scratch, but each works with passion and determination, and in close connection with their respective terroir.
Cristina Mariani-May - Banfi
Cristina Mariani-May is at the head of the family vineyard Castello Banfi—in Tuscany, in the heart of Italy—as well as the import company Banfi Vintners, founded by her grandfather in 1919 in New York. As the third generation of the Mariani-May name, she was destined to take over the management of the family business. So in 1993, freshly graduated from Columbia University's Graduate School of Business, she decided to devote herself to the vineyard.
"I was born into this beautiful industry," says Cristina. My great-aunt, Teodolinda Banfi, always inspired me; she was an extraordinary woman, who was selected in her time to manage the residence of Pope Pius XI and had the honour of being the first non-clergy woman to live in the Vatican and be buried there. She was a lover of good wine, food, and hospitality. She raised my grandfather, and when he was young he came to New York and opened a wine business, which he named Banfi in her honour.
Today, I am at the helm of the company, and I am very proud to maintain that same spirit of hospitality and to bring the passion for great Italian wine and food to consumers around the world."
As President and CEO, Cristina leads the company by combining tradition and innovation, keeping pace with the ever-changing world of wine.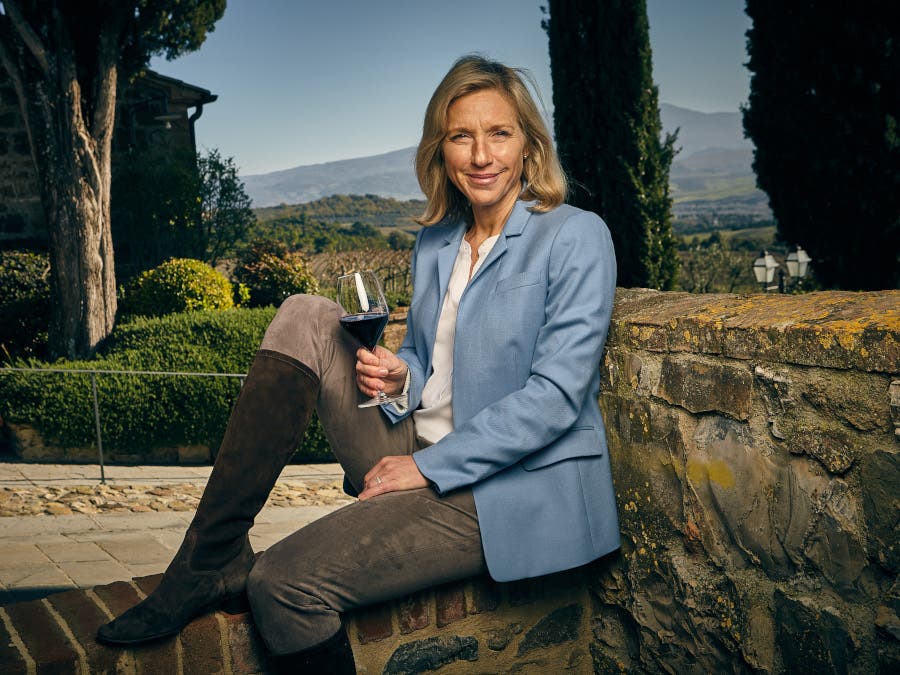 Since Cristina inherited the family domain, she continuously anticipates and adapts to today's realities in order to impose a quality standard in terms of customer satisfaction, to adapt to the evolution of consumer tastes, but also to the repercussions imposed by climate change. She does all of this while ensuring a work environment in which her employees can flourish by supporting gender parity within her company.
"Wine is an ideal environment for women. The vision and attention to detail inherent in our company allows women who want to enter a wine profession to thrive in a group of restaurateurs, consumers, and professionals. The wine industry is about imparting knowledge and attention to a product that embodies so many attributes of place, passion, and style. Women are great at connecting with others and sharing common stories and interests. Wine brings us all together, and women lead the way in bringing us together. It's a perfect match."
Her efforts were recognized when, in 2006, their domain became the first winery in the world to receive ISO 14001, ISO 9001 and SA 8000 certification2. The former defines the criteria for an environmental management system. The second is a set of standards that help organizations ensure that they meet the needs of their customers. And the third certification delineates criteria that encourage companies to apply socially acceptable practices in their workplaces.
When it comes to the future of winemaking, she keeps this forward-thinking ideology at heart.
"Every vintage is a new challenge," she says. Climate change is real. The future is about staying calm, flexible, and always ready to experiment with new things. Also, it's about preserving the land, as well as protecting our environment and our community. Research, innovation, and sustainability have always been pillars of Banfi, and they will continue to be!"
Innovative, charismatic and never short of ideas, Cristina makes the domain and the Tuscan terroir shine all over the world.
Rosalia Molina - Altolandon
Having always been passionate about the world of wine, Rosalia embarked on the wild adventure of making wine with her husband in 1986. "Wild adventure" are her own words to describe the project: "First, because we chose to plant vines at a very high altitude and everyone told us we were crazy, that we would never be able to make good wine with this climate; and second, because being a winemaker is not a job, but a lifestyle. We put our whole life into this project," she explains.
A forward-thinker in her own way, she has no regrets about the decision to plant her vines at higher altitudes, as consumers are now increasingly turning to bright, light wines—specific characteristics of cooler climates.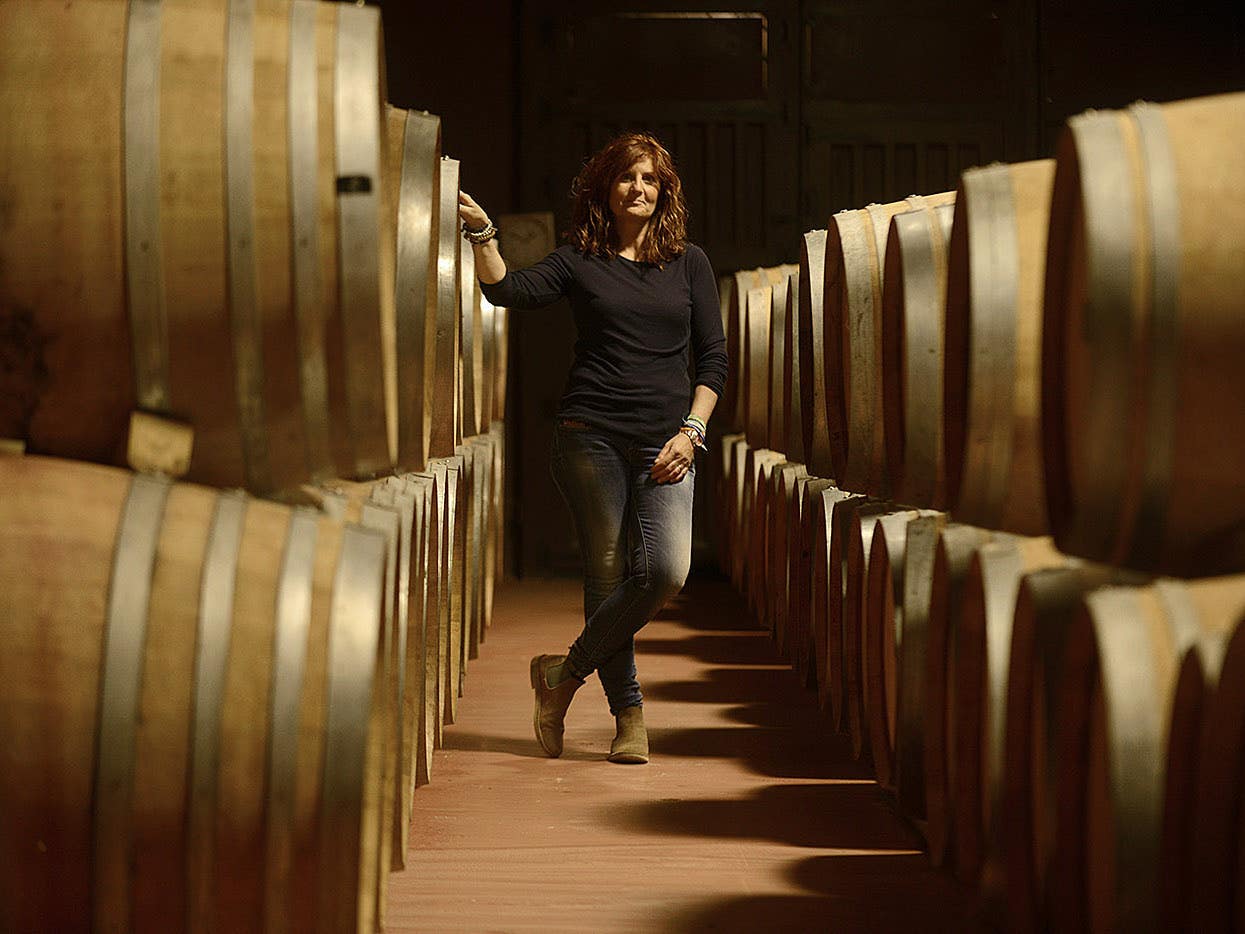 As an entrepreneur, she does everything from A to Z, from wine production to sales. She says that in her younger years, when she traveled to sell wine, people didn't take her seriously. "It was 90% men. When they saw me arrive with my husband, they thought I was his secretary. Today, things have changed a lot," she recalls.
The best reward for her hard work is to travel abroad and see that people appreciate her wine outside of Spain. "All the bottles we produce are a small part of our life, a part of us. It's heartwarming to see that they are appreciated," she concludes.
Anne-Marie Lemire - Leon Courville Vineyard
Anne-Marie Lemire became a winemaker for love. She followed her husband in this project and dove in headfirst. She insists, however, that she has always appreciated good things—whether it be good wine or local products. This has allowed her to become a knowledgeable winemaker with a keen attention to detail.
Whether by chance or by predisposition, Anne-Marie Lemire was quickly intrigued by the product, its specificities, and the production methods. Feeling drawn into the project, she first started in its marketing, before getting involved in all stages of the winemaking process.
Although Anne-Marie never imagined that she would one day become a winemaker, she now has all the qualifications. This profession has quickly become a vocation. "It is the creative, adaptive, and research aspects that I love. It requires a lot of open-mindedness, hard work, but also a lot of listening. It's a job of sharing—we are very close to nature, but also very close to people," she confides.
As for the place of women in the vineyard, the winemaker thinks it is essential to find the right balance. "The committee of women and men is equal during the tastings; it is important for us to have everyone's opinion. I've noticed over time that women are excellent tasters. I also think that women tend to have a more global vision of things, which is important to move forward, to make the wine we produce evolve, but especially to make it better," she says.
Mathilde Chapoutier - Maison M. Chapoutier
Mathilde Chapoutier took over the family domain—located in Tain-l'Hermitage in the Rhône region of France—from her father, Michel Chapoutier.
Mathilde not only inherited a vineyard, but also the intrinsic values of the company—the true pillars of their domain. Thus, the winegrower ensures that the notion of respect for the terroir, the land, the vines, and the people in the vineyard flourishes.
The second cornerstone of their domain is audacity. Mathilde sees wine as a "permanent exploration, without limits". It is this audacity that allows her to make Chapoutier a renowned vineyard and wine merchant in France, always on the lookout for new terroirs.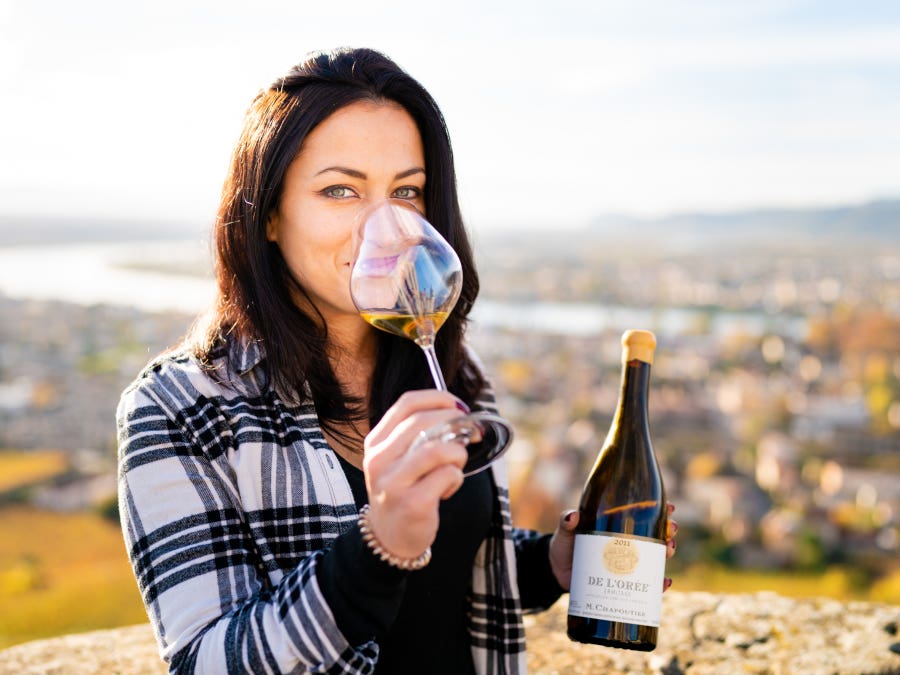 "We must constantly question ourselves, because our strength is in knowing how to evolve. With climate change, we look at things differently. We ask ourselves other questions to adapt. For example: testing new grape varieties, working on new methods of vinification, or on the freshness of the wines, and going to look for new plots of land at higher altitudes, while of course continuing to respect nature."
The third and last (but not least) value inherent to the Maison M. Chapoutier is this notion of sharing, which reflects the conviviality and generosity of wine to which Mathilde is so attached: "For me, wine is made from pleasure." Maison Chapoutier and Mathilde associate wine with moments of sharing, without leaving anyone out. That's why all the labels on their domain are written in Braille to give blind and visually impaired people better access to wine.
Mathilde is also proud of the many female talents in her company: "M. CHAPOUTIER is the most feminine French wine company! Five women make up the board of directors. I don't think that there are gender differences, but rather that the personalities are sometimes very different, regardless of whether we are talking about men or women," she believes.
---
Although their backgrounds and vision of the winemaking profession differ, these four women share one thing in common: their passion for wine and their hard work in order to offer a product worthy of their talent. The life they have dedicated to their passion has allowed them to be recognized throughout the world, just like their male peers. Together, they are building a future for wine that is less gendered and more respectful of the environment.
---
Sources
1Escudier, J-L. (2016). Les femmes et la vigne. Une histoire économique et sociale (1850-2010). Presses universitaires du Midi, Toulouse
2ISO.org. https://www.iso.org/iso-14001-environmental-management.html
ISO.org https://www.iso.org/iso-9001-quality-management.html
SGS.ca https://www.sgs.ca/en/sustainability/social-sustainability/audit-certification-and-verification/sa-8000-certification-social-accountability
Banfi Wines. Cristina Mariani-May. https://www.banfiwines.com/person/cristina-mariani-may/
Chapoutier. (2022). L'univers de Mathilde. https://www.chapoutier.com/fr/luniversdemathilde/
Chapoutier. (2022). Valeurs. https://www.chapoutier.com/fr/la-maison/valeurs/


On vous recommande
Between tradition and innovation, creativity and methodology, here is a portrait of four visionary women who adapt to the ever-changing tastes of consumers.

Read more

To celebrate International Women's Day, we are pleased to highlight a selection of wines and spirits with one thing in common: a woman at the helm. Sometimes distiller, master blender, owner or winegrower, they have carved out a place of choice for themselves in a traditionally male world. Fortunately, times are changing! Discover the story and know-how behind these extraordinary women.

Read more

History reveals that the relationship between women and alcohol had quite its ups and downs. Let's go back in time and take a closer look at this evolution!

Read more