"I'm always telling Marco how we face so many constraints each and every day. Imagine being tied down to a fixed menu when you go to a restaurant, where all you want to do is unwind!"
As you can see, Sophie Tabet takes good care of her customers — her guests. In her quaint restaurant on Notre-Dame Street, she makes sure you get the exact treatment she would like: a surprise charcuterie with your aperitif, a little treat to end the meal, and in between, you choose what goes into your four-course feast. Plus, her partner in business and in life offers you an impressive selection of wines.
Inspired from a traditional menu that has been revisited, lightened, and enhanced, her fine dishes are made from quality local products. "I mix different techniques and add some spice for more flavour," explains the renowned Montréal-Lebanese chef. "You can say it's French cuisine with an exotic touch — I travel a lot."
An appetite for work
Young Sophie's culinary appetite was awakened after getting a taste of the pleasures of restauration at Primo & Secondo in Little Italy. And if she was going to feed her passion for cooking, she might as well learn the ropes at the Institut Paul Bocuse, in Lyon, her parents suggested.
Working her way through five-start establishments, such as l'Astrance and the Violon d'Ingres, in Paris, the apprentice chef would eventually find herself at the Dal Pescatore Santini, a Relais & Châteaux in Northern Italy. One Marco Marangi was working as a server and sommelier in the dining room. His motto: listen to the customers and broaden their horizons. "Some would say things like, 'I don't drink this or that.' I would try to understand why, and then, without contradicting them, I would try to change their mind," the sophisticated Italian, who grew up in the vineyards and olive groves, explains with humour.
Sophie liked his style. They became a couple and a team, leaving Italy to go to France, and from France they moved to Lebanon, where they opened the first version of Chez Sophie. It was considered one of the best restaurants in the Arab world. In 2010, the passionate and talented cordon-bleu chef won the chef of the future and best restaurant awards from the Académie internationale de la gastronomie.
Homebound
Three years later, the pair sold their business and decided to head back to Montréal. For Sophie, it was a homecoming; for Marco, a new life experience. No time to waste! "He warned me: either we open a restaurant, or we're outta here! He already had a location picked out and everything," Sophie laughs.
After two months, the Montréal version of Chez Sophie came into being, with a clean, contemporary look... minus the white tablecloths. "Everything you see here comes from my various travels," Sophie points out. "Each table and every ceramic dish was handmade by local artisans," adds Marco.
Since opening its doors in 2014, the establishment has ranked among the city's best addresses, offering a healthy lunch menu and gourmet dishes in the evening, a marked attention to detail, and a hefty wine list that is constantly evolving. "I'm always ready to uncork a bottle to pair with the dishes," says Marco. "I create a crescendo, going from white, to rosé, to red, to ice wine, to straw wine. I take people on a wine journey!"
The chef, who now has a three-year-old daughter, often gets asked about opening new locations. Her response:
"I can't be in two places at once. And I wouldn't want to be anywhere else!"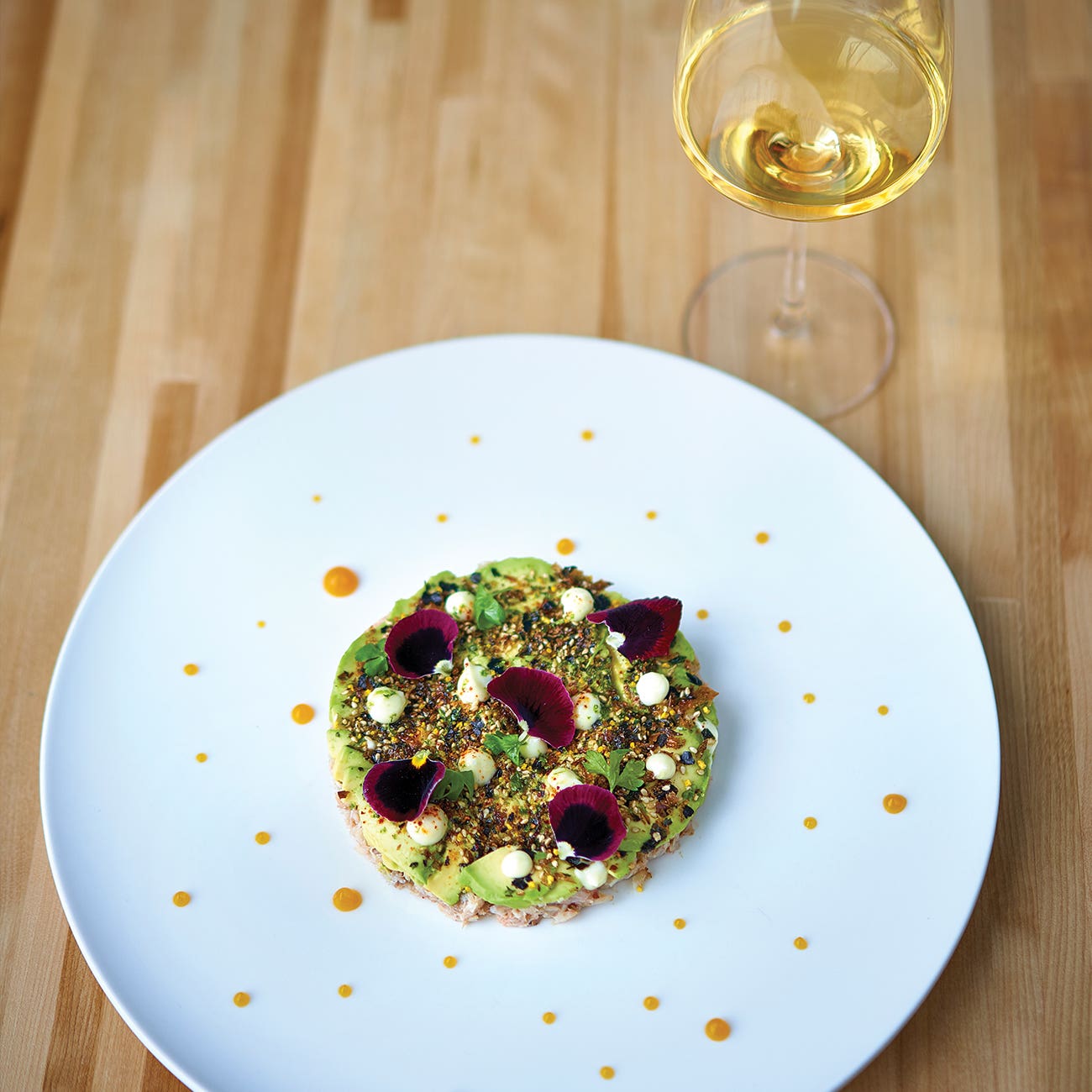 Curry snow crab with avocado and lime
Preparation: 15 minutes
Cooking: 5 minutes
Serves 2
Ingredients
Crispy cake
Tortilla-style fajita bread
Cooking oil
Curry snow crab
30 g (1 oz) snow crab, shelled
10 g (2 tsp) mayonnaise
10 mL (2 tsp) madras curry powder
5 mL (1 tsp) green onion, chopped
5 mL (1 tsp) cilantro, chopped
5 mL (1 tsp) tomato, finely diced
5 mL (1 tsp) mango (unripened), finely diced
Lime juice and zest, to taste
1 avocado, not too ripened,cut into thin slices
Espelette pepper, to taste
Salt and pepper, to taste
Preparation
Crispy cake
1. In a hot skillet, pour a little oil and brown the tortillas on both sides.
2. Place them on a cloth and remove the excess fat.
Curry snow crab
3. Mix all the ingredients together, except the avocado. Salt and pepper to taste.
4. Spread the crab mixture onto the cakes and top with thin avocado slices.
5. Season with fleur de sel, lime juice, and Espelette peppers.
Catherine et Pierre Breton Vouvray Épaulé Jeté 2021 White wine

|

750 ml

France

,

Vallée de la Loire

Available

Online

Available

In store