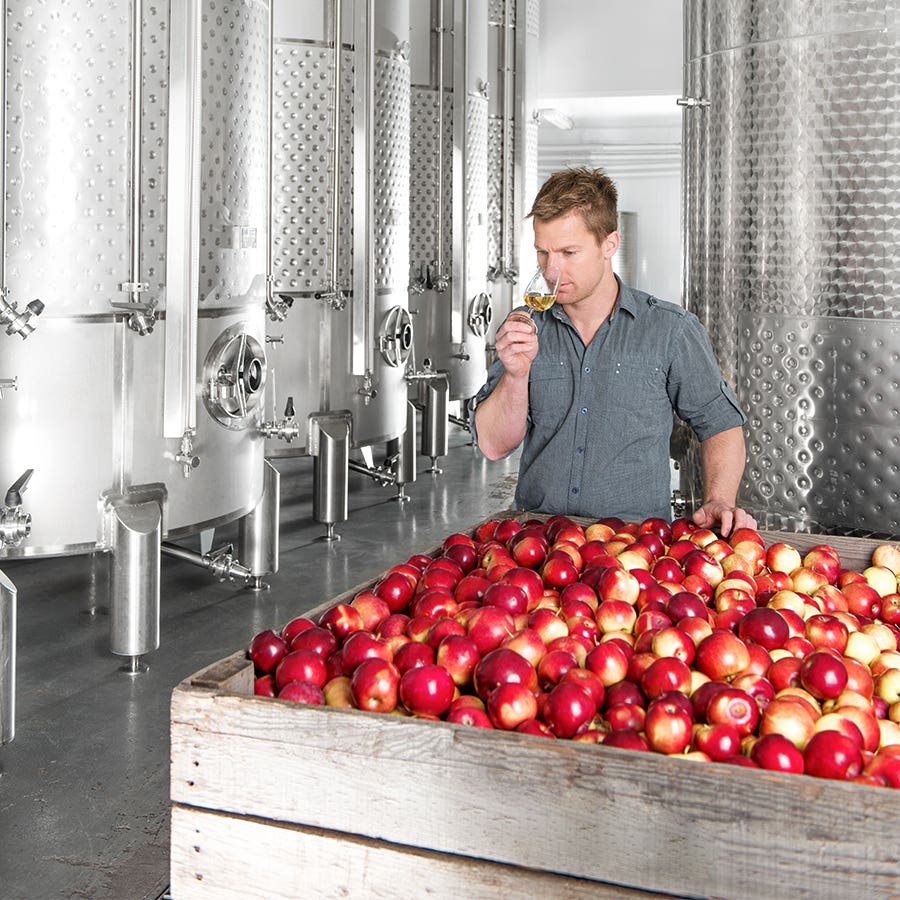 The cider-maker, who has a firm hold on the reins of the Sainte-Cécile-de-Milton ciderie in Montérégie, knows cider inside out and loves it passionately. He knows cider inside out and loves it passionately. "It was my very first alcoholic drink. It goes down easily and has a pleasant taste," he says. With his dynamism and creative recipes, Marc-Antoine Lasnier has taken on the challenge of reinvigorating the apple-brew pedigree.
That's because cider, which enjoys wide popularity in Quebec today, had in the past experienced a long period of neglect. "Both my great-grandfather and grandfather brewed cider on a small scale – because production was illegal at the time," recalls the young entrepreneur. For 50 years, from 1921 to 1970, the word "cider" inexplicably disappeared from the list of Quebec legal beverages.
Even after production was restored during the 1970s, cider quality left much to be desired. Pressed for income, producers cut corners to accelerate fermentation. Lasnier's father, Michel, called it a fiasco and refused to have anything to do with it. "For him, the word cider was synonymous with headache," Lasnier jokes. "By the time I joined the company when I was 17, there was a new regulation in place and the winds began to shift. By sheer perseverance, I managed to convince my father to start production again."
Michel has never looked back. Thanks to his son's know-how acquired during his training and travels, the venture has proven successful. Since 2003, the Vergers products – ranging from crackling, still, sparkling, ice and on-the-lees ciders to apple musts – have proliferated and impressed consumers with their refined quality. "There are as many cider styles as there are cider drinkers," the master cider-maker points out. "Some are light on the palate, others fuller-bodied depending on the fruit's aromas, the degree of concentration and the alcohol content. To each his, or her, own!"
Summer gourmet escapade
Nestled at the feet of the Yamaska, Rougemont and Saint-Hilaire mountains, Cidrerie Milton (previously named Vergers de la Colline) is the heart of Sainte-Cécile-de-Milton. Featuring a ciderie, a bistro and a gourmet shop, the 125-acre property has more than enough to keep visitors busy for an entire afternoon, starting with a stroll through the apple orchards.
"The temperate climate and rocky soil containing little organic matter favour low production volumes and concentrated flavours," says Lasnier. Not to be missed: Apple-blossom time in May.
Until Lasnier arrived at the Cidrerie Milton, the Dolgo crabapples planted by his grandfather were not used. "Through maceration, I was able to extract not just the rosé colour from the fruit but also aromas of cherry and raspberry," he explains. The result is a lively crackling cider, naturally sweet, gluten-free and with low-alcohol content. Milton Star Rosé compares favourably to beer or other refreshing beverages.
Bons à tous les coups
Ideal as an aperitif, cider is also a worthy accompaniment to meals and desserts. Pair crackling and sparkling ciders (Milton Star Rosé, Milton Star, Cid Cuivré, Cid Original, Russet) with seafood (fish, sushi, oysters), white meats (pork, chicken, ham) like the contents of this sandwich served at Bistro des Vergers de la Colline, as well as dishes with light and fruity sauces.
Still ciders (Les Vergers de la Colline Cuvée Rose) are delicious with beef, lamb and game, while ice ciders are great dessert companions.
Cidrerie Milton Rose Dolgo Light cider

|

750 ml

Canada

,

Quebec

Available

Online

Available

In store
Milton Star Sparkling cider

|

4 x 355 ml

Canada

,

Quebec

Not available

Online

Not available

In store
Milton Star rosé Rosé sparkling cider

|

4 x 355 ml

Canada

,

Quebec

Not available

Online

Not available

In store