This is the story of a gang of enthusiasts – not the weekend warrior kind, but ambitious enthusiasts, ready to scour the earth for the means to produce whiskies and other fine spirits that could rub shoulders with the best in the world. "Products you dream about, top-of-the-line goods that would still be accessible to serious fans," explains François Marquis, one of the eight partners in the Côte des Saints distillery, located on the road of the same name in Mirabel.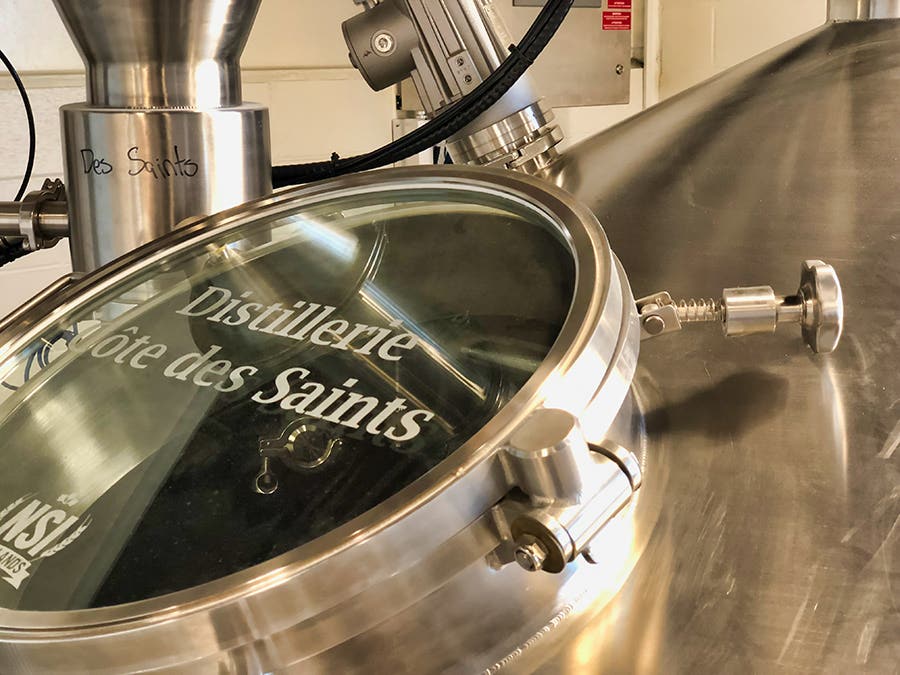 Long-time friends, even from childhood, the group united over their deep love for fine spirits, bringing to the table their highly diverse expertise in business – from construction to packaging, industrial processes and molecular biology, which is the particular specialty of Ann Brasey, the wife of François Marquis. The community spirit at the company is palpable, even on its website and its presentation of the distillery's management team. There's no president, hierarchy or titles, just a photo of a group of eight enthusiastic founders. "We want everyone to be able to stand behind the product, so we decide everything unanimously," insists Marquis.
A critical care physician by profession at the Maisonneuve-Rosemont hospital, Dr. Marquis has his hands full these days with the pandemic that has deeply affected Quebec. It's serious work that demands that Marquis and all his healthcare colleagues redouble their efforts and forget their vacations and normal work schedule for quite some time.
"The whisky will come out when it's ready"

François Marquis
Yet that doesn't seem to have dampened his spirit – in fact he's doubled down on his huge enthusiasm for his work at Côte des Saints with a desire to pursue quality and a long-term vision that's both solid and well thought through. After all, the distillery's first whiskies will need to be aged in casks for at least more than two more years before their appearance on the market. Or maybe even longer, since they're not in any rush: "The whisky will come out when it's ready," end of story, assures the enthusiast-founder in charge of research and development.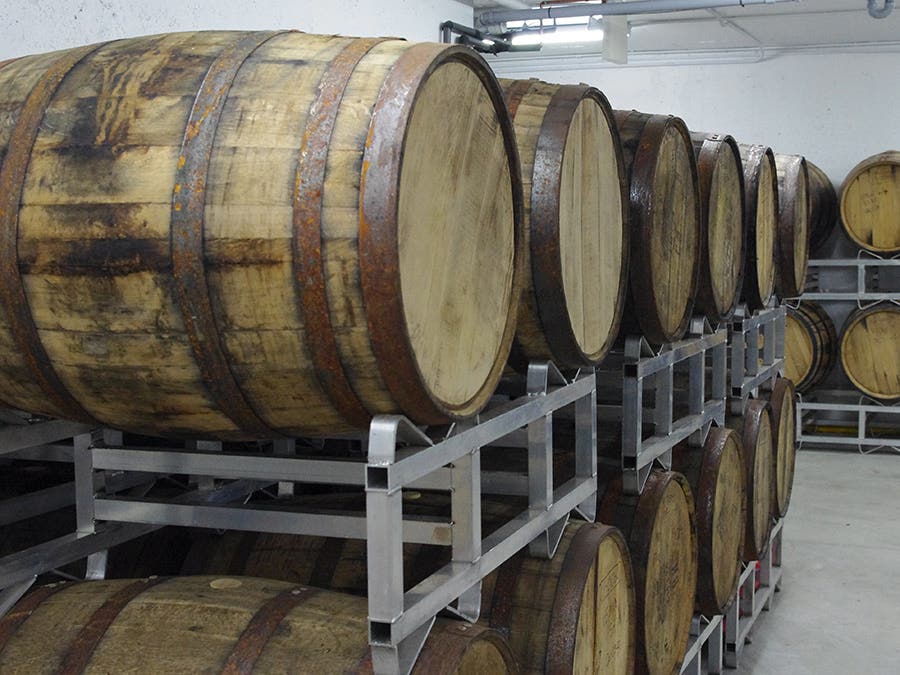 Ticking all the boxes
For our eight founders, when it comes to making spirits, there's no question of leaving things to chance or just eyeballing it. The fields surrounding the distillery produce the grain that will be distilled on site. While at the moment the malting is handled by Innomalt, a specialized company in Sherbrooke, the curing is done in their own Scottish smokehouse, a rare acquisition in the northeastern Americas.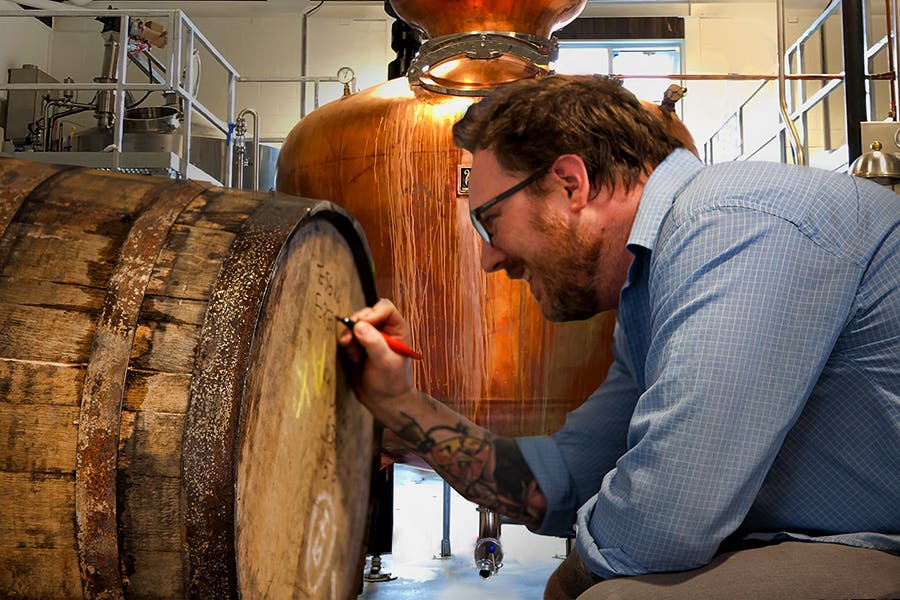 To ensure they included solid expertise in whisky-making, the company searched internationally to recruit its master distiller. And as is always the case, they unanimously chose Matt Strickland, a Tennessee native who became a distiller, and later a distillation teacher, after having completed post-secondary studies in Oregon in the molecular chemistry of wine. To age whisky, an essential step in creating this spirit, you also need to buy high-quality casks by fighting it out beside other international buyers for the best barrels available. "Last year, we even managed to get our hands on two out of three of the only Japanese oak casks to have been put up for sale outside of Japan," says Marquis, congratulating himself. Already cognizant of the amazing casks made by Japanese whisky distilleries, Marquis finds the acquisition to be particularly thrilling. Casks for port, sherry, and bourbon are also in the works – it's as if the company has also become a research project on the uses of oak, amongst other subjects for exploration.
Team spirit
Even though whisky is the heart of the venture, the Mirabel distillery has followed in the steps of many other Quebec distilleries by starting out with the marketing of a premium gin, which arrived on SAQ shelves in 2019. Here too, nothing was left to chance in order to create a product that could live up to the company's expectations. Initial discussions brought the partners together over their personal gin collections to establish a consensus on what style they would pursue.
The alcohol used is house made – a grain alcohol that's not quite neutral, but adds character to the dozen botanicals used in the recipe. While angelica root makes an appearance and delicate iris heightens the other flavours, juniper takes the fore on the palate, since the team wanted to stay true to the spirit of classic gin for its first product. Here too, the team searched internationally for high-quality ingredients, tasting dozens of lots of juniper berries. "I wouldn't have thought this at the beginning, but that really changes the taste completely," says Marquis, amazed. "We chose one that came from a small producer in some forgotten corner of Europe, I'm not saying where. It was so good we were afraid someone else would steal it."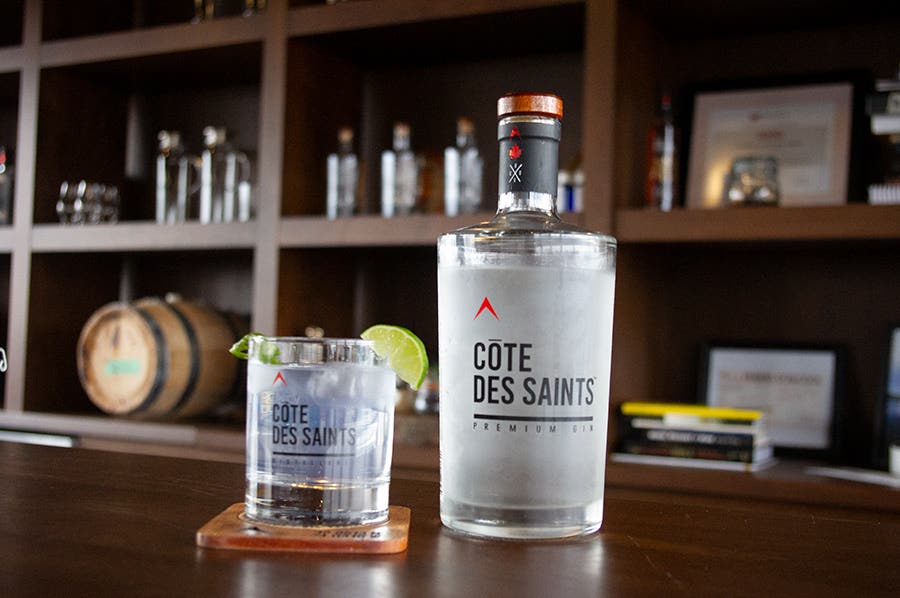 The premium gin also stands out for its colour, which becomes slightly murky with the addition of an ice cube. It's a sign of quality, insists Marquis: "We saturated the gin with flavour to the maximum, so when you chill it, with ice or in the fridge, the oils and aromatic compounds precipitate and become visible. It's like a snowstorm that comes with the cold weather here in Quebec," muses the enthusiastic doctor. In short, it's made so you couldn't possibly want anything more in it!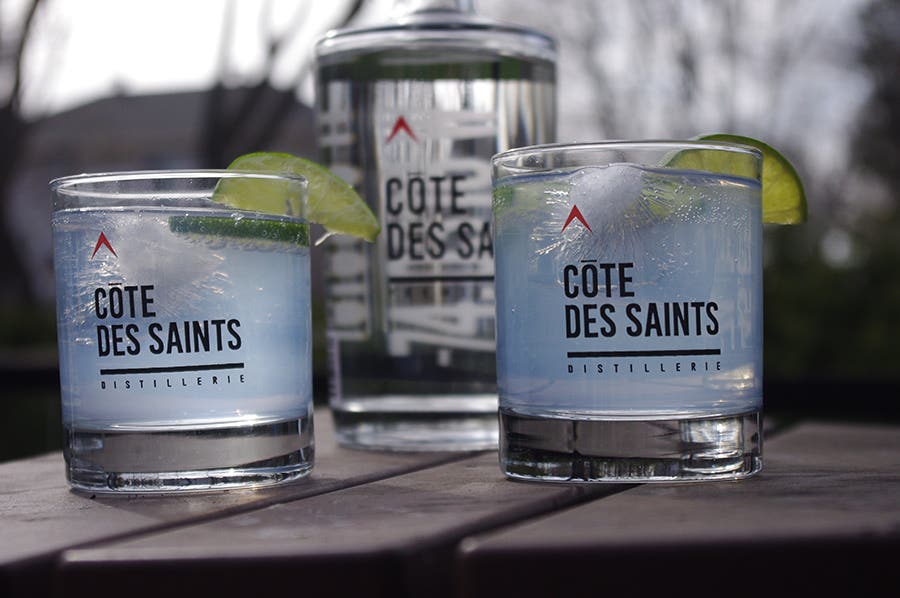 Côte des Saints Premium Dry gin

|

750 ml

Canada

,

Quebec

Available

Online

Available

In store
Surprises to come
Côte des Saints also promises to surprise fans with a new unexpected product, which will arrive in stores in a few months: a crème de cacao. It's not exactly the kind of spirit you would expect from a distillery aiming to be high end, admits Marquis right off the bat. But yet again the company has gone to great lengths, selecting after many trials an ancestral variety of cacao, one produced in the Peruvian jungle by an impassioned farmer. The beans were then macerated twice instead of just once – before and after distillation – to maximize aromas as much as possible. "It doesn't taste like melted Easter chocolate," insists Marquis, who promises many other experiences to come in the future – but only when the products are truly ready and when the entire team approves, as per usual.