In Quebec, with the government encouraging local consumption, local wine, cider, and spirit sales are soaring. Not that Éric Lafrance is complaining! "Our people are working," says the owner of the family-run orchard in Saint-Joseph-du-Lac, which he manages with his wife, Julie Hubert. "But we do miss the human contact."
Like the surrounding businesses, which have been closed for weeks now, the Domaine Lafrance shop, which offers all sorts of ciders, spirits, and homemade products, is preparing to reopen, with new rules in place: social distancing, masks, Plexiglass…
"Grow within the context we currently live in."

Éric Lafrance, Domaine Lafrance
And now, there's a new product on their shelves! "When the pandemic was just starting, we began making hand sanitizer for our community," says Lafrance. "So far, we've made over 2,000 bottles, which were given to our municipality. The next batches will be sold in our shop."
The beautiful copper still – usually used to distil eaux-de-vie, gins, and Brandy – is now used in part to make this precious sanitary liquid, approved by Health Canada. "Sure, it opened up a new market for us. But our main reason for doing this was to grow within the context we currently live in."
From the Earth to the bottle
In his opinion, Mother Nature is challenging us to connect with our planet, now more than ever, because we need it. "Everyone needs to roll up their sleeves," he says, on the other end of the line. "The producers are hard at work – we need to promote our region. We live off agriculture, and that's what's in our bottles. You can't even imagine all the hard work these passionate people put into them." Concerned with the environment, he has begun the process to go organic. "We care about our health and the health of our orchard. We want to be 100% organic within the next 10 years." Coming this summer: an entirely organic Domaine Lafrance cider.
Until then, the team is ready to receive visitors and make them discover their apple, plumb, and pear delights. "I'm proud to have been producing quality products for the past 23 years, concludes Lafrance. "We take our time to do things right, and people appreciate that. In the current context, that's priceless."
Domaine Lafrance
2018
This semi-dry rosé sparkling cider is perfectly balanced with fresh apple aromas and a distinctive floral touch. The Geneva apple gives this wine its beautiful pink hue, and enhanced with 15% ice cider, it's the perfect summer drink.
Domaine Lafrance 2018 Rosé sparkling cider

|

750 ml

Canada

,

Quebec

Available

Online

Available

In store
Domaine Lafrance
Georges-Étienne 3 ans
This high-end Apple Brandy is a favourite of the owners. Made using the same method as for the best French Calvados, aged slowly in oak barrels, it exudes aromas of vanilla, brown sugar, and cooked apples. You can drink it straight up, very cold, as a palate cleanser, or as an aperitif.
Domaine Lafrance Georges-Étienne 3 ans Apple Brandy Apple brandy

|

500 ml

Canada

,

Quebec

Available

Online

Available

In store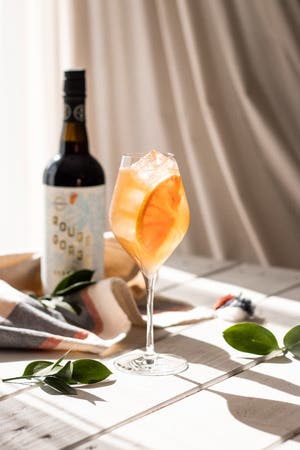 Recipe and photo: 1 ou 2 cocktails
Orchard spritzer with red vermouth
Ingredients
1 oz. red Vermouth Rouge Gorge
0.75 oz. fresh grapefruit juice
Dash of Angostura orange bitters
Domaine Lafrance sparkling apple juice
Preparation
Pour the vermouth, grapefruit juice, and bitters into a cup filled with ice cubes
Add the sparkling apple juice
Mix with a spoon
Garnish with half a slice of grapefruit
---
This cider vermouth is the first of its kind to hit Quebec. It was created from cider and apple eau-de-vie, two basic ingredients made at Domaine Lafrance, flavoured with herbs and spices. Drink it on ice or in a cocktail.
Domaine Lafrance Rouge Gorge Apple vermouth

|

750 ml

Canada

,

Quebec

Available

Online

Available

In store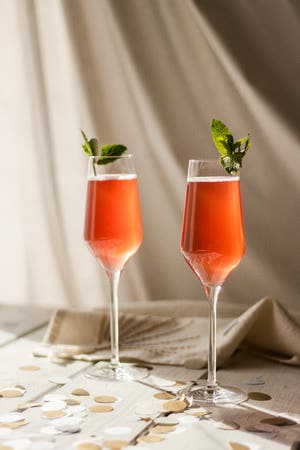 Recipe and photo: 1 ou 2 cocktails
Lafrance 25
Ingredients
0.5 oz. Dandy Sloe Gin
0.75 oz. sour cherry juice
Domaine Lafrance sparkling cider

Preparation
Pour the sloe gin and cherry juice into a champagne glass
Add the sparkling cider
Mix using a bar spoon
Garnish with mint leaves
---
This typically English fruit liqueur is made with eau-de-vie (apples, grapes, and pears) in which Mont-Royal plumbs from Vergers Lafrance macerated. Fruity and refreshing, this blue gin can be sipped very cold or in a cocktail.
Domaine Lafance Dandy Sloe Gin Fruit liqueur

|

750 ml

Canada

,

Quebec

Available

Online

Available

In store