Family tradition
When a company is first created, there's usually a specific moment in time when the project begins to take form, thus leading to its eventual foundation. In the case of Fjord Distillery, that moment was probably when Jean-Philippe and Benoît Bouchard saw their father Serge come towards them cradling a small, artisanal still that their grand-father Bertrand would use in the basement of the family home to concoct some holiday fun.
"Up until then, it was a secret stored in the garage," says Jean-Philippe, describing that moment when the passion shared by the two brothers coincided with the family's long history of handmade stills. Serge was more of a winemaker, but when he saw how passionate his sons were about distilling, he decided to revive the family tradition that seemingly flowed through all of their veins.
Expertise and innovation
The family trio – made up of a retired engineer (Serge), a chemist (Benoît), and an employee of the Business Development Bank of Canada (Jean-Philippe) – had all the required expertise to launch a business, including an inventor's spirit perfect for designing the complicated piping, circuitry, and mechanisms needed to get their operation up and running. Before producing gin, the Bouchard brothers had fun making their own skateboards and surfboards: "We've always been creative when it comes to solving problems," laughs Jean-Philippe.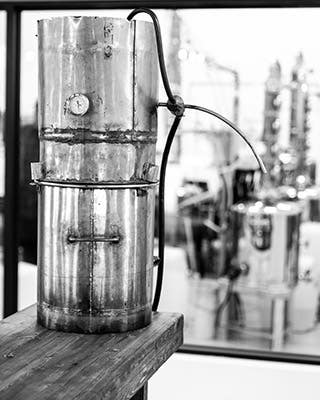 A boreal spirit gin

When the family tradition turned into a budding business, things evolved quickly. The first order for km12, a boreal-inspired gin that remains the distillery's signature product to this day, was placed in August 2017, only nine or ten months following conception, tests, and regulatory approbations were finalized. "At the time, there were only about a dozen or so Quebec-made gins available at the SAQ," points out Jean-Philippe.
Today, the SAQ sells over 14 Origine Québec gins. Over the past four years, Fjord Distillery has become an industry veteran, proof of how much the gin world is growing across Quebec. "It's impressive and wonderful to see just how much the scenery has changed, and how many Quebec products now line SAQ shelves, especially given the current context."
The brothers are incredibly proud that their gin, with its aromas of balsam fir, peppery green alder, pine forest spikenard, wild raspberry leaves, sweet gale, and organic juniper berry, remains a Quebec favourite; km12 explodes with boreal forest freshness and wild notes from Saguenay and Lac Saint-Jean.
When it comes to consuming this liqueur, the brothers recommend keeping it simple: "I'm a huge fan of aperitifs; half gin, half tonic, lots of ice," explains Jean-Philippe. But that doesn't mean you can't pair this signature gin with food. From happy hour bites to main meals, this gin pairs perfectly with salmon – smoked, grilled, or prepared any other way. "Gravlax and km12, now that's an unbeatable pairing," concludes Jean-Philippe.
Distillerie du Fjord km12 Dry gin

|

750 ml

Canada

,

Quebec

Available

Online

Available

In store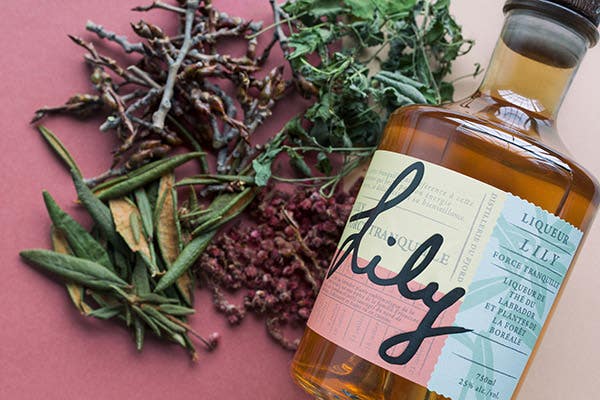 Labrador tea
Creative and inventive, the Bouchard family didn't stop with km12. The family spirit and desire to see some of their clients' hometowns led them to create Lily, a concoction made from Labrador tea, named in honour of their mother. "This liqueur has been described as quiet strength, and that's just like our mother and her values," points out Jean-Philippe, who goes on to say that his mother is always available to oversee the distillery's bottling, labelling, and shipping . . . and to keep an eye on her three men.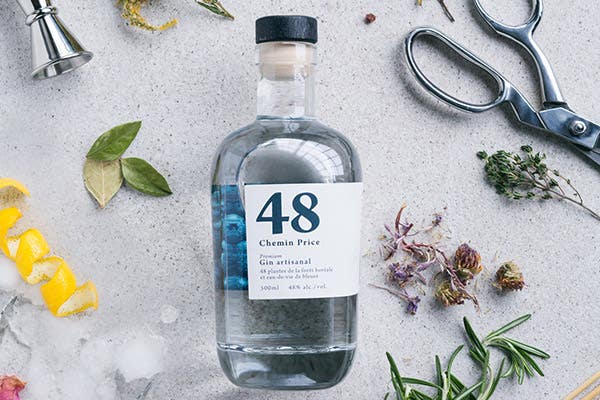 And blueberries
While their Lily liqueur celebrates the family's adventurous nature, their second gin promotes local ingredients that are deeply rooted in the boreal landscape. Named after the distillery's address in Saint-David-de-Falardeau, the 48 chemin Price is aromatized with 48 ingredients harvested north of the 48th parallel ("a druid trip!") and based on a blueberry eau-de-vie. You can't get more local than that . . .
" We start by making a blueberry wine, which we then distil into an eau-de-vie – an eau-de-vie that we bottle as-is, in small quantities," explains Jean-Philippe. When we're making it, the whole distillery smells like our grand-mother's pie. "

Jean-Philippe
Which just goes to show that family tradition is at the heart of everything Fjord Distillery does.
Distillerie du Fjord Liqueur Lily Thé du Labrador Liqueur

|

750 ml

Canada

,

Quebec

Available

Online

Available

In store
Distillerie du Fjord 48 Chemin Price Dry gin

|

500 ml

Canada

,

Quebec

Available

Online

Available

In store