It was in Ampuis, cradle of the Côte-Rôtie appellation, that Étienne Guigal founded this eponymous house in 1946. He produced more than sixty vintages there before being forced, for health reasons, to give up control of activities to his son Marcel in the early 1960s when he was only 17 years old. The sustainability of Maison Guigal is today ensured by Philippe and his wife Eve, a third generation well in the saddle, at the head of an annual production of more than 8 million bottles (2% of the volumes produced in the Rhône Valley).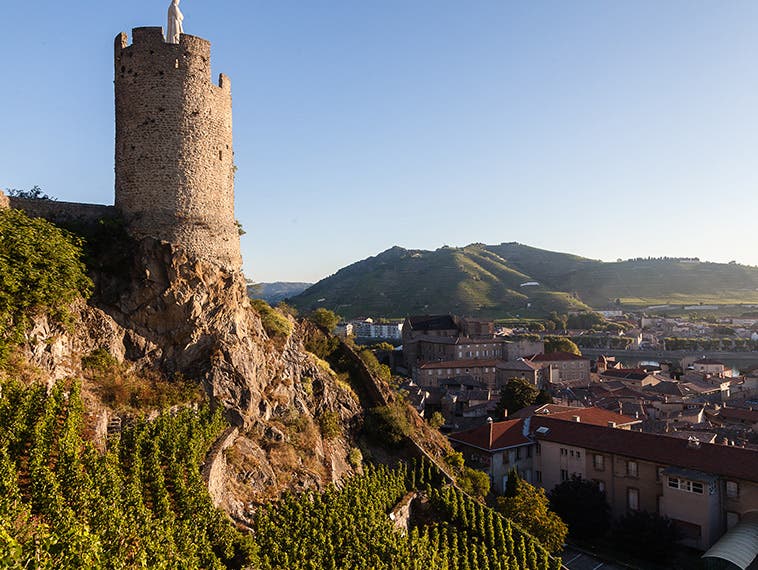 Third importing country behind the United States and Japan, Canada represents an important market for the Rhône company. For Quebec, the love story with this estate can be counted in decades when no less than a hundred references live on our shelves. From expressive and versatile rosé to aromatic and seductive whites all the way to fruity, spicy and generous reds, the Guigal are at the head of a vast, controlled production wearing both the hat of producer and trader-grower. Whether they come from their own vineyards or from grapes bought elsewhere, the wines of the estate benefit from the same concern for quality.
Magnify the greatest terroirs of France
Undisputed reference in the region, Maison Guigal can pride itself with being associated with the most prized terroirs of the northern part of the Rhône. The steep terraces of the "Brune and Blonde" coasts at the base of the seductive Château d'Ampuis or the legendary LALALA plots (La Turque, La Mouline, La Landonne) in Côte-Rôtie, bring their signature to the vintages present on the finest. tables around the world and repeatedly rated 100/100 by renowned critic Robert Parker.

A dream come true
The purchase of Château de Nalys marks an important step in the Guigal family history. Until then not physically present in the south, it adds a jewel of nearly eighty hectares unique to the land of the Avignon Papacy. The thirteen varietals authorized in the Châteauneuf-du-Pape appellation are grown here, some of which rooted in the major terroirs of the appellation: "La Crau", "Pied Long" and "Le Bois Sénéchal". Four-century rich in history and entirely dedicated to this AOC, Nalys offers wine of great elegance with each vintage.
In partnership with Le Domaine Guigal and Fréchette, Vins d'exception
Available

Online

Available

In store

E. Guigal Gigondas 2017 Red wine

|

750 ml

France

,

Vallée du Rhône
Available

Online

Available

In store

E. Guigal Côtes-du-Rhône 2018 Red wine

|

1.5 L

France

,

Vallée du Rhône

Available

Online

Available

In store
E.Guigal Château de Nalys 2018 White wine

|

750 ml

France

,

Vallée du Rhône

E.Guigal Château de Nalys 2017 Red wine

|

750 ml

France

,

Vallée du Rhône
E.Guigal Saintes Pierres de Nalys Châteauneuf-du-Pape 2018 White wine

|

750 ml

France

,

Vallée du Rhône

E.Guigal Saintes Pierres de Nalys Châteauneuf-du-Pape 2017 Red wine

|

750 ml

France

,

Vallée du Rhône
E. Guigal Château d'Ampuis 2017 Red wine

|

750 ml

France

,

Vallée du Rhône

Not available

Online

Available

In store

E. Guigal Hermitage 2017 Red wine

|

750 ml

France

,

Vallée du Rhône

Not available

Online

Available

In store
E. Guigal Côte Rôtie Brune & Blonde 2017 Red wine

|

750 ml

France

,

Vallée du Rhône

E. Guigal Côte Rôtie Brune & Blonde 2017 Red wine

|

1.5 L

France

,

Vallée du Rhône