Menaud was founded three years ago, when four partners who became fast friends had their sights set on different dreams. One wanted to brew, others wanted to distill gin or whiskey. After a lot of talking, Martin, Enrico, Charles and Grégoire joined forces to transform their passion for regional products into craftsmanship in the charming municipality of Clermont in Charlevoix. From the botanicals to the bottle, the distillery and brewery—the very first of its kind in the region—keeps an eye on the entire process. "For us, it was essential to put as much of Charlevoix as possible in our products," says Charles Boissonneau.
With the emergence of the buy local trend, Menaud felt duty-bound to make its own products from A to Z. With all the ingredients at hand, there was no reason not to do it all in-house.
The alchemy of distillation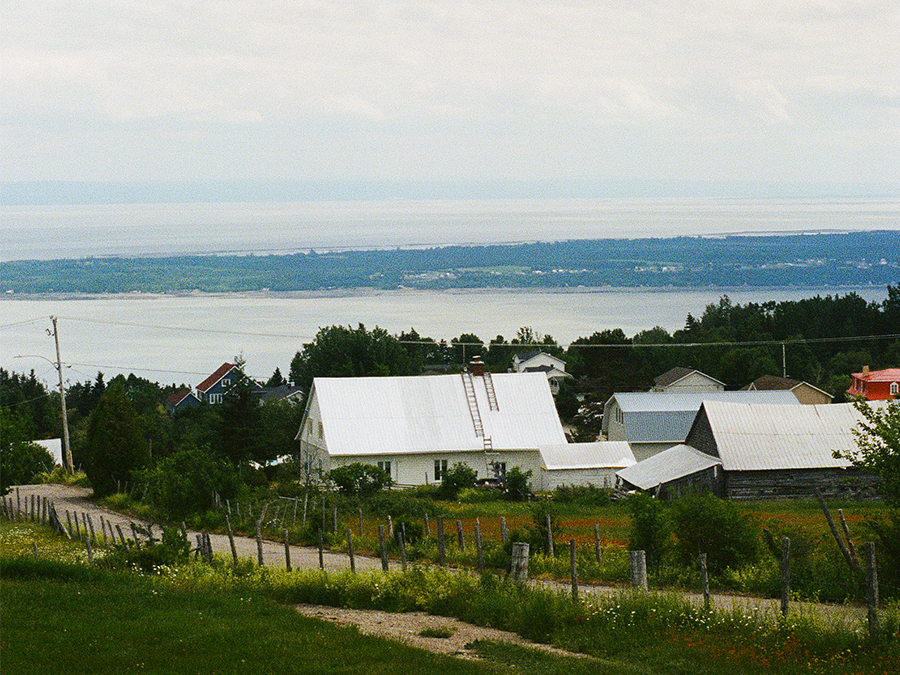 To use local products with the utmost care, the partners thought long and hard about the craftsmanship that goes into beers, spirits and liqueurs.
Former Charlevoix sculptor and Menaud's master distiller Martin Brisson is living proof that creativity can be an asset in more than one area.
"Oftentimes, a resource is available and we wonder how we could blend it into a spirit or product," he explains.
Indeed, the raw materials guide the process. By merging passion, creativity and ingenuity, distillers are able to design a wholly unique product without altering the essence of its ingredients.
Distilling is an art and skill that must be learned. When they started out, none of the partners had any experience in brewing or distillation. Today, Brisson oversees the production of Menaud's spirits thanks to know-how he gained by working with chemists and other professionals. "We were good customers, but we weren't good producers!" jokes Charles.
Menaud has grown to about 10 full-time and 15 part-time employees, who each have a role to play in the product development process. When it's time for taste testing, everyone is invited.
"I remember the taste tests for the haskap and rhubarb. We were beside the can filler. There must have been 24 glasses laid out, and we tasted and commented the different blends. By the end, we had all agreed on which was the best rendering," recounts Charles.
Because everyone at Menaud is an artisan and the creative process is one of trial and error, employees have the opportunity to express their passion through a personal project.
In the brewery, Caroline, a trained microbiologist, is busy developing yeasts, while Arnaud, who has a decade of distilling under his belt, has a strong interest absinthe. Will Menaud's next release be an anise-flavoured spirit? Stay tuned!
Quality above all
There's no cutting corners at Menaud. Driven by authenticity, local craftspeople develop products that don't skimp on quality.
"An extensive offer is important, but it's really about quality, not quality," affirms Charles.
Each ingredient is the focus of in-depth research and many, many taste tests along the way.
There is talent in every detail, right down to the bottles by industrial designer Olivier Raymond. Bespoke drinkware and new reusable branded glass bottles are in the pipeline.
Taste of summer
Last year, two of Menaud's newest signature liqueurs flew off the shelves as soon as they landed. They're back this spring but in limited quantities (so don't wait!).
Menaud Camerise Fruit liqueur (camerise)

|

750 ml

Canada

,

Quebec

Available

Online

Available

In store
Menaud Camerise
To make Camerise, Menaud sources haskap from the Bhérer family in Saint-Irénée. Once harvested, the berries are left to macerate in Menaud gin, which owes its salinity to the glasswort filtration process. The berries are then cold pressed to extract all the flavour and give the liqueur its crimson tinge, which varies from one season to the next.
"We were already brewing haskap beer. From there, we asked ourselves how we could use the sweet berry in another product. We figured it would be interesting to find that balance with a briny taste like the one in our gin," said Charles Boissonneau.
Menaud Rhubarbe Liqueur

|

750 ml

Canada

,

Quebec

Not available

Online

Available

In store
Menaud Rhubarbe
As it macerates in Menaud vodka, rhubarb releases a delicate raspberry-like flavour, a natural acidity and the liqueur's characteristic coral hue. Menaud gets its rhubarb directly from Jardins du Centre in the small municipality of Les Éboulements. The warm kick from the hand-picked organic baby ginger from Ferme des Quatre-Temps in Port-au-Persil rounds out the fruitiness.
From the pages of Menaud, maître-draveur
Menaud found inspiration for its name in one of Québec's best-known literary works, Menaud, maître draveur. This classic roman du terroir was written in 1937 by Félix-Antoine Savard, priest, writer and the founder of the parish of Clermont. In it, log driver Menaud warns of those who come to Charlevoix to rob the land. By safekeeping it and being generous with their wealth, he and his fellow craftspeople find their independence and freedom.
Menaud's signature cocktails