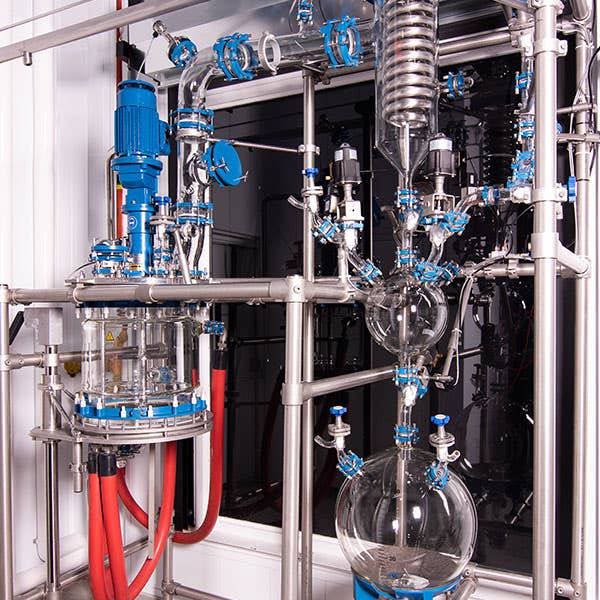 Can you distill alcohol in temperatures below zero degrees Celsius?
That's impossible, right? But at Noroi Distillery, in Saint-Hyacinthe, that's just what they do, using a unique glass still, known as the King of the North. A one million dollar investment spread over two years, to be able to use it to produce fine alcohol.
For the young distillery, which officially launched on March 25, 2019, this tool helps create highly distinctive products, according to Jonathan Robin, President and Founder of the company. "It makes them super refreshing, and adds a very aromatic concentration, given that the aromas are not cooked," he explains with enthusiasm. Traditional stills are also used for basic alcohols, but this particular tool gives a very specific signature and greater refinement to the house's products.
Cold stills work based on a principle that can be observed in nature. When you go up in altitude, atmospheric pressure drops, and water boils at a lower temperature. By reducing the pressure to a maximum – working practically in a vacuum, in the still in question – evaporation occurs in very cold temperature. This results in the more delicate aromatic components staying intact, when they would otherwise have been altered by heat.
The fruit before anything else
The ability to get such fresh aromas is especially advantageous when comes the time to distill fruit alcohols compared to grain alcohols, such as whisky, for which aromas are not as affected . . . they're actually reinforced by the heat. That's why Noroi specializes in citrus drinks (vodka lemon lime, gin with notes of orange and lemon peel, orange liqueur) and in a brand-new berry gin: the organic honeyberry from Les Délices des Rapides and strawberries grown without pesticides by Ferme Gadbois, both from the Mascouche area. Maple also benefits from cold processing, according to Jonathan Robin, with maple liqueur turning very light and pure "with small vegetable notes" rather than caramelized ones.
For the owner of Noroi – and also of Le Bilboquet microbrewery and Fixit Kombucha – the desire to get off the beaten path is nothing new. At Groupe Robin, the real estate family business where he worked in the past, Jonathan was responsible for creating some of the first LEED-certified hotels in Canada, as well as the Synergia complex in Saint-Hyacinthe. Any traveller driving on highway 20 has no doubt noticed that this six-storey building is entirely made of engineered wood, without any steel beams. It was the tallest building of its kind in Quebec at the time of its inauguration, in 2017.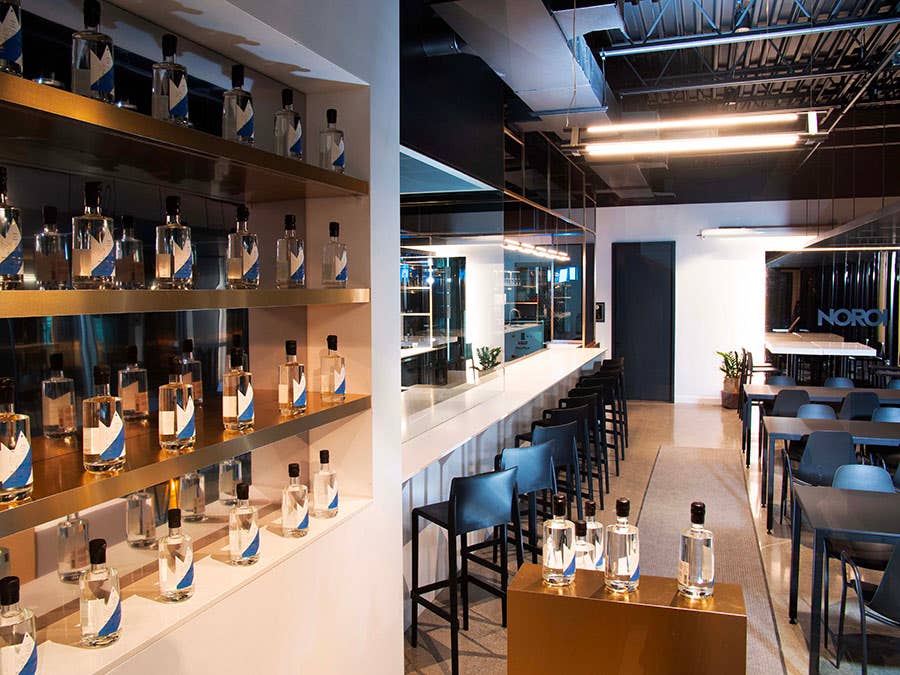 The orange and its seven lives
Jonathan Robin takes pride in the fact that the orange peels used in his spirits have several lives during production. First, the oranges arrive at Loop, a very environmentally friendly drink producer from Montréal, where they're used to make juice. Whereas they would have otherwise ended up in the landfill or compost bin, the Saint-Hyacinthe producer gets to take advantage of a fresh product that macerates in alcohol and is then distilled. Several distilleries use dried citruses, adding another point in favour of Noroi when it comes to freshness.
But the life of the peels doesn't end there. The distiller then uses them to make an orange syrup and bitter for cocktails. Some batches of oranges with distinctive aromas end up with Christophe Morel, in Montreal, where they're used in fine chocolates. Next, the peels can be used for beers, before improving pig food at a neighbouring pig farm. "All of this would usually end up in the trash," reiterates Jonathan Robin. "We are very happy to work on the revaluation of products and circular economy."
The quest for innovation
Speaking with the energetic businessman, his desire to continually push back boundaries is palpable. In fact, he was even given an international award for his gin . . . just three days before launching his company. Since then, he's continually been seeking new avenues. He will soon be releasing his yuzu, bergamot, and orange aperitif, made with fresh peels and venturing into the Italian aperitivo field.
The company also recently launched a herbal emulsifier made from the bark of a tree rich in saponin, which helps foam cocktails without having to add egg whites. This innovative product is easy to handle and makes great vegan cocktails. "We really do a lot of R&D," he concludes, promising he'll have many more stories to share in the months and years to come.