Simply gratin
Can you think of anything more mouth-watering than a perfectly baked three-cheese-stuffed baguette? Sharp cheddar, fresh goat cheese, mozzarella… a gourmet cheese combo all of your happy hour guests are sure to enjoy! Take it right from the oven to the table, cutting a few slices to get people to dig in. It's exquisite and delicious!
Long live leftovers!
This recipe is perfect for a spontaneous happy hour get-together. Simply open up your fridge and create a baguette with whatever's in there. Most cheeses (St-Paulin, gruyere, blue, cheddar) work perfectly with leek, caramelized onions, bacon, or ham. You can also top them with all those fresh herbs you've been longing to use: Italian parsley, thyme, and cilantro will add a touch of flavour to your creation!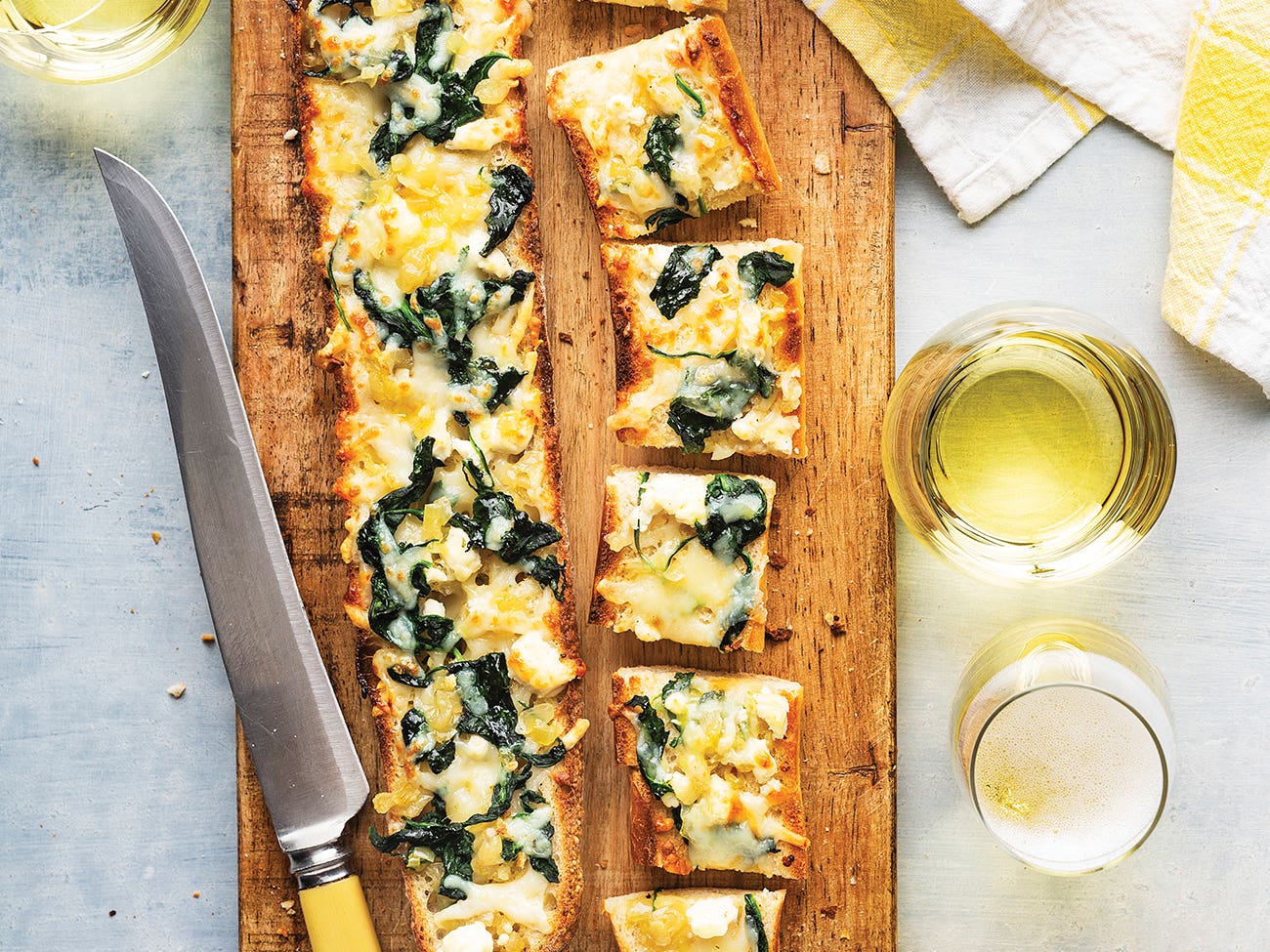 Spinach and cheese stuffed baguette
Preparation: 15 minutes
Cooking: About 20 minutes
Makes 24 bites
Ingredients
1 baguette, halved lengthwise
Stuffing
45 mL (3 tbsp) olive oil
1 onion, finely chopped
2 garlic cloves, minced
2 L (8 cups) fresh spinach
250 mL (1 cup) mozzarella, grated
250 mL (1 cup) sharp cheddar, grated
125 mL (1/2 cup) goat cheese, crumbled
Ground black pepper
Preparation
1. Preheat oven to 180 °C (350 °F).
2. Remove the crumb inside the bread to form a cavity.
3. Place the two pieces of baguette onto a baking sheet.
4. In a frying pan, heat the oil and sauté the onion and garlic.
5. Add the spinach and continue cooking until wilted.
6. Remove from heat, add the cheeses, and mix. Season with salt and pepper.
7. Spread the spinach and cheese mixture into the two baguette cavities.
8. Place on BBQ grill over low heat for approximately 10 minutes, or until the cheese is golden and the bread is crispy.
9. Slice and serve immediately.
What to drink with this stuffed baguette?
There's a perfect balance between the saltiness of the cheese and a slightly acidic, hopped, and fruity pale beer. This type of beer is a summer favourite – it's both refreshing and thirst-quenching. An "aromatic and mellow" Chardonnay also works nicely with these warm appetizers. Choose a rich and textured white with aromas of apple, caramel, vanilla, and oak, which highlights the smoothness of the cheese. If you really want to treat your guests, serve a sparkling wine with fine, elegant bubbles.
Not available

Online

Not available

In store

Not available

Online

Available

In store

Available

Online

Available

In store