Here's a handy guide to save you from the last-minute holiday sweats: plan ahead and fill your perfect holiday case ahead of time!
A sparkling
Because bubbles are de rigueur, and it's all about kicking off the New Year with ebullience. Whether you choose champagne or a more affordable crémant or Spanish cava, there's a way to make your holidays pop on any budget.
A vibrant white
Be it for happy hour or as your fish, shellfish or seafood pairing, dry and bracing whites will leave you wanting more. We've made finding yours simple: just scroll through our selection of wines adorned by the Fruity and vibrant taste tag.
A more full-bodied white
When grilled poultry, white meats and pasta in cream sauce are on the menu, more full-bodied whites with enveloping texture and woody notes, like the ones bearing our Aromatic and mellow taste tag, are your best bets. They're also the perfect pairing for any cheese platter.
A light red
Think Gamay and Pinot Noir and have a glance at our wines with the the Fruity and medium-bodied taste tag. Your go-to for turkey, charcuterie, terrines and pâtés served cool.
A more full-bodied red
Pair a more full-bodied wine with your beef, lamb or game and you'll definitely get positive feedback from the table. Your ideal candidates: wines labeled with the Aromatic and supple and Aromatic and robust taste tags.
A perfect balance
Now that you know what to purchase, how can you make sure you strike the right balance between red, white and bubbles? Base your decision on your menu and the kind of evening you want to have.
Fish and seafood dishes call for more whites or sparklings than reds. So if you're planning out your case of 12, for example, select 6 whites, 3 sparklings and 3 light reds to please everyone's palate.
For a classic holiday feast with turkey and tourtière, we suggest 8 bottles of red, including the full spectrum from light to full-bodied, 2 bottles of bubbles and 2 bottles of white for a respectable happy hour offering, or for post-meal cheese.
Planning a buffet with different types of food? Opt for a selection of all-purpose wines, including 6 reds, 4 whites and 2 sparklings.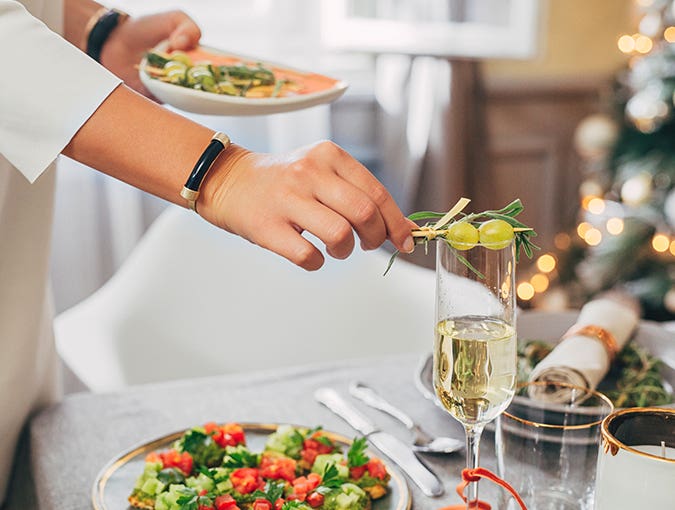 Tip
Crunch the number of bottles you need with the following figures: 1 bottle of wine or champagne = 750 ml = 6 glasses.
A comprehensive home bar
For making your classic holiday cocktails you'll be needing vodka, dry gin, rum, and citrus liqueur, whatever your endeavour.
A cream liqueur
Very versatile and beloved by Quebecers Irish cream is a sure-fire gustatory win. Fabulous in coffee, it also makes magic in the kitchen, like with tiramisu, mousse and cheesecake. Looking for a one-of-a-kind holiday dessert? Make a splash with an Irish cream dessert cocktail. Pair it with chocolate, orange, hazelnut or caramel for a next-level libation!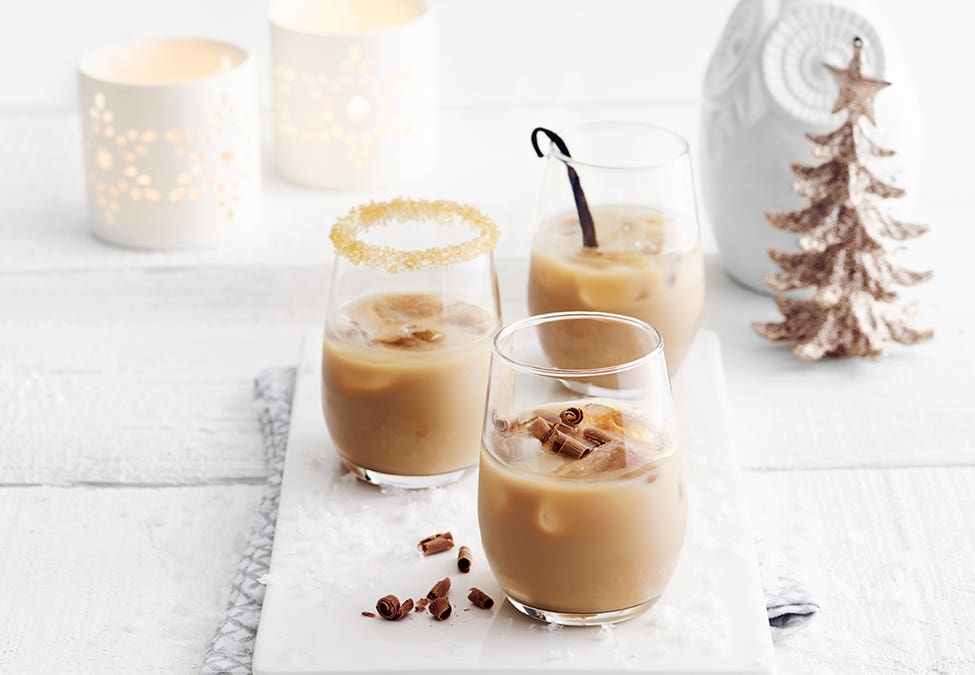 A trendier holiday season
When cocktail time rolls around, we often see the same old thing year in and year out. Why not switch it up a bit? For a rum or vodka punch, elevate with litchi. You could also infuse it with yuletide flavour by way of fresh cranberries, clementine juice, sweet spices, pomegranate and ginger. For warmer and trendier cheer, use some classic eggnog in your chai latte. Mix your eggnog with chai and stir in some rum and bam!, you've got a delicious and comforting beverage on your hands! For garnish—rosemary, candy canes, cinnamon sticks and star anise are all excellent seasonal go-tos. Still need some inspiration? Check out Espace cocktail for more ideas!
A port
The meal is over but your taste buds still need tickling? A bottle of port or other fortified wine will not only bring the evening to a delightful close but will also keep for days, if not weeks, once the bottle is open.
A bottle of fine spirits
With a bottle of scotch or other whisky on hand, you'll be in a good position to spice up your coffee, concoct all kinds of cocktails or simply have a straight-up tasting session at post-meal digestif time. Don't know which one's right for you? Take the quiz to find your fine spirits taste tag!