Drop it like it's hot... on the grill!
Ribs are a BBQ must! On top of wowing your guests during happy hour, they're easy to prepare ahead of time and require just a few simple ingredients. The secret to tender and tasty meat? Make sure to fully submerge your ribs in water infused with aromatics (onion, celery, garlic, and spices), bring to a boil, and let simmer at least one hour. Next, brush the ribs with sauce, and finish cooking them on the BBQ. The night of your get-together, just throw them on the grill 15 minutes or so, and then watch as your guests devour them!
Baby back or spare ribs?
The upper ribs – known as baby back ribs – are shorter and contain more meat, while the lower ribs – known as spare ribs – are larger but have less meat on them. Typically a less expensive cut of meat, spare ribs are fattier than baby back ribs, but pack a bit more flavour.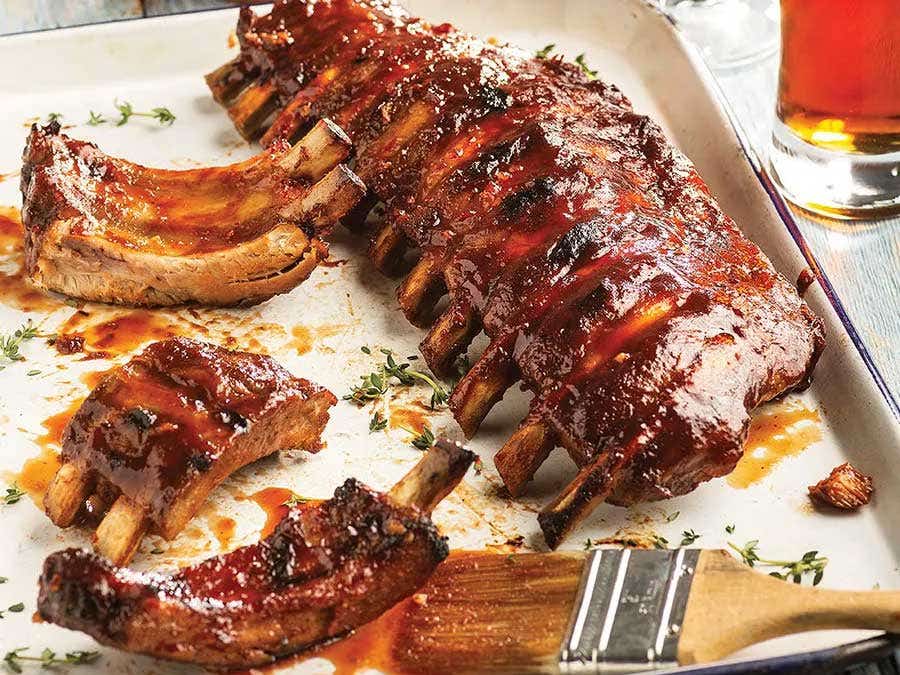 Black beer and honey-glazed ribs
Preparation: 15 minutes
Cooking: 65 minutes
Cost per serving: About $8
Makes 4 servings
Ingredients
1.5 kg (3.3 lbs) baby back ribs
1 black beer, 341 mL
1 onion, cut into four pieces
2 celery stalks, cut into chunks
2 garlic cloves, peeled
2 bay leaves
2.5 mL (1/2 tsp) dried thyme
5 mL (1 tsp) crushed black pepper
Salt
Sauce
2 garlic cloves, finely chopped
125 mL (1/2 cup) black beer
80 mL (1/3 cup) honey
60 mL (1/4 cup) barbecue sauce
45 mL (3 tbsp) tomato paste
5 mL (1 tsp) hot pepper flakes
Preparation
1. Place the nine first ingredients into a large pot. Fill the pot with water.
2. Bring to a boil and cook 50 minutes or until the meat begins to come off the bones.
3. Meanwhile, in a bowl, mix the ingredients for the sauce. Set aside.
4. Preheat barbecue to maximum intensity.
5. Thoroughly strain the ribs and place them on a large plate.
6. Brush the sauce onto the ribs, making sure each side is covered.
7. Grill the ribs 12 to 15 minutes, brushing them with the remaining sauce regularly.
8. Turn the meat over to ensure it cooks evenly.
9. Cut in between the bones to share the ribs. Serve immediately.
Tip
Prepare a larger quantity of our sauce and freeze it for your next BBQ. It's just as delish on chicken breasts, pork chops, and tofu skewers!
What to drink with these ribs?
This piece of grilled meat pairs perfectly with exuberant reds with notes of ripe fruits that have been aged in oak barrels. Reds made primarily with Cabernet Sauvignon would complement the sauce's complex flavours nicely. Full-bodied and robust, such reds are great served with seasoned grilled meat. If you prefer a more classic pairing, opt for an brown ale with aromas of biscuit and caramel – ideal for highlighting the sweet honey and beer sauce.
Not available

Online

Available

In store

Not available

Online

Available

In store

Available

Online

Available

In store