Simple and delicious
This recipe is as easy as 1-2-3: place your prepared ingredients in an oven-safe dish and cover with a layer of shredded cheese. Pop it in the oven until heated and cheese is golden brown, and then place it in the centre of your table and watch as your guests dig in and enjoy! This recipe has a secret twist: we swapped the traditional mashed potatoes with a parsnip purée. This root vegetable has a gorgeous nutty flavour that really takes this gratin to the next level!
Rosé all day, every day!
Think rosé is just a summer drink? Think again! Many rosés are robust enough to rival just about any white or red, and have an exceptional ability to pair with a range of heartier dishes. The more full-bodied and aromatic a rosé is, the more you'll appreciate pairing it with a dish, rather than sipping it solo. Plus, some rosés even have prolonged cellaring potential.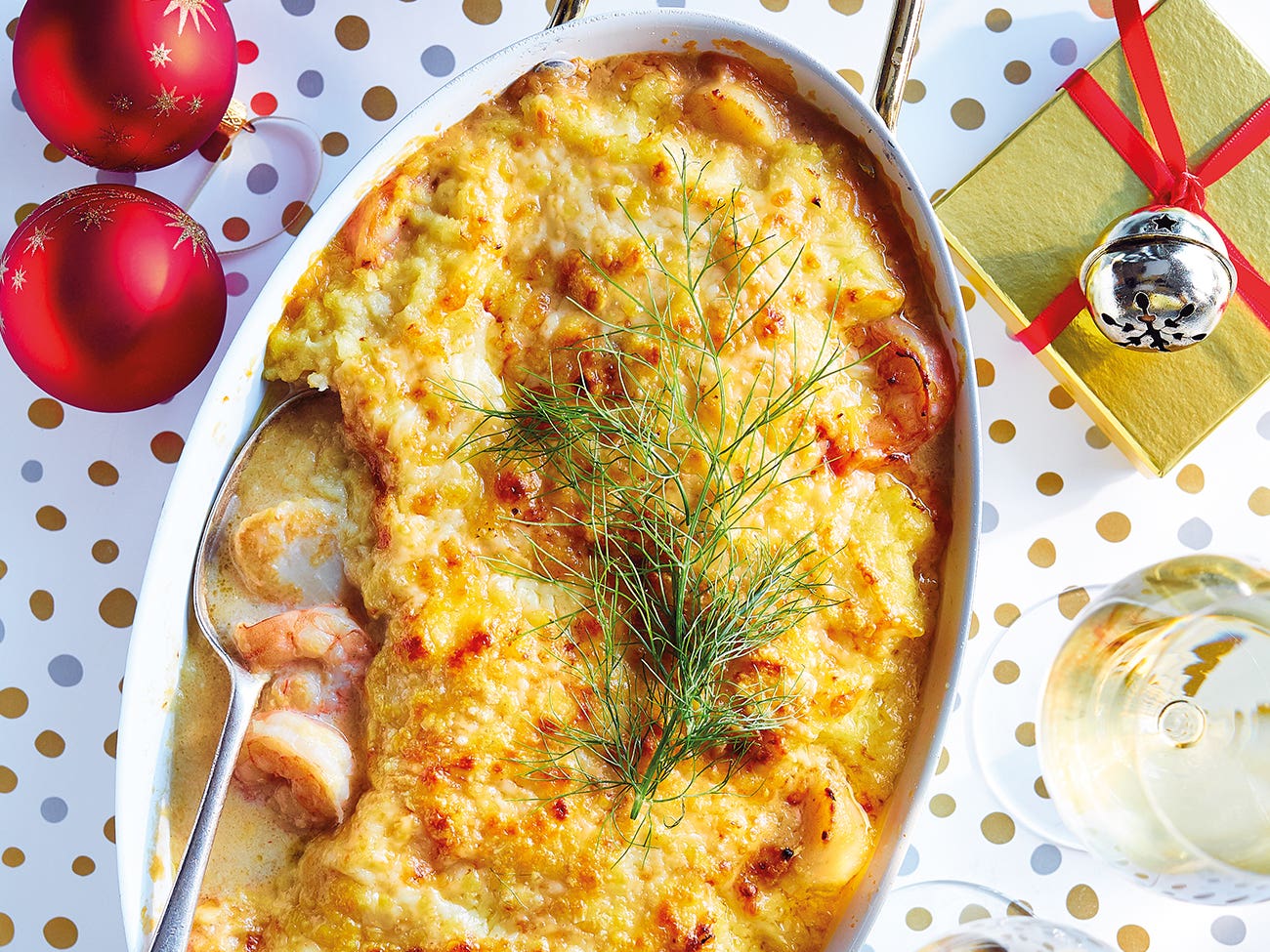 Seafood gratin
Preparation: 30 minutes
Cooking: 25 minutes
Cost per serving: about $7.50
6 to 8 servings
Parsnip purée
450 g (1 lb) parsnips, peeled and sliced
45 mL (3 tbsp) butter
60 mL (1/4 cup) milk
Salt and pepper
Seafood gratin
45 mL (3 tbsp) olive oil
18 large shrimp
12 large scallops
2 shallots, chopped
250 mL (1 cup) white wine
250 mL (1 cup) seafood stock or broth
250 mL (1 cup) 15% cooking cream
500 mL (2 cups) Emmental, grated
Salt and pepper
Fennel fronds, for garnish
1. Cook parsnips in boiling salted water until tender. 2. Strain and purée with butter and milk until smooth. Season with salt and pepper. Set aside. 3.In a large pan, heat oil and sauté shrimps until golden. Remove from pan and set aside. 4. In the same pan, set over high heat, sear scallops 2 minutes on each side. Remove from pan and set aside. 5. In the same pan, set over medium heat, add onions and white wine. Let reduce until nearly evaporated. 6. Add stock or broth and let reduce by half. 7. Add cream and stir until thick. 8. Add shrimp and scallops and transfer mixture into oven-safe dish. Spread parsnip purée over top and sprinkle with cheese. Broil until cheese is golden and bubbly. Garnish with fennel fronds before serving.
What to drink with this seafood gratin?
Aix Rosé is an excellent choice – its refreshing mineral notes pair beautifully with the gratin's saltiness. A blend of Grenache, Cinsault and Syrah typical of Provence rosés, this bottle has just enough depth to balance out your seafood dish. If you love bubbly, we suggest popping open a bottle of Forget-Brimont, a sparkling wine with notes of apple and almond. Feeling like a glass of white? Try Le Bonheur, a South African Chardonnay that pairs well with creamy seafood dishes. With notes of pineapple, white flowers and spices, it's the perfect accompaniment to this seafood medley.
Not available

Online

Available

In store

Available

Online

Available

In store

Available

Online

Available

In store