At the heart of Irish traditions, from the pubs of Temple Bar in Dublin to Montréal bars, Jameson resonates loud and clear as a guarantee of quality and authenticity. With an annual distribution of over 20 million bottles, John Jameson brandy is the most popular Irish whiskey in the world. And for more than 200 years, the iconic Midleton Distillery has had an inherent and deep connection to the land of Ireland: barley is grown locally, and water is drawn directly from the River Dungourney, which runs through the distillery.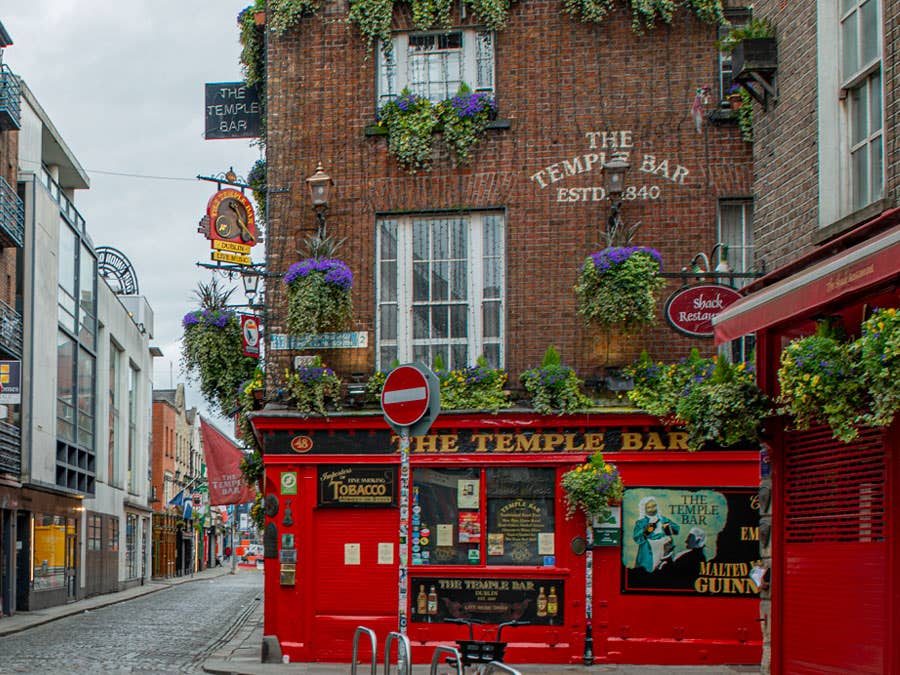 The secret of triple distillation
Irish whiskey is often described as supple and enjoyable. The Irish tradition of triple distillation is partly responsible for this silky profile. It uses a set of stills – each dedicated to a particular distillation – which refines the aromatic and taste profile of the final distillate and leaves the heavier character behind. In short, multiple distillations mean more finesse and less strength.
Whisky or Whiskey?
Have you ever noticed that the word whisky is sometimes written with an "e"? First seen on labels at the end of the 19th century, this nomenclature sets apart Irish and American whiskeys from other whiskies. The most often invoked explanation suggests that Irish producers decided to use this appellation to better differentiate their production from Scottish whiskies.
Three cocktails to savour
St. Patrick's Day celebrations have long taken place wherever the Irish people brought their legendary joie de vivre. Quebec is no exception, and to honour this community that occupies an important part of its history, we invite you to discover three delicious cocktails inspired by essential whiskeys from the Jameson distillery.
An emblematic figure in the Jameson range, this whiskey has conquered the world thanks to its notes of citrus zest, honey and its floral profile. Created by John Jameson in 1780, it is still today faithful to its original conception based, among other things, on triple distillation and aging in bourbon, sherry and port barrels, in order to obtain balance and complexity.
COCKTAIL IDEAS TO TRY

Tipperary
Cousin of the classic Manhattan cocktail in terms of method, the Tipperary adds a very seductive spicy dimension to a just-right bitterness and acidity. Perfect to add a touch of glamour to cocktail time.
An Irish interpretation of the famous Moscow Mule, Midleton trades the neutral profile of vodka for the floral and fruity character of Jameson whiskey. An amazing alternative where ginger adds some kick to a refreshing ensemble.
---
Ingredients
50 ml (1 ¾ oz) Jameson
10 ml (1/3 oz) lime juice
10 ml (1/3 oz) ginger syrup
100 ml (3 ½ oz) ginger beer
1 lime wedge

Ice
Steps
Fill shaker with ice
Add Jameson, ginger syrup and lime juice
Shake and filter content in a copper cup
Add ice and fill with ginger beer

Garnish with lime wedge for a touch of green and serve
Available

Online

Available

In store
Some time in barrels previously used for stout, a rich dark beer with roasted flavours, allows to mix accents of cocoa, coffee, caramel and hop with the fruity and floral Jameson profile. A delicate balance that will delight lovers of craft beers and new flavours!
COCKTAIL IDEA TO TRY
Leaving much of the spotlight to the roasted, fruity and floral notes of this edition of Jameson, the soda nevertheless brings its refreshing bubbles and balances the ensemble. Perfect to pair with chicken wings.
---
Ingredients
30 ml (1 oz) de Jameson, Caskmates Edition Stout
100 ml (3 ½ oz) Soda club
Orange wedge
2 dashes of Angostura bitter (optional)
Ice
Steps
Fill a highball glass with ice
Pour Jameson, Caskmates Edition Stout
Add Soda club
Drop an orange wedge into the glass
To taste, add 2 dashes of Angostura bitter
Serve
In partnership with Jameson