Unique menu
In celebration of the World Cup, we've come up with some unique hot-dog ideas. The stars of the show? Germany, France and Brazil, of course! The idea is simple: Leave the condiments on the table, along with buns and grilled sausages, and get ready to cheer on your favourite team!
Our France- and Germany-themed hot dogs are beloved classics, but our Brazilian recipe is also sure to impress. With its mix of meats, feta, cilantro and hot sauce, your whole family will rush to the table! Spread Portuguese buns with avocado top with sausage and get ready to make a mess because these hot dogs are just spilling over with goodness! Go-o-o-o-o-o-o-a-l!
Happy hour
Sports nights are the ideal occasion to enjoy an aperitif. Combine Ricard anise-flavoured liqueur with a splash of water to be traditional, or try Brazil's official cocktail, the caipirinha. Made with cachaca, a caipirinha cocktail has refreshing notes of lemon and lime. Serve with nuts, olives, raw veggies… And don't forget your hot dogs!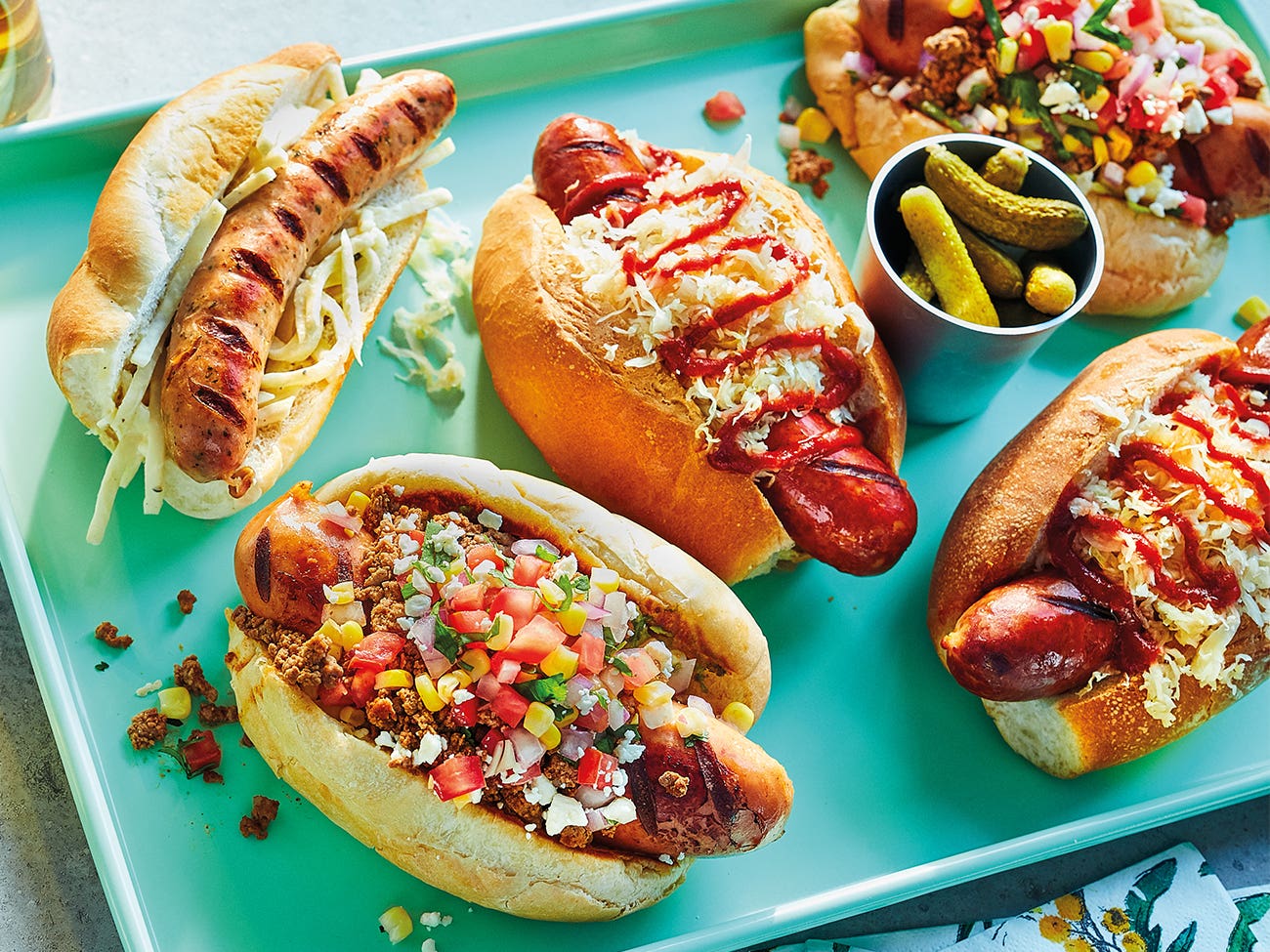 Brazilian hot-dogs
Preparation: 20 minutes
Cooking: 15 minutes
Cost per serving: about $5.25
Makes 4
226 g (1/2 lb) ground beef
15 mL (1 tbsp) hot sauce
5 mL (1 tsp) salt
4 frankfurters
4 Portuguese-style buns
1 avocado, pitted and cut into 4 slices
60 mL (1/4 cup) crumbled feta cheese
Salsa
250 mL (1 cup) diced Italian tomatoes
60 mL (1/4 cup) diced red onion
60 mL (1/4 cup) corn kernels (well-drained if using thawed)
15 mL (1 tbsp) lime juice
30 mL (2 tbsp) chopped cilantro leaves
1 pinch of salt
1. In a bowl, mix salsa ingredients together. Set aside. 2. Cook ground beef with salt and hot sauce for roughly 5 minutes in a hot pan. Set aside. 3. Barbecue or cook hot dogs in a hot pan. 4. Spread one avocado slice on each bun (grill buns if desired). 5. Divide hot dogs, beef, salsa, and feta among the four buns, and serve plated. Don't forget utensils… you're going to need them!
Try our world cup-worthy hot dogs!
French-style hot dog
Preparation: 20 minutes
Cooking time: 20 minutes
Cost per portion: $3.25
Portions: 4
4 Toulouse-style sausages
1 fresh baguette, sliced in half and cut into 4 equal portions
60 ml (4 tbsp.) softened butter
60 ml (4 tbsp.) Dijon mustard
12 French gherkins, sliced in two lengthwise
Remoulade
375 ml (1 1/2 cups) julienned celeriac
60 ml (1/4 cup) crème fraîche
15 ml (1 tbsp.) lemon juice
2.5 ml (1/2 tsp.) salt
5 turns of the pepper mill
1. Grill sausages. 2. Place julienned celeriac into a bowl, season with salt and pepper and gently toss by hand to tenderize. Add lemon juice and crème fraîche. Set aside. 3. Spread butter and mustard onto baguette and fill each sandwich with a sausage each, and equal parts remoulade and gherkins.
German style hot-dog
Preparation: 5 minutes
Cooking time: 10 minutes
Cost per portion: $3.25
Portions: 4
4 bratwurst-style sausages
4 small buns, pretzel-style if possible
250 ml (1 cup) ketchup
15-45 ml (1-3 tbsp.) Madras-style curry paste, to taste
250 ml (1 cup) sauerkraut
1. In a bowl, combine ketchup and curry paste. Transfer to a thin-nosed squeeze bottle. 2. Cook sausages on BBQ or in a pan. 3. Fill each bun with one sausage and 60 ml (1/4 cup) sauerkraut. 4. Garnish with ketchup-curry paste mixture*.
* Leftovers can be stored in fridge for a month.
What to drink with theses hot-dogs?
With our Brazilian hot dog, we suggest a Martens Pilsner, a thirst-quenching beer with notes of white flowers and cereal that make it the ideal drink to highlight the dish's flavours. We recommend pairing our German hot dog with a bottle of Fürstenberg, a refreshing beer that will temper this one's spiciness. The French hot dog topping is made using celeriac and cream, so the Baltika 7, with its notes of fruit and herb, is an excellent pairing choice. All of these beers are light and refreshing, so the choice is ultimately up to you!
Photographe: David De Stefano