Discover your taste profile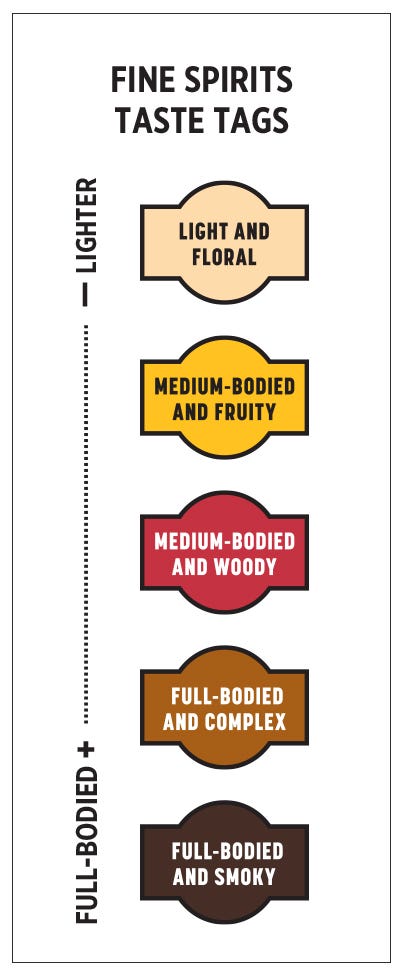 Our taste tags are a great tool for those just starting to get to know fine spirits. Brandy, cognac, whisky and scotch are all grouped according to their intensity, from light to full-bodied, which also characterizes their aroma profiles.
Start with smaller bottle
Did you know that the SAQ offers a wide selection of fine spirits in 50-mL bottles? They're the perfect size for you to take home and test! Make sure to choose a spirit from all five taste tag categories… and start discovering!
The right technique
According to Jean-François Pilon, Founder of Club Whisky Montréal, it's best to savour spirits straight up in order to truly capture their full complexity. When starting out, he suggests bringing the glass close to your nose and sniffing the spirit with your mouth slightly open before taking small sips. Of course, if you're lucky enough to have a connoisseur in your entourage, ask them to guide you and teach you about a spirit's tasting notes.
SAQ workshops by ITHQ: Whiskies
To really quench your curiosity, why not sign up for one of the two workshops (in French only) offered by the Institut de tourisme et d'hôtellerie du Québec (ITHQ) in collaboration with the SAQ? The first workshop is a six-hour lecture course where participants learn the vocabulary related to the spirit, what factors influence a whisky's character (production, distillation and aging), and the top whisky-producing countries and tasting techniques. The second workshop is a three-hour course led by a guest chef who recreates a selection of recipes according to a chosen theme. Participants then sample six different whiskies, while the chef explains tasting techniques (visual analysis, olfactory analysis and gustative analysis).
Photo: Alexandre Gravel