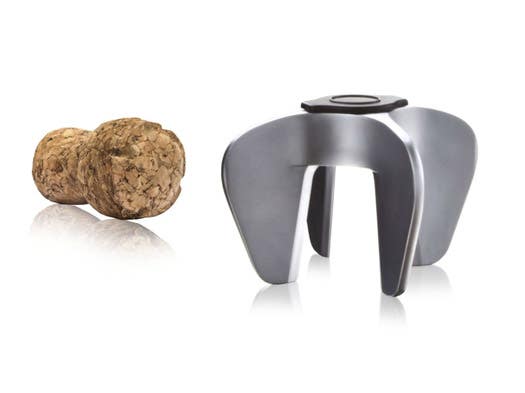 With the burgeoning popularity of sparkling wines and bubblies for events grandiose and humble, one begins to think of how best to highlight this table show-stopper—why, accessories, of course! Here are four bubbly essentials that make great gifts and are available at specialty tableware boutiques stores.
Star champagne bottle opener
Above and beyond the unique aesthetic of this bottle opener, it also helps you keep hold of your bottle. Use it at your next event, and as you turn the bottle (not the cork!) you'll be able to open your champers in silence—just like a pro!
Champagne cork
Savouring a flute of champagne solo can be a little reward you give yourself. But after opening your bottle, the cork no longer fits, and that's a problem. Forget the hack where you put a spoon in the bottle neck, and instead go for a sure thing that will preserve your bubbly's bubbly: use a champagne cork after each serving. Coming in at a mere twelve bucks, champagne corks can also be helpful for more humble uses, like re-corking beer!
Champagne bucket
Need to "cool it"? A champagne bucket is the best way to go. Fill the bucket with a mix of half ice and half water, and wait roughly twelve minutes for your champagne to chill. Champagne buckets come in a variety of materials at a variety of prices, and are available at most big-box stores.
Saber
Want to put some unexpected into your bottle opening? Give saberage a try—when it comes to uncorking bubbly, nothing beats it in terms of class and elegance! A saber can range from tens to hundreds of dollars, so there's surely one within your budget.