Will the Aperol Spritz fall into oblivion? Is the espresso martini back to stay? And what about the famous sbagliato, which made waves across the internet last fall? We asked two experts to shed light on the major trends that are likely to mark the coming year.
In the left corner: Kate Boushel, director of bars and education at Barroco Group (Atwater Cocktail Club, Milky Way, Foiegwa). In the right corner: Manu Ruiz, barchef at Rouge Gorge bar.
What do you think the biggest trends in the cocktail world are right now?
Kate : Quebec is the largest consumer of rum in Canada. With the trend to buy local, people have been buying a lot of gins and vodkas from local distillers. Now, they'll start tapping into rum again, especially since there are so many local options available. With that, we're going to see the daiquiri and mojito come back.
With the return of travelling, and as Quebecers like to go to the South a lot, everyone has been to Mexico and discovered or rediscovered tequila and mezcal. It's an ancestral knowledge, I think that's the reason why people give so much importance to rums and agave products. They are among the oldest spirits, along with those from Asia. I can already see a nice rise in Asian spirits like sake, soju, shōchū. They're great in cocktails, I love them! But that, that's for 2024.
I think we're also going to see people start taking themselves less seriously again; playing a little bit more again with everything frozen, slushy. We need a little bit of lightness in our lives!
The nolo trend [a combination of no alcohol and low alcohol moderation] is also growing. All of our menus have no alcohol or low alcohol options. This is essential, as demand is increasing. We always make sure we include everyone, especially since for some people it's not a choice, it's a way of life, or it's for cultural reasons. Having great options with little or no alcohol also allows people to discover their creativity at home with these products.
Manu : Personally, I don't do so much research based on trends for my menus, because what gives uniqueness to an establishment is our own ideas. But trends being what they are, they sometimes creep in without us realizing it.
I think there will be a continuity with low alcohol or non-alcoholic cocktails. It's a trend that's still progressing. Otherwise, everything that is "fresh, fresh ingredients" is going to take more space. I think there's going to be a lot of highball type cocktails as well, fizzy, refreshing stuff.
The trends are setting up a lot in the bars before they get to the house. It was something we felt was coming, but more and more people are asking for cocktails with mezcal. I'll often go with the classic stuff, like a negroni with mezcal. It's delicious.
With the pandemic, people have really developed the skills to make cocktails at home. The fun part is that they're working with fresh products, trying to replicate what they've been drinking at the bar, so their palate has changed too. When they come to the bar, they're more willing to try bolder cocktails, with atypical ingredients. And they're willing to pay for it.
"With the pandemic, people have really developed the skills to make cocktails at home. The fun part is that they're working with fresh products, trying to replicate what they've been drinking at the bar, so their palate has changed too."
— Manu Ruiz
The espresso martini made a comeback in 2022. Are we likely to see more classics like this in 2023?
Kate : 2022 brought back the martinis we loved from the 1990s, like the cosmo and the espresso martini. I think they're here to stay. For many years, we would put the espresso martini or variations of it on the menu and nobody would buy them. Now, if you don't have one on your menu, they will still be ordered.
Several years ago, I worked at Pistol on St. Laurent. It was a James Bond inspired bar. We had a menu of martinis: lemon, cosmopolitan, chocolatini. These cocktails are making a comeback because they are made with better products and fresh ingredients. We have a better understanding today of what balance is in a cocktail. We're able to read a lot more about that, because after all, in 20-30 years, we've taken the cocktail industry a lot further.
Manu : I'm on the Plateau, and I make mojitos all the time! The French are really into mojitos, from what I understand. But I've never made that many in the winter. They're never completely gone, but I have a feeling they're coming back in a big way.
For me, the biggest cocktail trend is to drink what you like. People are more aware of everything that's out there now. I see some who are embarrassed to sit at the bar and order a gin and tonic. It's okay! Drink what you like. For me, it's heading that way. Drink what you feel like drinking at the right time, because there is a cocktail for every moment.
The negroni sbagliato: A passing fad or here to stay?
Kate : I think people will learn that you don't have to say "negroni sbagliato", but you can just order a sbagliato, because that's also part of the joke.
The reason the trend has taken off so much on TikTok is because people love spritzes, and it's allowed them to discover other variations. The negroni sbagliato isn't here to stay, but the effervescent, slightly bitter, slightly "citrusy" side is.
Manu : Personally, I think it's something that won't make so many waves. But it's kind of in line with the trend that's going on, anything "spritzy", variations of spritzes, sparkling cocktails, freshness. It's not necessarily the sbagliato, but this category of cocktails that is perhaps more likely to stick around.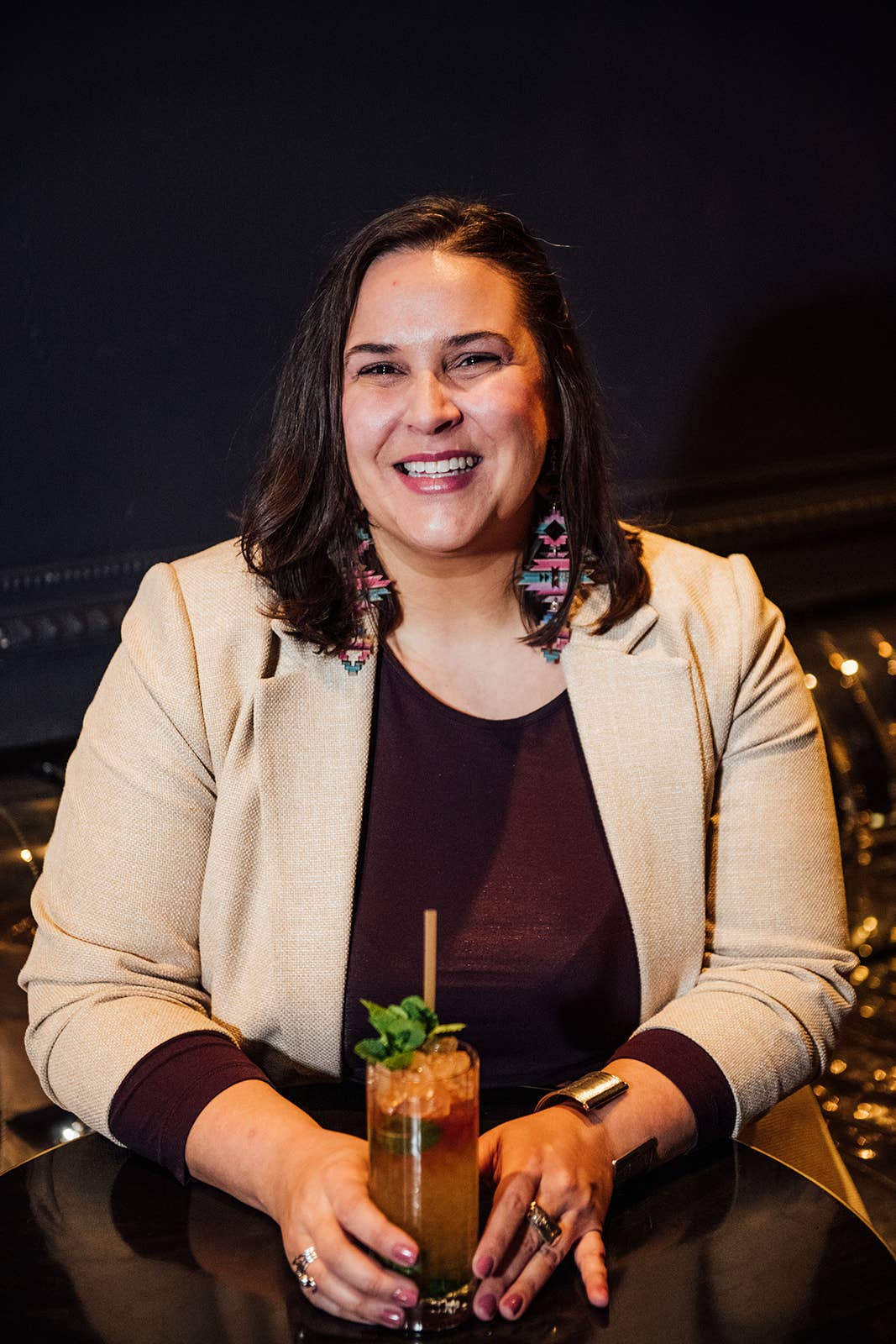 "For many years, we would put the espresso martini or variations of it on the menu and nobody would buy them. Now, if you don't have one on your menu, they will still be ordered."
— Kate Boushel
Is the Aperol Spritz out?
Kate : Look, it's the summer cocktail everywhere, all the time, so I think it's going to stick around. Basically, a spritz is a highball, because it's a spirit stretched with bubbles.
It can be stretched with prosecco, cava, a sparkling wine from here or a pet nat. Personally, I love a vermouth-based spritz rather than an aperitif-based one. I find it a little less bitter, and a little sweeter on the palate. If you're wondering what to do with the vermouth you have at home, this is a great option, and just as easy to make.
Manu : No! Spritzes are good! It's like Loud's "Toutes les femmes savent danser" — we heard it non-stop for a year, and we still love it, because the song was good. But considering that the spritz is a category in itself, that's where it gets interesting to introduce customers to other types of spritzes, with elderberry liqueur, with Campari, amari, vermouths. There are so many possible variations!
What will THE cocktail of 2023 be?
Kate : I don't think it's one particular cocktail. If I were to sum it up, we're going to be playing more and more with low alcohol products, and then daiquiris and mojitos will come back. That's why I'm suggesting the Queen's Park Swizzle, the national cocktail of Trinidad, because it's a nice classic that's more flavourful, with a little more complexity, but that a mojito and daiquiri lover would really like.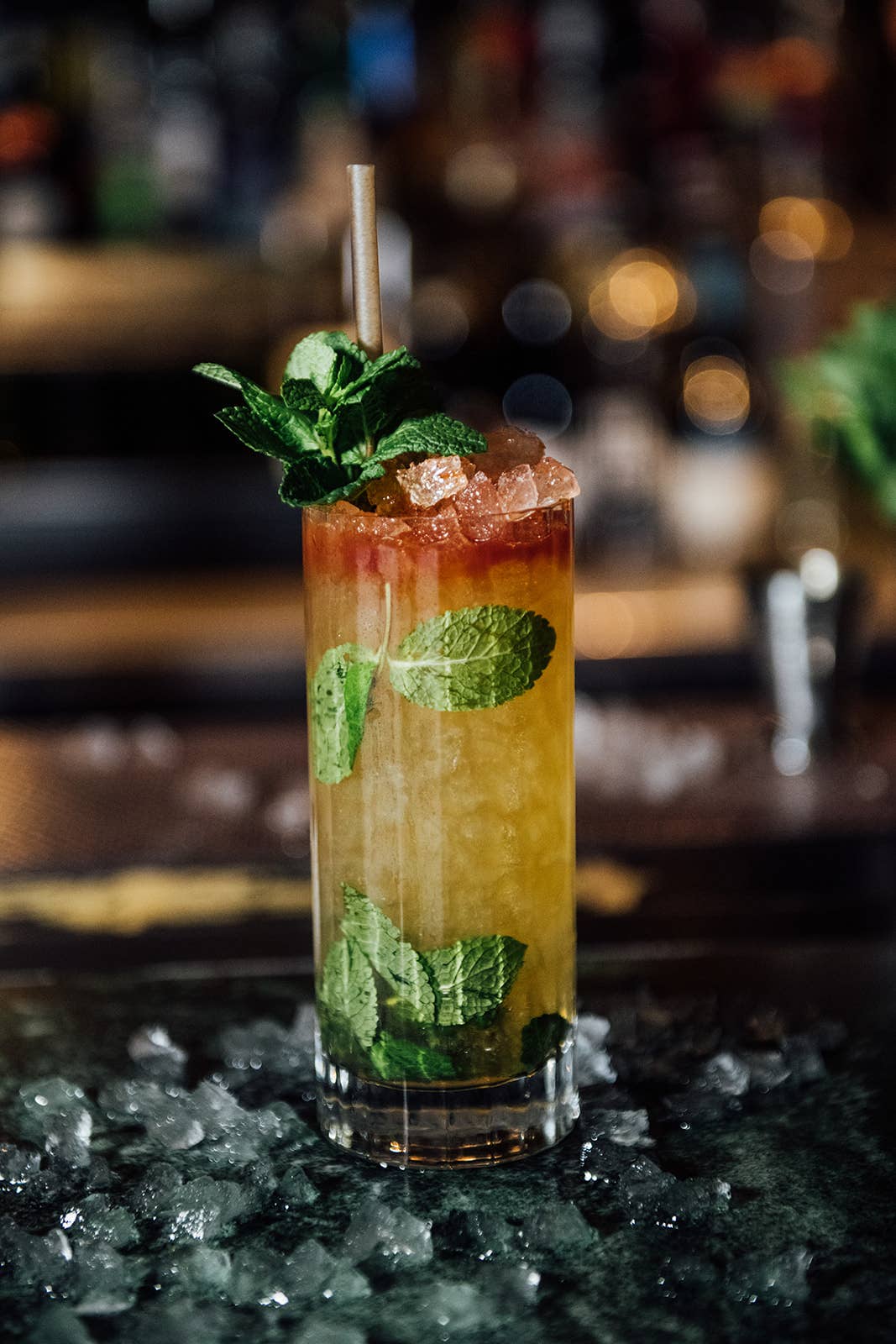 60 ml (2 oz) aged rum
15 ml (½ oz) fresh lime juice
15 ml (½ oz) simple syrup
2-3 sprigs fresh mint
A few dashes of Angostura
Crushed ice
Lightly tap the mint leaves on your hand or a work surface to release the flavours.
Place mint leaves in a highball glass with rum, simple syrup, lime juice and two dashes of Angostura.
Fill the glass three-quarters full with crushed ice and stir with a bar spoon to combine the ingredients.
Add a little more ice to fill the glass.
Garnish with a sprig of mint and a straw (reusable or compostable), then drizzle generously with Angostura (about 8 to 10 dashes).
Manu : It's hard to name just one! People have never asked me for so many cocktails with mezcal, so I'm going to say the mezcal negroni. Plus, it's so easy to make. You replace the gin with mezcal and that's it!
We also have a house variation at Rouge Gorge which is a mezcal negroni, but white, with roasted corn, mezcal, white bitters and dry vermouth. It is delicious!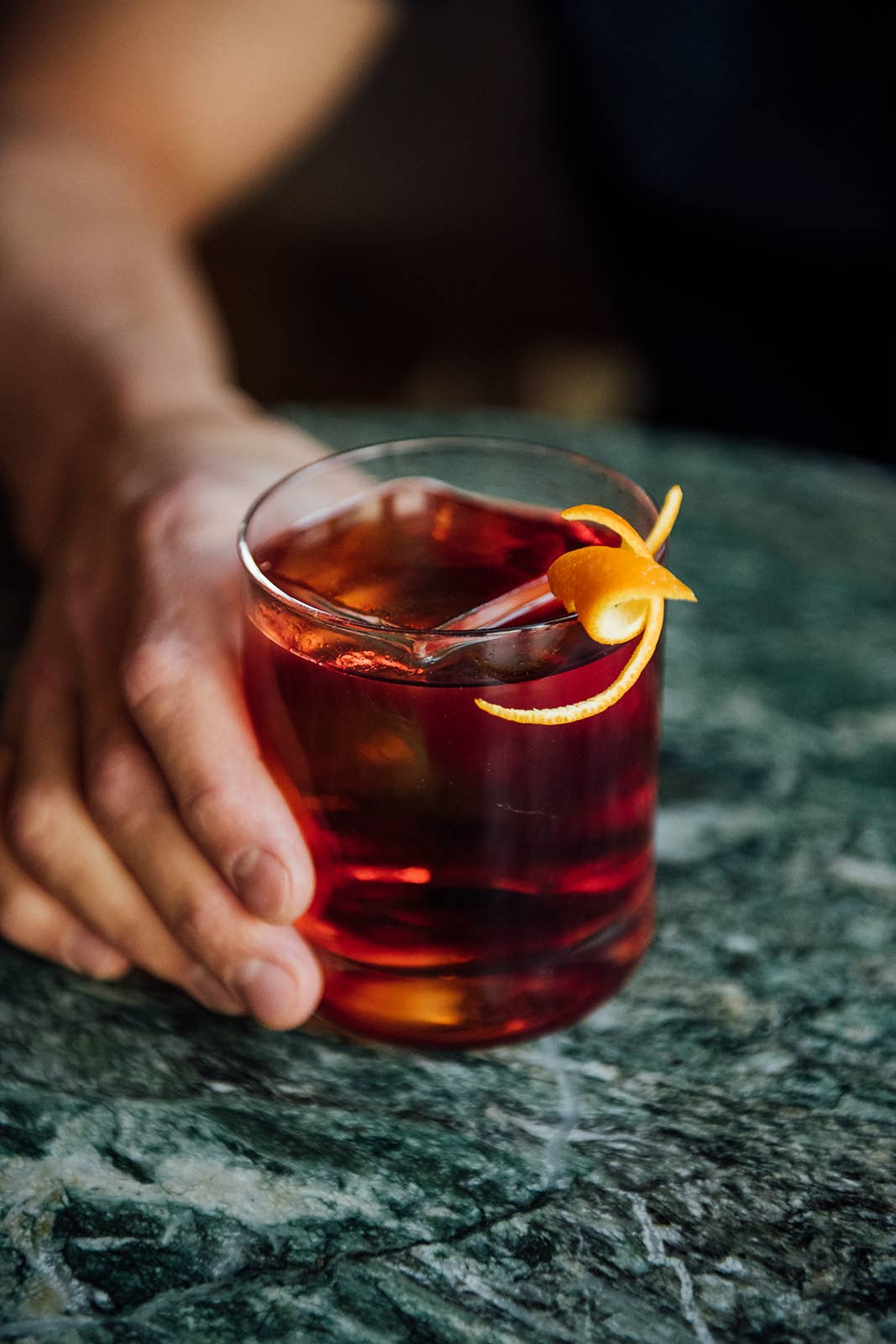 45 ml (1 ½ oz) mezcal
30 ml (1 oz) red vermouth
30 ml (1 oz) Campari
Orange zest
Pour all ingredients into a mixing glass.
Stir with a spoon 10 to 15 times.
Pour over a large ice cube* in an old-fashioned glass.
Gently squeeze orange peel over glass to extract essential oils and use as a garnish.
*If you don't have large ice cubes, simply pour the ingredients into an old fashioned glass filled with ice and stir with a spoon.
One wish for 2023?
Kate : One of the things I really liked about 2022 is that people are more adventurous than ever with their cocktails. In 2023, I'd like to see people take charge of what they want to drink. Sometimes customers will sit at the bar and ask me, "What's your favourite cocktail?" My taste is not your taste. Ask better questions: "What are your bestsellers? Me, I like cocktails with a kick." Be more specific in your requests to help servers and bartenders better cater to your wants and desires, while keeping your sense of adventure.
Manu : Drink better. Drink well. Take the time to drink well.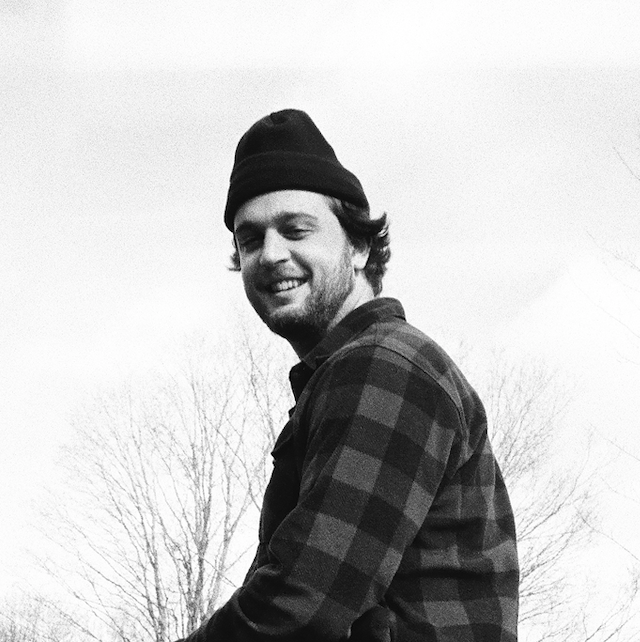 Artwork by Gabriel Sabourin
A Montrealer and graduate in graphic design, Gabriel finds inspiration in the purity of technical drawing and leverages his offbeat sense of humour to create captivating worlds. His two greatest passions are illustration and animation.