Maple products are trendier than ever. In Quebec, maple has been part of the culinary culture for centuries. These days, chefs, mixologists and foodies are more passionate about it than ever. From Germany to Japan, maple is making headlines. But what's got everyone buzzing? "It's a natural product, and a symbol of terroir just like wine," explains Nathalie Langlois, Director of Promotion, Innovation and Market Development for the Producteurs et productrices acéricoles du Québec.
"Much like wine, maple syrup exhibits a complex aromatic profile," Langlois tells us. "Depending on when it was harvested, the temperature at which it was evaporated, and the evaporation method used, you might get hints of vanilla and caramel, or woody, spicy and floral notes — there are no fewer than 88 flavours in total according to Agriculture Canada and Centre ACER's flavour wheel! Syrup now falls into one of four colour classes: golden (delicate taste), amber (rich taste), dark (robust taste) or very dark (strong taste). It's an incredibly versatile, all-four-seasons kind of food. It also exhibits umami* properties, which is why maple elevates mains, soups, meat dishes, desserts and so on…"
*Umami is one of the five basic tastes alongside sweet, salty, sour and bitter. It's found in maple as it is in mushrooms, bacon, Parmesan, seaweed, tea and other foods. Umami can be expressed in smoky, salty and caramelized notes, or sometimes all three at once.
For chef Arnaud Marchand at Chez Boulay, a boreal bistro in the city of Québec, it's the richness of its flavours that makes maple one of his absolute favourite ingredients. "I use maple in all its forms, in all kinds of recipes, often to replace refined cane sugar — like for a duck breast glaze. It's also delicious with smoked meat or oven-roasted carrots. But beware of sugar overload! If I deglaze shallots with maple syrup, then I add a bit of vinegar for balance. Too many people only think maple when it comes to sweets and pancakes — and it's too bad," concludes Marchand.
Sap-sprung liqueurs and other products
So of course, in maple country, there's the famous syrup that's become increasingly complex and varied, sometimes aged in whisky barrels or flavoured with coffee, bacon, yuzu, and so on. There are also all the other dreamy derivatives like maple sugar, taffy, butter, flakes, jelly and even pure maple water, bottled at the very start of the season, which just so happens to be NAPSI certified.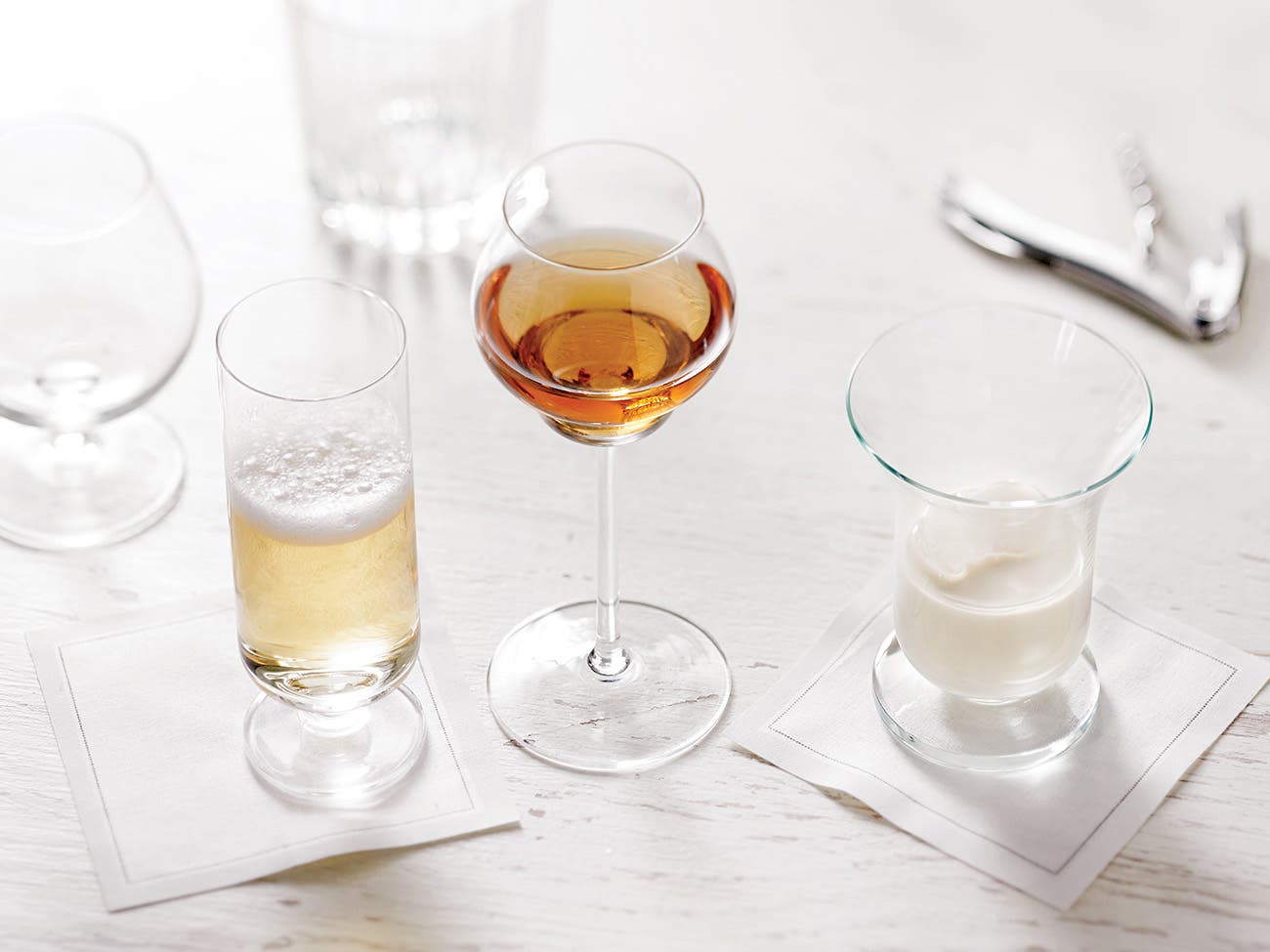 Nowadays, you can also find a wide variety of libations graced with the many flavours of maple. The SAQ offers a great variety of maple products! On one end, there's cider, beer, spirits, whisky, gin, vodka, cream beverages and whisky liqueurs, like the very popular Sortilège and Coureur des bois. On the other, there's wine and liqueur made exclusively from maple sap, which is first concentrated, then vinified, distilled and aged – or not – in oak barrels to make maple wine and spirits. Much like its grape-derived cousin, maple wine can come brut, dry, semi-dry, sweet, syrupy, still or sparkling.
Last but not least, fermenting and distilling maple sap allows you to produce maple liqueur. Among the pioneers in the field: Domaine Acer, located in the Témiscouata region, were the first to get a permit for the artisanal production of alcoholic beverages made from maple sap 20 years back. So what's the greatest asset for someone blazing their own trail? "Perseverance! We work incessantly to produce a more refined and more complex product," reveals Nathalie Decaigny, partner (in both senses of the word) of Vallier Robert, who has dedicated his family's maple farm to this end. It took Robert relentless passion, years of research and development, on top of internships in Alsace, Champagne and Charente to gain expertise. A year ago, Domain Acer teamed up with Rimouski's Distillerie du Saint Laurent and the Eastern Township's Distillerie Shefford to launch a new maple liqueur called Acerum. It's a new category of spirits that's unique to Quebec, and it's following in the footsteps of French cognac, Scotch whisky and Caribbean rum.
Intermiel Gélinotte Maple alcoholic beverage

|

375 ml

Canada

,

Quebec

Available

Online

Available

In store
Patrice Plante, founder of Monsieur Cocktail, also makes a point of featuring local products, especially Quebec's most emblematic maple. "I discovered Acerum last spring. I'm also a huge fan of wines and sparkling wines from Domaine Labranche," he explains. Among his favourites: Réduit de Léo, which draws inspiration from an old tradition hailing back to maple sugaring season, when the one tending the evaporation process would add gin to the reduced syrup. We must tip our hats to Quebec's very own The Subversives Microdistillery for creating such a unique spirit based on its famous gin. "What a fabulous product!" exclaims the mixologist. "I love drinking it straight up, at room temperature. You can also serve it on the rocks — preferably with one large cube, to avoid diluting it too much."
How do I serve maple spirits? "Straight up, at happy hour or as a digestif, but also in cocktails to replace gin or vodka," Plante points out. He loves mixing maple flavours with ginger, cranberry and freshly squeezed orange juice. His Cosmo recipe, for example, blends maple liqueur, pure cranberry juice, Cointreau or fresh orange juice with a dollop of maple syrup.
For best pairings, Plante advises you to have fun with freshness at happy hour: Pair dill-topped salmon gravlax with a sweet maple cocktail. You could even add a butternut squash soup with orange to the mix and top that off with sunflower seeds. At the end of the meal, opt for cheese, nuts and fruits instead of sugary desserts.
To fill up on cocktail and recipe ideas, go to maplefromquebec.ca