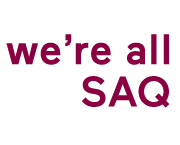 « One benefit of working here is the support we get in our education. I am currently completing my MBA. »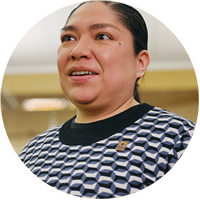 Ana Bertha Gallegos Barcenas
In 2004, Ana Bertha Gallegos Barcenas left Mexico with her family to settle in Quebec. While studying tourism, she had taken a viniculture and enology course, and that was when she discovered a passion and her future profession, wine, which led her to the SAQ. Today, this Dom Pérignon Golden Vines scholarship winner tells us the story of her love of wine and her impressive career path.
Ana, tell us about how you got where you are today – your early days here in Quebec and in the wine world.
I discovered wine and tasting in a viniculture course at university in Mexico. On arriving in Quebec, I got an attestation of vocational specialization in wine stewardship from the École hôtelière et d'administration de Laval. That was when I really fell in love with wine: it's alive, it tells a story, speaks of a culture, a geography and the winemaker – and that's in addition to all the organoleptic qualities revealed when tasting.
So I decided to apply for a job at the SAQ to learn more. At first, I worked as a cashier-salesclerk while continuing my management studies at HEC-Montréal. Today, I have the pleasure of managing a store team while also pursuing my passion for wine.
You recently received one of the three Dom Pérignon Golden Vines scholarships from the Gérard Basset Foundation to help you complete the prestigious Masters of Wine program. That's quite the accomplishment.
What does it make you feel?
I'm really proud! It just goes to show that everything is possible in life. I come from an immigrant family that almost never drinks alcoholic beverages. Before going to tourism and hotel school, I had never even tasted wine! Today, I manage an SAQ store, hold an MBA in viticultural management, have a Wine and Spirits Education Trust (WSET) level 4 diploma and am enrolled in the Master of Wine Program, one of the most prestigious titles in the wine world.
What are the next steps for you?
I currently study theory and taste daily to prepare myself. It's like training for the Olympics; the athletes have to train every day and be very disciplined. The preparation for this three-year program is long and the first exam, in London, is in June 2023.
What does the scholarship you won mean for you?
The Dom Pérignon Golden Vines scholarship covers all the tuition fees. I'm especially proud because this financial assistance is intended to support diversity in the wine world, and that's an issue I care about.
How does the SAQ help with your development as a wine expert?
The SAQ is the only place in the world with access to wines from 80 different countries. That gives me an advantage for expanding my knowledge, tasting and learning. As part of my job in the store, I taste a lot with the team members to discover new products. Also, I get to taste new products with the Category Management team. So yes, my work contributes significantly to my training to become a Master of Wine.
What's your favourite wine these days?
That's a tough question! I like just about all wines, provided they're well made.
I'd say that these days I have a soft spot for wines from Rioja, like the Ramón Bilbao Edición Especial.
Why come to work at the SAQ?
To meet challenges in a dynamic company that gives back to society, led by a passionate team whose know-how is recognized.