That is why we are taking action to change things.
While curbside recycling long seemed the most ecological, affordable and straightforward solution for recovering glass, we now agree that, despite all the efforts made and a recovery rate in excess of 85%, the results leave something to be desired.
The SAQ's 5 main priorities
Lightweight and alternative containers
Because reduction at source is preferable to even the best recycling method, we require our producers to bottle all under $20 regular and continuous replenishment specialty wines sold at the SAQ in lightweight glass bottles. This makes up 80% of our regular and continuous replenishment specialty wine sales and we are continuing our efforts to switch other categories to lightweight glass.
Want to know about the subject? Read our article on lightweight glass our Myths and reality section, or listen to our podcast on the subject (French only).
Reuse: modernizing the bulk wine experience
Together with its partners, we want to reinvent the bulk sales concept in Quebec. We will use our customer experience expertise to develop an offer of quality bulk wines sold in attractive settings that will surprise and seduce customers.
This initiative, which is in line with current food industry trends, will encourage bottle reuse.
Deposit-return
We are currently working with all industry partners to swiftly develop and implement a deposit-return system for SAQ bottles and other glass containers. We aim to build one or more solutions that work well for the environment, consumers, merchants and restaurant/bar owners and that meet our expectations and those of Quebecers when it comes to keeping our containers out of landfill.
Learn about the pilot project at the SAQ Dépôt in Terrebonne and see how the SAQ is making a real difference. Learn more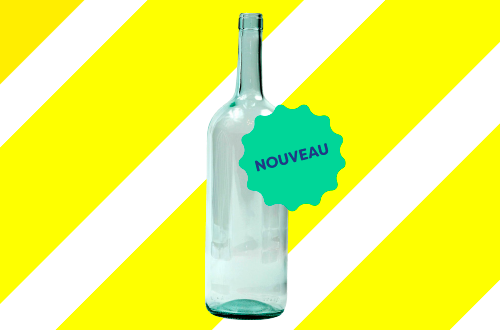 Remelting green-coloured glass
We are working with industry stakeholders to come up with scenarios for reusing and selling recycled glass containers, ideally in Quebec.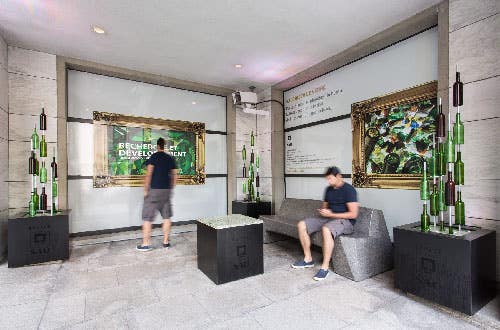 Glass powder and its prospects
We are intensifying our efforts to promote awareness of glass powder and increase its use. Why, some might wonder, when we already intend to establish an industry to reuse our bottles.
Because we sell some 235 million bottles annually that come from the four corners of the globe. Local bottlers cannot use all of them.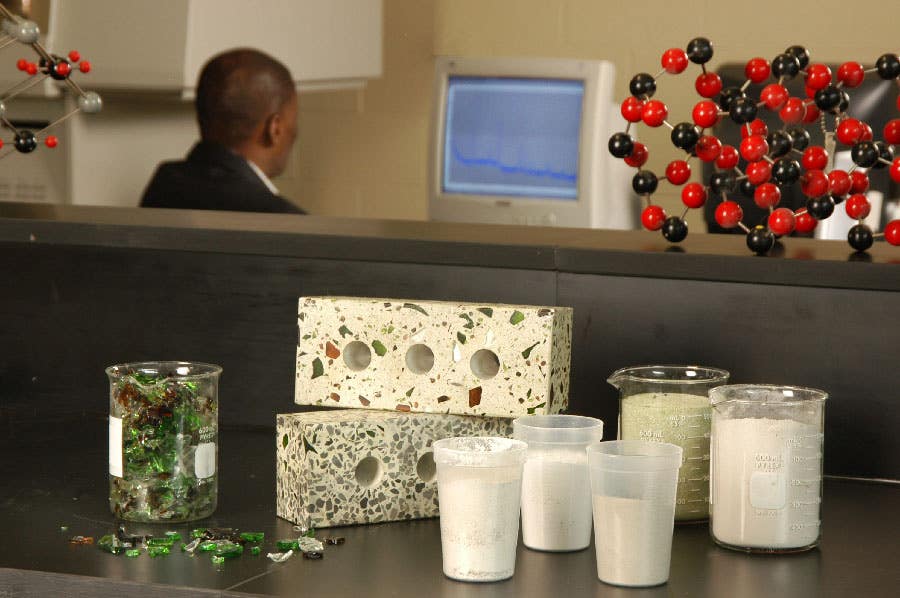 Because if a material cannot be recycled, finding a second use for it remains an ecological way of dealing with it. Also, using glass powder in concrete helps:
improve concrete performance (durability, impermeability and strength);
reduce the greenhouse gasses emissions resulting from the cement manufacturing process;
reduce the environmental impact of construction projects.
Ground glass in concrete: a made-in-Quebec solution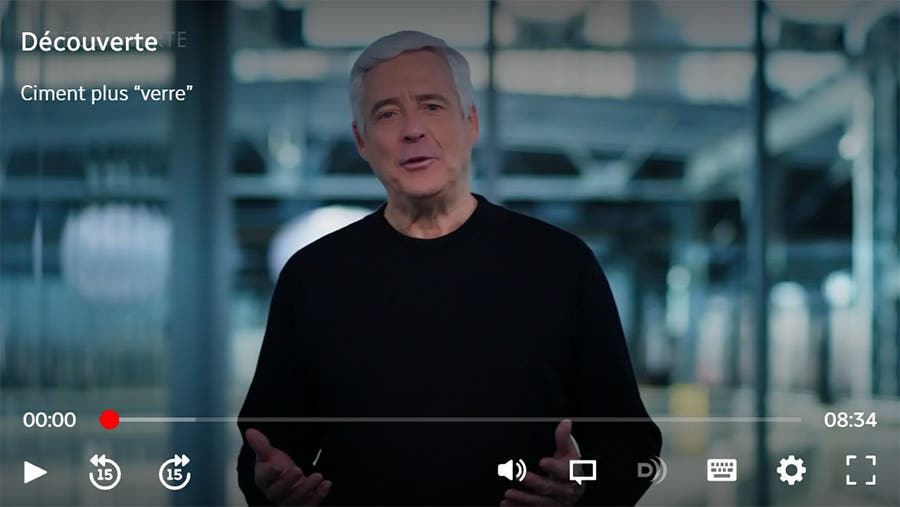 Watch the Découverte report (French only) to understand the significance of the work of the SAQ Chair.
Funded by the SAQ since 2004 and with its partnership now renewed through 2024, this research has resulted in:
the issuing of a patent for the discovery;
recognition of the effectiveness of glass powder as a replacement for cement in concrete in Canada by the CSA-A3000 Cementitious Materials Compendium standard and the ASTM International C1866 standard in the United States;
Millions of glass containers have thus found a second life as a cement replacement in municipal sidewalks, street furniture and pavers.
Did you know that the SAQ acts as a test bed for all these innovations? For example, we have used the equivalent of nearly 3 million wine bottles in the form of recycled glass in a hundred or so projects (flooring, furniture, mulch, etc.).
Paillis de verre
Le paillis de verre recyclé est fabriqué à partir de contenants de verre finement concassés. Comme il est principalement constitué de verre de diverses couleurs (clair, vert, ambré) transformé en un sable grossier, il arbore une coloration vert pâle rappelant celle de la pistache. Il n'est pas toxique et ne coupe pas. Le paillis de verre recyclé est issu d'une collaboration avec Albert Mondor, horticulteur et créateur de jardin renommé. Consultez le devis d'utilisation pour savoir où l'acheter et avec quelles plantes l'utiliser.
Du paillis de verre dans l'aménagement paysager (pdf)
Devis d'utilisation du paillis de verre recyclé en aménagement paysager (pdf)
1988
The first SAQ environmental policy promoting the introduction of curbside recycling and use of recycled materials.
1991
Funding for the introduction of curbside recycling in Quebec, with an annual contribution every year since.
2005
Creation of the Chaire SAQ de valorisation du verre dans les matériaux at the Université de Sherbrooke to find ways for glass to replace cement in concrete, a funding commitment renewed four times to date.
2006
Participation in the Table de récupération hors foyer.
2008
Investment with Recyc-Québec in the Centre de recherche industrielle du Québec (CRIQ) to fund an initial study on making precipitated silica from post-consumer glass.
2008
Publication of the first SAQ sustainable development plan, including social and economic dimensions and coinciding with the coming into effect of the Sustainable Development Act.
2014
Funding, in collaboration with Éco Entreprises Québec and the Ville de Montréal, of the ÉTS (École de technology supérieur) project to increase demand for post-consumer glass by incorporating it into pavement structures and asphalt.
2016
Participation in the Innovative Glass Works plan to upgrade Quebec sorting centres and support market development with the end goal of recycling 100% of recovered glass.
2020
Active participation in the consortium for the modernization of the deposit and involvement in ÉEQ's expanded curbside recycling committee.
Brief
Brief following the Committee on Transportation and the Environment relating to Bill 65, An Act to amend mainly the Environment Quality Act with respect to deposits and curbside recycling (french only, PDF 4.8 MB)