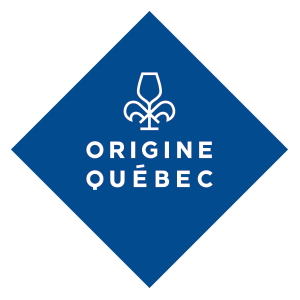 oThe Ubald team starts off by explaining that the distillery's main differentiator is that the local soil is the basis for crafting their spirits. Ubald is one of only three Quebec distilleries where, in addition to making alcohol, the owners work with agronomists to promote a circular economy, from grain to bottle. Growing, harvesting, fermenting, distilling, and bottling all take place on site. And any ingredient that isn't grown in their fields comes from other local producers, like the potatoes from Patates Dolbec that aren't sold commercially. The result is 100% Quebec gin from the Portneuf region.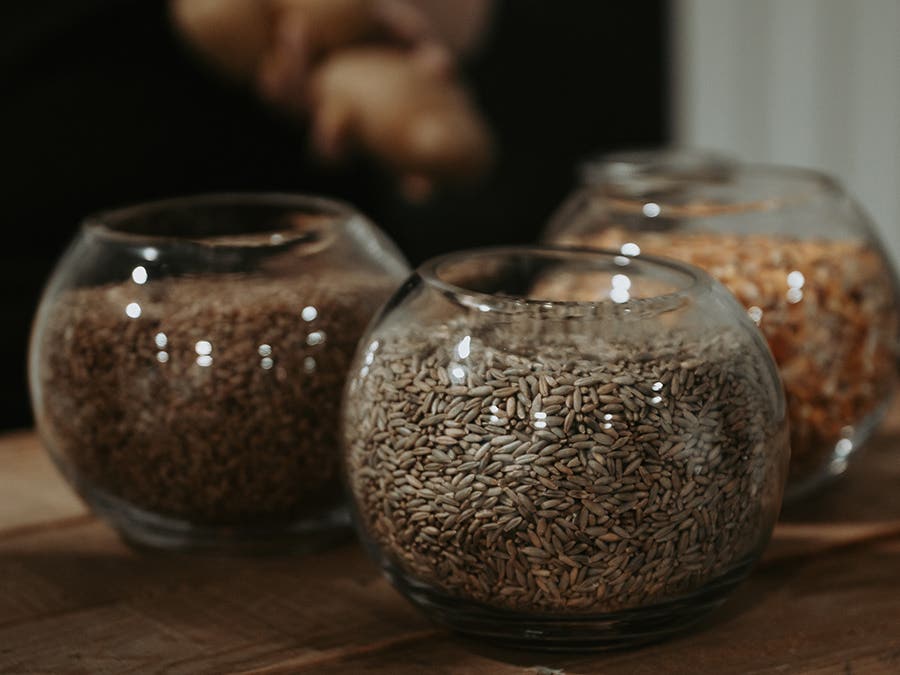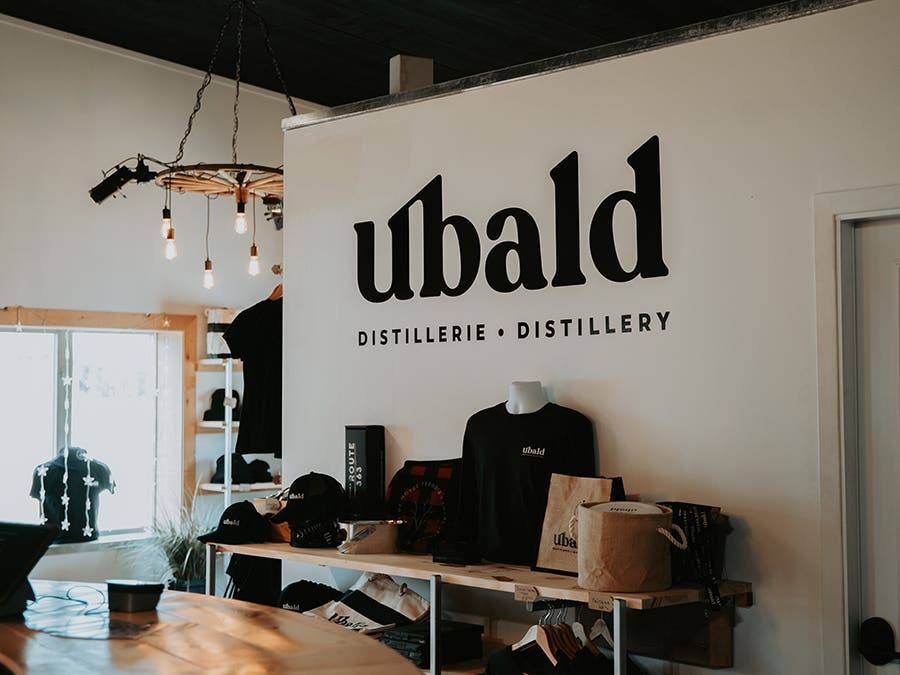 Originality and authenticity
Owners Pascale Vaillancourt, Hugo D'Astous, Stéphan Dolbec and Josée Petitclerc founded the distillery during the pandemic. Despite the challenges that posed, they never lost sight of their objective—to offer an authentic, one-of-a-kind product that showcases flavours unique to the region. Ubald's spirits are the result of different secret recipes made with local products. On my visit to the distillery, I particularly enjoyed smelling and discovering the herbs and spices used to enhance their premium alcohol, such as rosemary, lemon balm, juniper berries, sea buckthorn, and many more.
Passion and devotion
My visit to Ubald taught me that thinking big and dreaming big is a beautiful thing, even when the odds are stacked against you. I discovered an attractively decorated distillery and a fully functional warehouse. Just over two years ago, the old building was completely run down, according to the owners… It's incredible what they've managed to do with it! What's more, they needed specific, high-performance materials to make their spirits. Their Italian-made still left me speechless—such a gargantuan and majestic piece of equipment! It alone warrants a visit—and why not, given that the distillery's doors are now open not just to lovers of gin and vodka, but to anyone who wants to learn more about Ubald's story and the making of its products.
The owners shared their future plans with me, and I'll tell you a secret: they have even more surprises in store! My tour wrapped up with a tasting, and I found out I have a weakness for their Vallée Herbaceous Gin and its notes of rosemary, which I'll use the next time I make mojitos or Gin Caesars. Many thanks to the entire team for such a warm welcome and for introducing me to their Origine Québec products. I couldn't have chosen a better day than the Saint-Jean Baptiste holiday to discover this local treasure!
Discover Distillerie Ubald's products
Ubald Vallée Épicé Dry gin

|

750 ml

Canada

,

Quebec

Available

Online

Available

In store

Ubald Vallée Gin Floral Dry gin

|

750 ml

Canada

,

Quebec

Available

Online

Available

In store
Distillerie La Manufacture is tucked away in the heart of the Laurentians, in Sainte-Agathe-des-Monts. Laurent and his father welcomed me into their hideaway to share the story behind their products—from the famous Panacée gin and Narval vodka to all the new eaux de vie bursting with local flavour.

Read more

In June, Distillerie Grand Dérangement founder and CEO Marcel Mailhot invited us to his new distillery, inaugurated in the spring of 2020. It's there, in Saint-Jacques in the Lanaudière region, that it all happens—with the smallest carbon footprint and the largest circular economy, from ground to glass.

Read more

After meeting Madeleine Dufour from La Famille Migneron in Baie-Saint-Paul, I finally understood what she meant by "In Charlevoix, there's something you can't explain." I went there to learn about what they make and was able to see the world through their eyes by discovering their inimitable products

Read more