It all started on a trip to London. With a tumbler of a particularly exquisite whisky in hand, Paul Cirka started imagining his very own blend. It was time to give a certain measure of nobility back to Québec whisky.
Putting his words into action, he found a space along Lachine Canal in Montréal, just a stone's throw from the emblematic silos of the Canada Malting Company. In 2014, he and his small team of passionate artisans launched Cirka Distilleries.
It was a tremendous challenge. Without any experience in distilling, the group was driven to learn and expand its knowledge to create products of the highest quality. After countless internships, training sessions and distillery tours, Cirka was finally ready to get started. Isabelle Rochette, sommelier and now head distiller at Cirka said it best: "No matter how much you study the theory, the beauty of our profession is that you learn on the job."
When he set out to make his own whisky, Paul Cirka had to play the long game, since whisky production is no easy feat, especially for an unseasoned microdistillery. Because whisky requires a maturation period of at least three years, Cirka made the most of its time to become part of the local landscape and get things up and running with Vodka Terroir made from Québec corn.
Grain to glass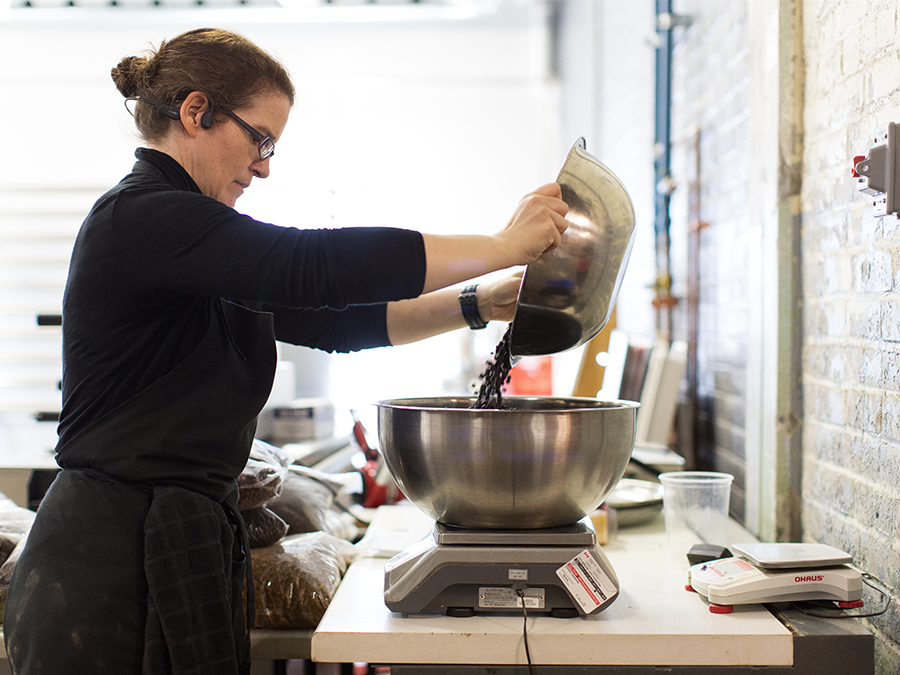 Inspired by the quality of homegrown products from across the province, Cirka became the first Québec microdistillery to produce spirits from grain to glass—a concept that is still somewhat secondary here and relies on local, rather than imported, grain for the alcohol base. In most of its products, Cirka uses Québec corn that it grinds, ferments and distills it in its Montréal facilities.
"In addition to having very good potential for transformation into alcohol, the corn we grow in Québec is high quality and readily available. That's why we chose it," explained Isabelle Rochette. "We were among the first who were crazy enough to produce grain to glass. It gives us full control over our base product to make it perfect."
In addition to using Québec corn as a raw material, the microdistillery continues to make its blends from local ingredients. For example, the recipe for Gin375 requires a measure of honey to balance the flavours, so the Cirka team set out to taste honeys made by different beekeepers from across Québec. In the end, Miels d'Anicet was chosen for the way it complements the alcohol's flavour profile.
"We have to be realistic," said Isabelle. "We want to prioritize Québec products whenever we can but it's all about the balance between availability and quality. We can't access everything locally, and we'll always choose quality first to provide an excellent product. We invest every effort in working with Québec products. When we can't, we at least try to use local suppliers and support the local economy."
A story behind every bottle
There's a story behind every Cirka Distilleries product.
There's the tale of Paul ambling through an ancient forest and breathing in air thick with northern aromas he then worked into a bottle. Inspired by the essences around him and the emotions they triggered, he developed a complex product that blends 33 aromatics: Gin Sauvage.
Cirka Navy Strength Flavoured dry gin (orange)

|

500 ml

Canada

,

Quebec

Available

Online

Available

In store
There's the tale of Royal Navy officers who, while at sea, were allowed a daily shot of gin mixed into a citrus cocktail to stave off scurvy. It inspired Cirka Distilleries to create a gin with an orange twist and higher alcohol content: Navy Strength Gin.
Finally, there's the tale of the city of Montréal itself. Leaving nothing to chance, artisans worked in collaboration with a Château Ramezay historian to identify ingredients that grew in the early settlers' orchards, fields and medicinal plant gardens and blend them into a gin: Gin375 Digestif, named Best Flavoured Gin in Canada at the 2019 World Gin Awards.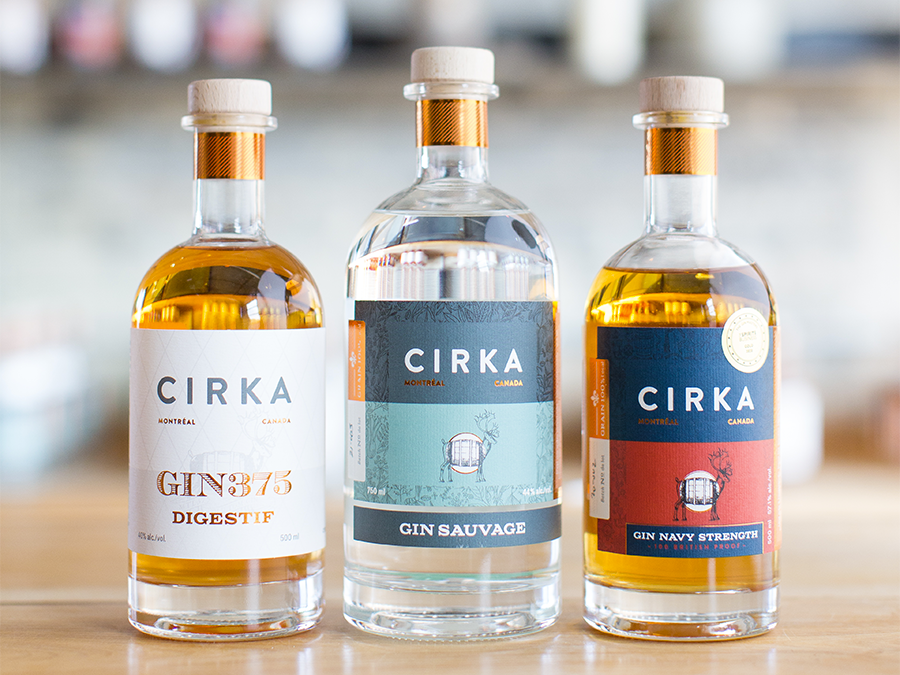 Small but mighty, the four-person Cirka Distilleries team works hard to offer unique products that reflect what is most important to each artisan. They are so in synch with their stills that they've even named them: Benjamin, Omer and Mario.
The creative process always starts with an idea that team members broaden with their own knowledge and strengths. "It's both exhilarating and unnerving because we want our finished product to live up to the quality of the ingredients," Isabelle confirmed. Once the idea is set, the artisans work to develop it. It takes the right mix of research, expertise and taste testing to blend the botanicals and, most importantly, a healthy dose of trial and error. For example, for every grain that is used, three different types of yeast are tested to find the one that is best suited the flavour palette. At every step in the spirit development process, the rejected blends are carefully recorded for reference and considered for future use.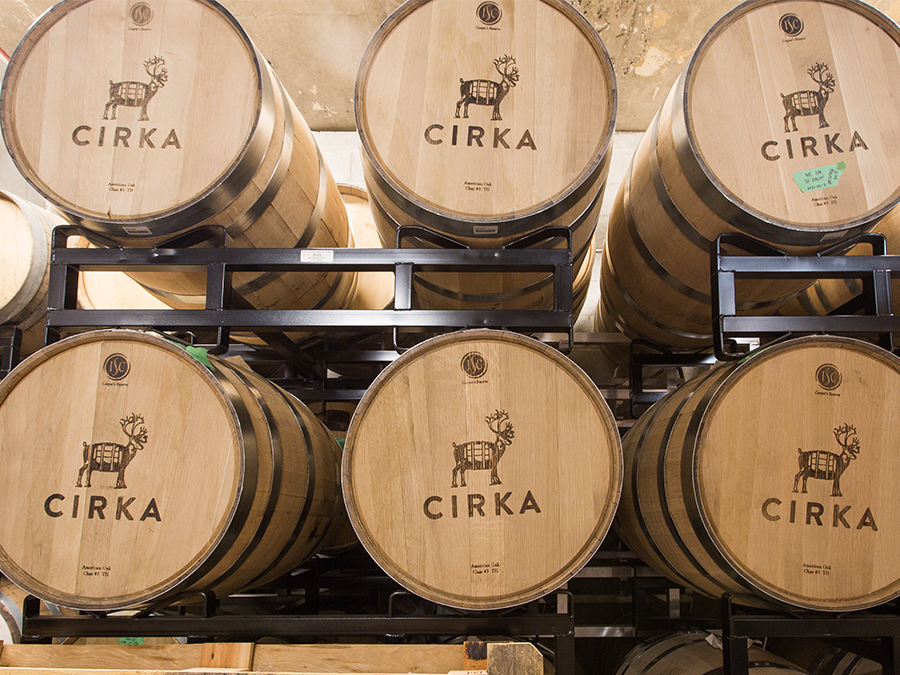 In 2019, after several years of patient work, Cirka launched its first whisky. Today, the team is concocting its third batch. One is 100% corn, the second is 100% rye and the third is 100% malted barley single malt. "My products are like my children. They each have their own personalities and quirks that make them unique, but, I have to admit, I have a soft spot for our whiskies," confessed Isabelle Rochette with a smile.
What's next for Cirka? Several collaborations, including a cocktail mix made from Vodka Terroir and other new products. The team even has a surprise that's a complete departure from anything it has released to date up its sleeve. Until the mystery liquor is bottled, why not try one of the many products created with passion and care by Cirka Distilleries? Cheers!