If you still think wine from Germany absolutely must have gothic lettering, golden borders, or embossed ancient castles on their labels, it's time to take a closer look. In reality, you can expect trendy designs, modern lettering, bright colours, and a sense of humour. And the wine inside the bottle? Just as fresh and modern as the bottle's revamped look.
With the wind of change blowing over German wine nowadays, you no longer need a phD to figure out if a nice bottle of Riesling is a Himmelreich or a Zeltinger Sonnenuhr, or a Kabinett and Feinherb style. Of course, a few guidelines can help, but it is possible to find a friendly-looking bottle of Riesling without a wine bible and English-German dictionary, and chill it in time for cocktail hour.
We are fully confident that the wine will be energetic, crisp, and the perfect start to a relaxing, comforting evening, followed by no-fuss sushi or mushroom pasta. German wines are versatile when it comes to pairings: a ripe, refreshing white pairs nicely with brunch egg dishes and Indian curries, whereas a Pinot Noir with notes of red fruit and a hint of spice is perfect for simple grilled dishes or sautéed wild mushrooms.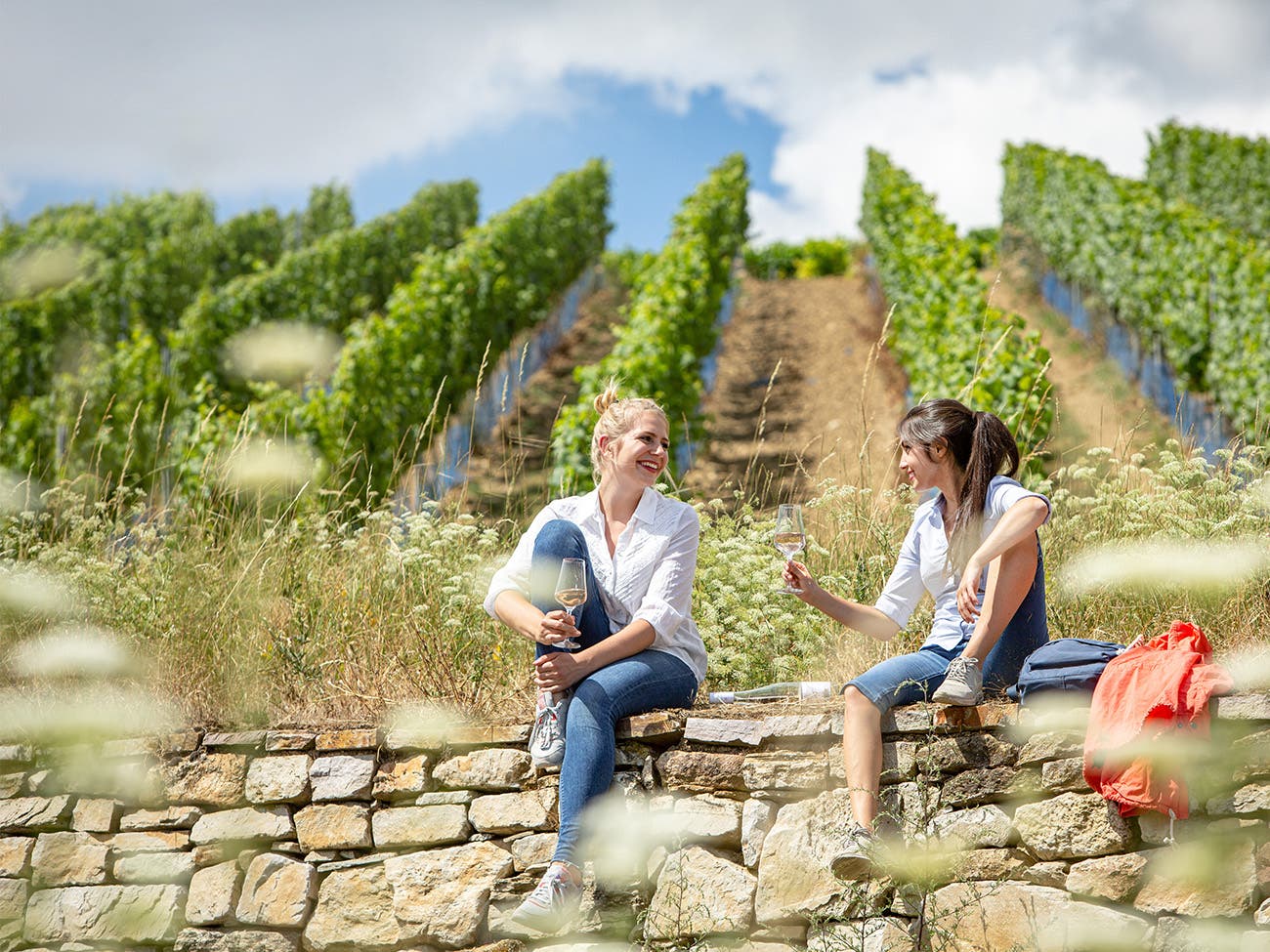 Accessible, versatile wines
With a more Nordic character, most vineyards in Germany are located around the 50th parallel, at the same level as Vancouver and the Southern Labrador region. With such conditions, even with global warming, it's no surprise that German wine is known for its freshness and liveliness, and low to moderate alcohol levels. It lines up with the current trend of adding wine to a healthier lifestyle with a lighter, more thirst-quenching drink.
The Riesling, which remains Germany's dominating variety, fits in especially well with this trend, thanks to its mineral notes, often floral touch, and fruity aromas that focus on citrus or white fruits, such as lemon, lime, green apples, etc. Even when it's more ripe or full-bodied, with peach notes or flirting with tropical accents, its crisp acidity gives it character and great pairing opportunities at the table. From pork sausage to grilled shrimp to poultry and cheese, it cuts the fat and makes your meal easier to digest and more enjoyable. Plus, it can age for years (if not decades) without losing its energy.
An overview of German vineyards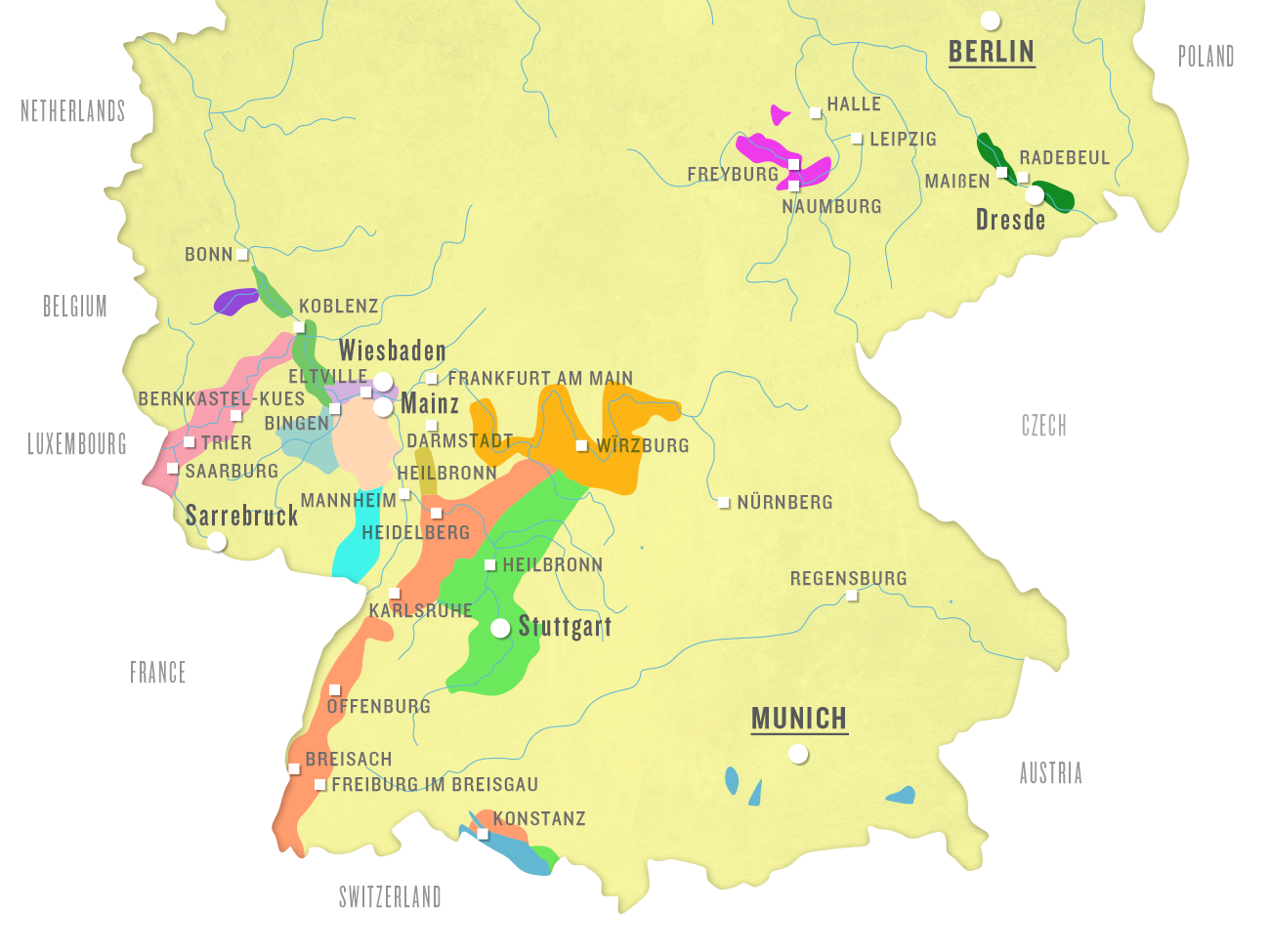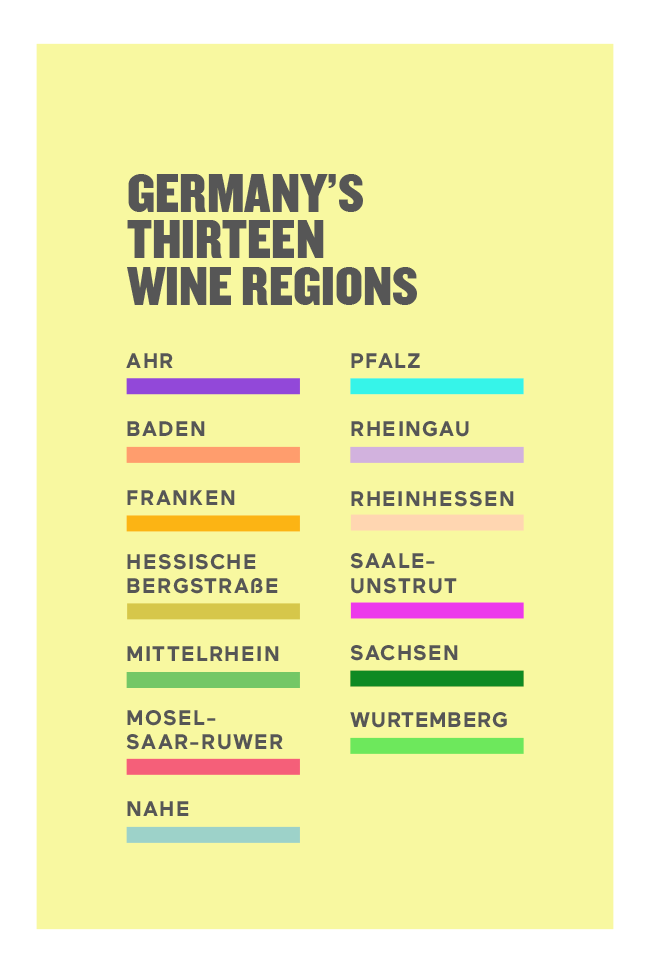 One word to remember
Whatever the variety or colour you choose, there's still one word to look out for to fully appreciate today's German wines: trocken, which means dry. Nearly half of wines from Germany that are sold in Quebec fall into this category, which must have at least 9 g of sugar.
In short, the old white, which was very sweet and sort of heavy, is a thing of the past. The focus is now much more on freshness and minerality. This also holds true for reds, namely distinguished Pinots Noirs, which benefit from warmer vintages to gain in personality and finesse – at prices that help forget the inflation that hit Bourgogne this past decade.
Enjoying wine from Germany doesn't have to be complicated. However, there's no lack of options out there for you to explore. There's also lots of potential pleasures if you're willing to take the time to discover the incredible terrace vineyards in the high slopes of Mosel, Franconia's wonderful Sylvaners, the varieties of Pinot Noir, Blanc, or Gris, or the surprising finesse of a Muscat. Better understanding the interaction between sugar, acidity, minerality, and fruity aromas in a great sweet Riesling (Spätlese or Auslese), patiently aged in the cellar, can also be very rewarding. After all, geeky is cool too, right?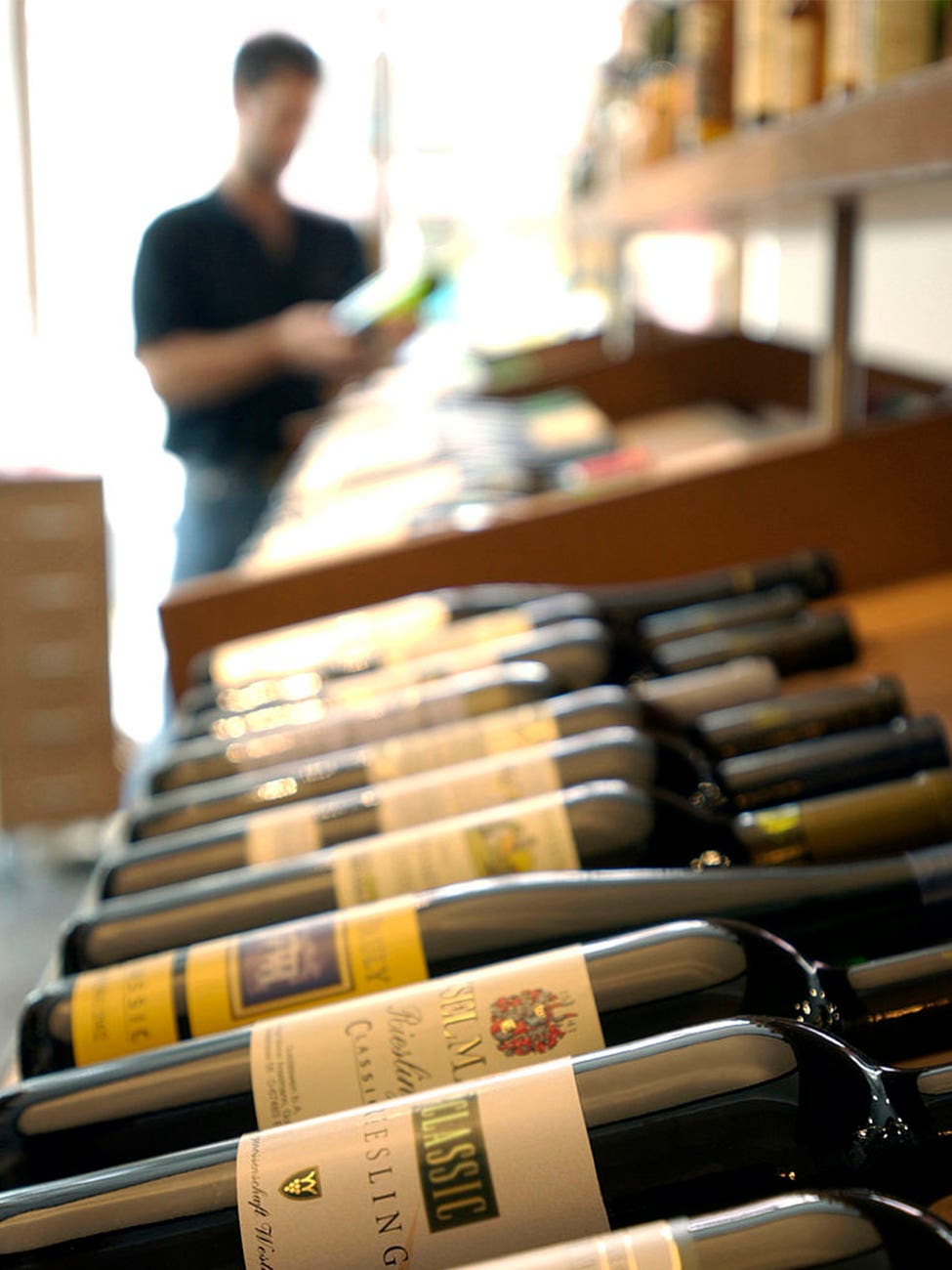 Photo: Deutsches Weininstitut (DWI)
How to read a German label fairly easily
Wine is wine, but the German terminology is not as clear for the average Quebec wine-lover than the terminology used on French or even Italian wines. On the labels, some information is obvious, like the producer's name, the year, the variety (Riesling, Pinot Noir, Pinot Gris, etc.), and the country itself, but let's look beyond the basics, shall we?
The region: The name of the region, from the 13 known to German authorities.
The city and/or vineyards: The name of the commune with the suffix –er (Kallstadter, Wehlener, etc.) is often mentioned.
The quality category, associated with the level of maturity when harvested. In order of growing maturity (and of natural sugar level at the time of harvest), the mentions of Kabinett, Spätlese, Auslese and, for liqueur wines, Beerenauslese or Trockenbeerenauslese, are called Prädikat. In short, several producers only mention the basic "quality wine," or Qualitätswein category.
The style of the wine, based on the level of sugar that remains in the wine: trocken (dry, less than 9 g of sugar per litre), halbtrocken (semi-dry, 9 to 18 g), lieblich (semi-sweet, 18 to 45 g), or süss (sweet, more than 45 g).
The VdP, a private grouping of 100 of the best producers in the country, has adopted a Burgundian classifying system by region, town, or first or great vintages (Erste Lage or Grosse Lage). Wines classified as GG, for Grosses Gewächs, are at the top of this list.
Available

Online

Available

In store
Available

Online

Available

In store
Not available

Online

Available

In store
Frey Estate Organic Riesling 2020 White wine

|

750 ml

Germany

,

Rheinhessen

Not available

Online

Available

In store
Available

Online

Available

In store
J.Bäumer Riesling 2021 White wine

|

750 ml

Germany

,

Rheinischer

Available

Online

Available

In store
Okonomierat Rebholz Muskateller Trocken Muscat 2019 White wine

|

750 ml

Germany

,

Pfalz

Not available

Online

Available

In store
Fio Wine Ratzelhaft Riesling 2015 White wine

|

750 ml

Germany

,

Mosel

Not available

Online

Available

In store
Dr. Riesling Kabinett Mosel White wine

|

750 ml

Germany

,

Mosel

Not available

Online

Not available

In store
Peter & Peter Riesling Mosel 2019 White wine

|

750 ml

Germany

,

Mosel

Not available

Online

Available

In store
Stefan B. Ress KG Ressi Grauburgunder Pinot Gris Rhein 2021 White wine

|

750 ml

Germany

,

Rhein

Not available

Online

Available

In store