Production, distribution, virtual orchard visits… the couple have no shortage of ideas for getting around the lockdown!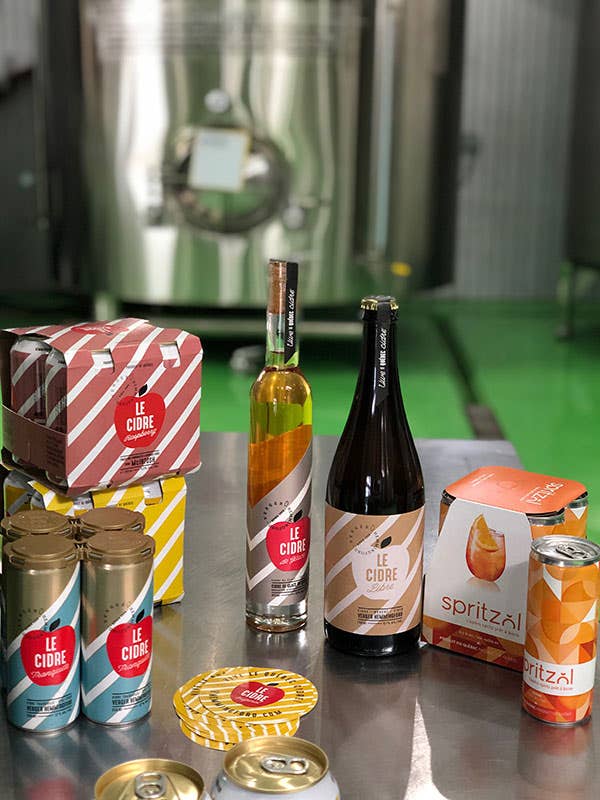 There's always an effervescence in the air at Verger Hemmingford, and not just in the fermentation tanks. Their equipment is working at full capacity to can their ready-to-drink ciders, Original, Raspberry, and Tranquille, and to bottle their famous Cidre de Glace. Not to mention Spritzöl, a cider-based spritzer made with 100 percent natural ingredients certified as "Aliment du Québec," on which the couple have pinned a lot of hope. "We're focusing on the distribution of our star products until they become the Quebec ciders," explains François Pouliot, reached by phone.
He and his spouse, Stéphanie Beaudoin, have a lot of projects to brag about, never mind the social distancing measures currently in place. To start with, there's the show Occupation double: Le Cidre, produced as part of Quebec's Cider Week, which is taking a break this year. "Since we can't invite everyone to come and celebrate cider here at the orchard, we're bringing the cider to you!" enthuses Beaudoin.
For five days, Verger Hemmingford will open its virtual doors to enable Quebecers to follow the activities of their team (broadcast on Facebook and Instagram). "Every encounter will offer an intimate look into our universe," explains Pouliot. "Quebec is apple country, like it says in our slogan 'Long live Quebec cider!' We produce excellent ciders made with eating apples. That gives them a character that's unlike any other cider in the world. I find that so cool!"
Making the best of a bad situation
This is their thing in a nutshell—bouncing back after a hardship and aiming even higher. Even the cidery's history is a testament to their resiliency. When he acquired an old stone house in the middle of an orchard in 1994, François Pouliot, a film producer, had no idea that this farmland was about to become the source of his livelihood, under the name of La Face cachée de la pomme.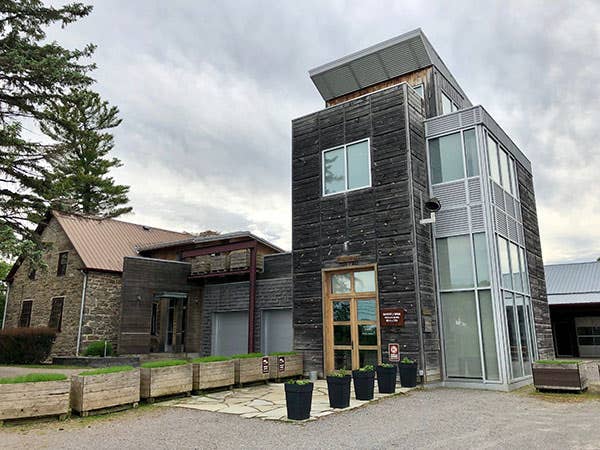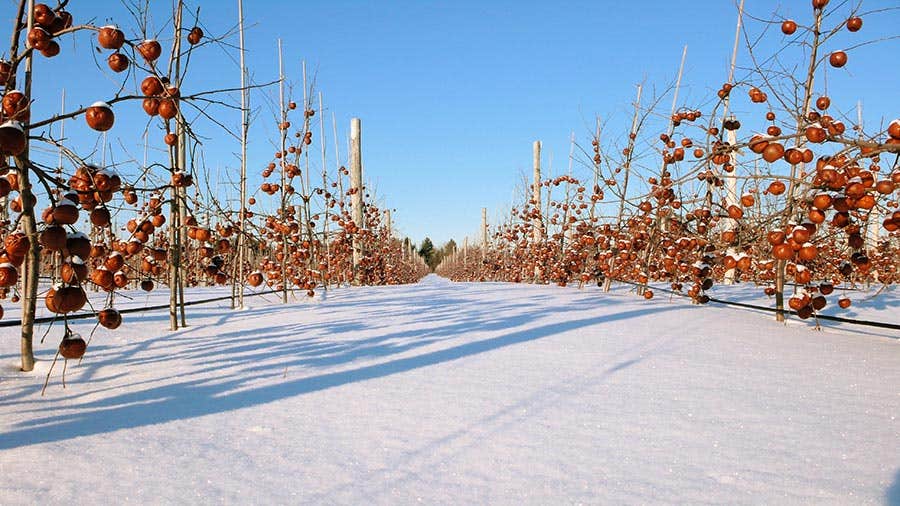 In tandem with Christian Barthomeuf, the inventor of the ice cider recipe, he participated in the development of cryoconcentration (where the juice is put outside to freeze) and cryoextraction (where the apples freeze on the tree), two processes that are today recognized under the Protected Geographical Indication (PGI) for Quebec Ice Cider. All's well that ends well, Stéphanie, a visual artist, then made her entrance into François's life and the couple devoted themselves to the cidery, their products garnering many prizes and honours.
In the summer of 2018, La Face cachée de la pomme was placed into other hands for the duration of a legal saga. "Fortunately, we remained owners of the property," notes Pouliot. "Thanks to a crowd-funding campaign, we were able to buy back the equipment and relaunch our business under the name of Verger Hemmingford."
One year after the relaunch, the couple are exploring new avenues, both in terms of the production of a sparkling cider produced in a single-serving format as well as the design of their cans and bottles. "We're communicating our passion for the land. I hope that when people drink our ciders, they'll remember that we make good things here in Quebec!"
Le Cidre Tranquille Verger Hemmingford
This traditional cider, entirely comparable to a white wine, exhales aromas of ripe apples and honey. Fruity, lively, and fresh with slight bitterness, it goes well with sushi, ham, white meat, fish, and raclette.
Verger Hemmingford Le Cidre Tranquille Traditional cider

|

4 x 250 ml

Canada

,

Quebec

Available

Online

Available

In store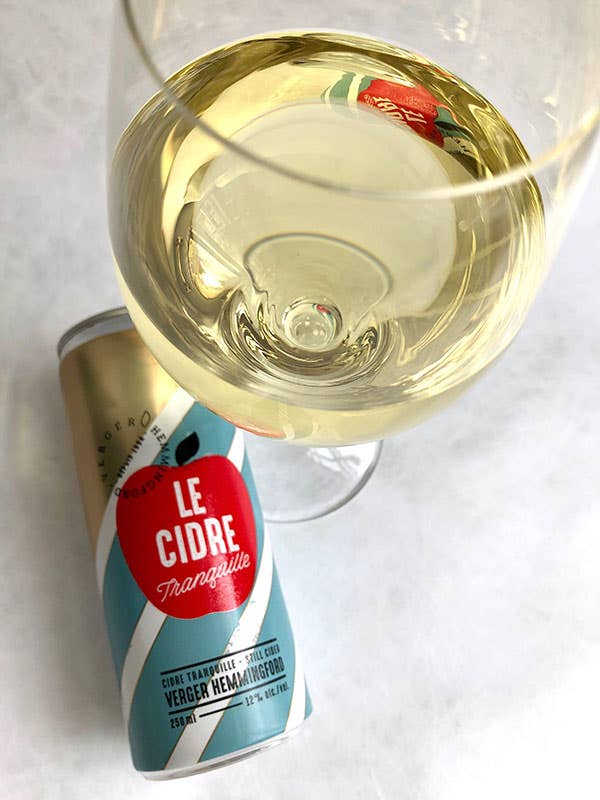 Le Spritzöl Verger Hemmingford
This made-in-Quebec, cider-based spritzer combines the flavours of citrus, bitterness, sweetness, and bubbles. To be consumed in a large wine glass filled with ice with a slice of orange, accompanied with appetizers, crackers, olives, and nuts.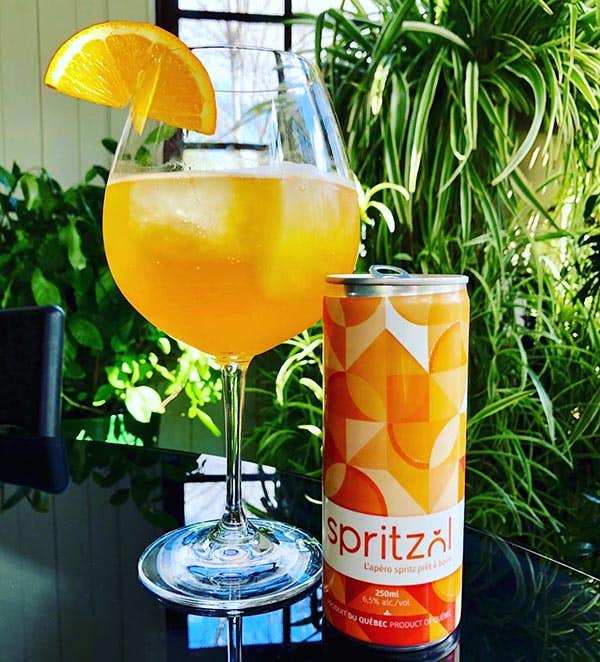 Verger Hemmingford Spritzöl Sparkling cider

|

4 x 250 ml

Canada

,

Quebec

Available

Online

Available

In store
Le Cidre Raspberry Verger Hemmingford
Made from freshly pressed juice, this sparkling cider is flavoured with natural raspberry extract. It can be brightened up with a mint leaf or some basil.
Verger Hemmingford Le Cidre Raspberry Sparkling cider

|

4 x 355 ml

Canada

,

Quebec

Available

Online

Available

In store
Le Cidre Original Verger Hemmingford
This easy-drinking, sparkling, refreshing cider is among the drier ready-to-drink ciders on the Quebec market. Lively and light on the palate, it can be served over ice or with gin.
Verger Hemmingford Le Cidre Original Sparkling cider

|

4 x 355 ml

Canada

,

Quebec

Available

Online

Available

In store
Le Cidre de Glace Verger Hemmingford
This ice cider, the cidery's signature product, presents aromas of apple, pear, cardamom, and apricot. To be consumed chilled and with hard rind cheeses for the best possible pairing!
Verger Hemmingford Le Cidre de Glace Ice cider

|

375 ml

Canada

,

Quebec

Available

Online

Available

In store