La Chaufferie is the brainchild of Bryan Furlong and Vincent Van Horn, who shared the slightly mad dream of founding a distillery. Bryan, a former attorney, thought about transforming the shed behind his home to make his own gin but was deterred when his friends worried his work-life balance could get a little off-kilter.
Vincent, a skilled distiller with experience in beer, wine and spirits, wanted to hone his expertise and find himself a business partner. A mutual friend connected him with Bryan at a sit-down at Archibald, in Granby.
The very same day, as they toasted to their success, Bryan and Vincent decided to visit a vacant building next door to the restaurant—the boiler house of an Imperial Tobacco plant that shuttered over 50 years ago. With its high ceilings, red brick walls and huge windows, the place had tremendous potential. "As soon as we walked in, we knew it was what we wanted," Vincent says with a laugh. In 2019, after big-ticket renovations, La Chaufferie was ready to start turning up the heat.
Rye, from grain to bottle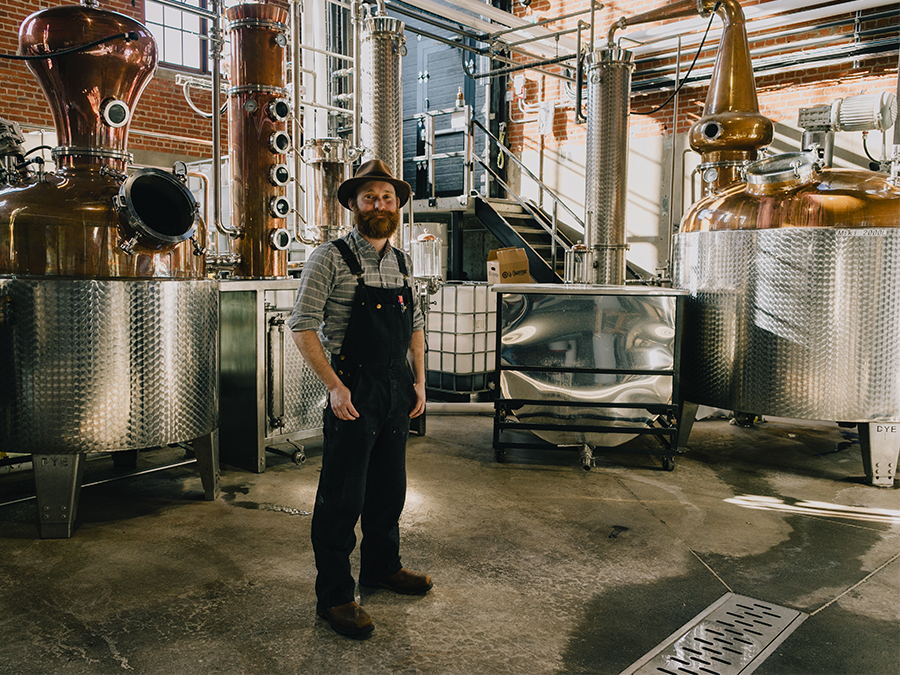 All of La Chaufferie's products are grain to bottle. "Fermentation and distillation are what I'm passionate about," explains Vincent. "There was no way I would ever buy my base alcohol." Grain to bottle production is a challenge, but Bryan Furlong was all in. "We were going to produce anyway, so why not do everything from A to Z and have complete control over our products?" he says.
The distillery works closely with local farmers and especially Québec's rye producers, since the grain serves as its base alcohol. "For us, there were a number of benefits to using rye," says Vincent. "First, it has a complex taste with a spicy edge that gives the alcohol a lot of character." Rye is also suited to Québec's climate. It sprouts quickly, even in cold temperatures, and doesn't need pesticides or herbicides to grow.
For the team at La Chaufferie, rye also provides a longer-term edge because the distillery has set its sights on making its own whisky in the tradition of classic Canadian ryes.
Fine products, bold character
Once it's harvested, the rye is fermented and distilled in small batches. The three-step distilling process is what gives each product its own depth of character. "The beauty is that our spirits are made from the same fermented base, but when you taste them, you can't really tell because the flavours are so distinguishing," says Vincent.
Distillerie de La Chaufferie Lemay Vodka

|

750 ml

Canada

,

Quebec

Available

Online

Available

In store
Lemay vodka
With its classic profile, Lemay vodka is La Chaufferie's very first product. Thanks to rye, it develops a beautiful aromatic complexity and smooth finish.
Furlong gin
La Chaufferie had always planned to distill its own gin, but not just any gin! Moving away from the floral and northern aromas that have sprung up across the market in Québec, it decided to go back to basics with a recipe developed by Bryan and augmented by Vincent that's not too far from a London Dry with its rich and spicy notes.
Distillerie de La Chaufferie Furlong Dry gin

|

750 ml

Canada

,

Quebec

Available

Online

Available

In store
Distillerie de La Chaufferie Sugar Shack Liqueur

|

750 ml

Canada

,

Quebec

Available

Online

Available

In store
Sugar Shack Rye
Ahead of its first batch of whisky, La Chaufferie launched Sugar Shack Rye. Vincent found insight in dark rum, in which molasses balances out the intensity: "We decided to make something rooted in Québec's terroir using young rye to which we added some maple syrup." The result is a smooth digestif that isn't too sweet—the perfect introduction to the wide world of whisky.
Limited batches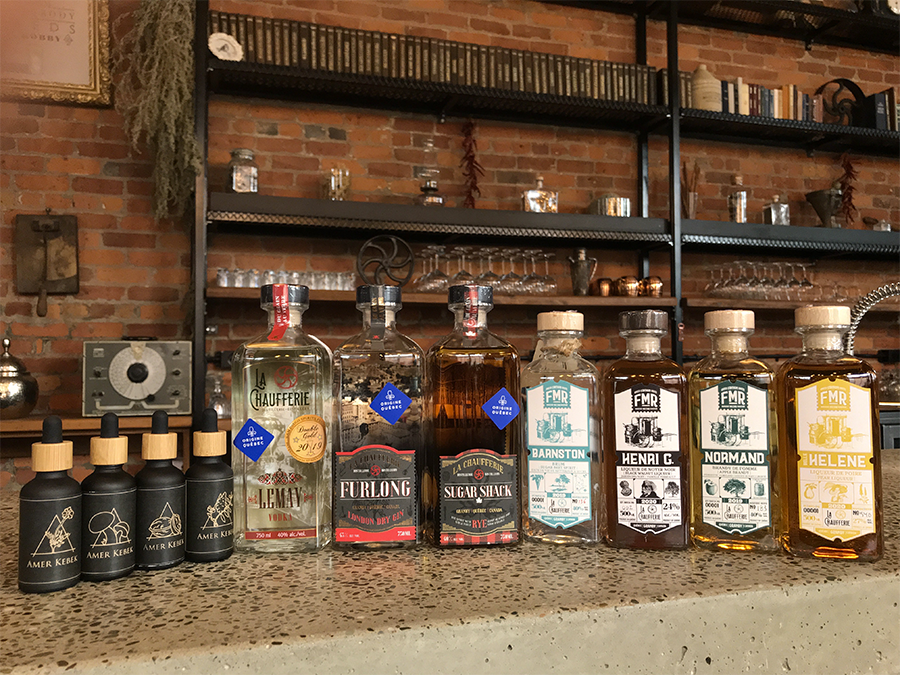 The artisans at La Chaufferie aren't short on inspiration and often look to their own community for ideas. Since its founding, the distillery has worked hand-in-hand with a number of Québec growers, turned to seasonal ingredients and recovered by-products to give them new life in special releases.
While the efforts avoid wasting quality raw materials, they also create challenges that distillers must tackle with ingenuity. Thankfully, the results are worth it. Some of the ephemeral products will soon become permanent fixtures in La Chaufferie's line, including the Henri G. black walnut liqueur that harks back to traditional amaretto and Frangelico.
But La Chaufferie isn't trying to reinvent the wheel. "We like reading up and finding out how others work to duplicate the process and add our own personal touch," Vincent says. From its classic spirits to limited-edition series, La Chaufferie dreams up products that stem from hours and hours of research and careful work to craft only the most extraordinary releases.