The glassed-in building looks so much like a super-modern airport you might think you got the wrong address. Even the actual airport located only a half-mile away doesn't hold a candle to this light-filled space showcasing enormous copper stills for distilling fine spirits: light vodka, fragrant gin, rye whisky, ginger liqueur…
Our host, outfitted like a renegade—baseball cap, tinted shades, tattoos, and a classic rock T-shirt—presents us with his spectacular bar featuring a 360-degree view. "I'm Pierre Mantha, I'm from Gatineau, and I was a heavy truck mechanic before I built my own distillery," he says, pointing to his garage in the parking lot. He then tells us about the three franchises he started and an aborted attempt at expansion five years ago. "I was 45 and looking for a new challenge."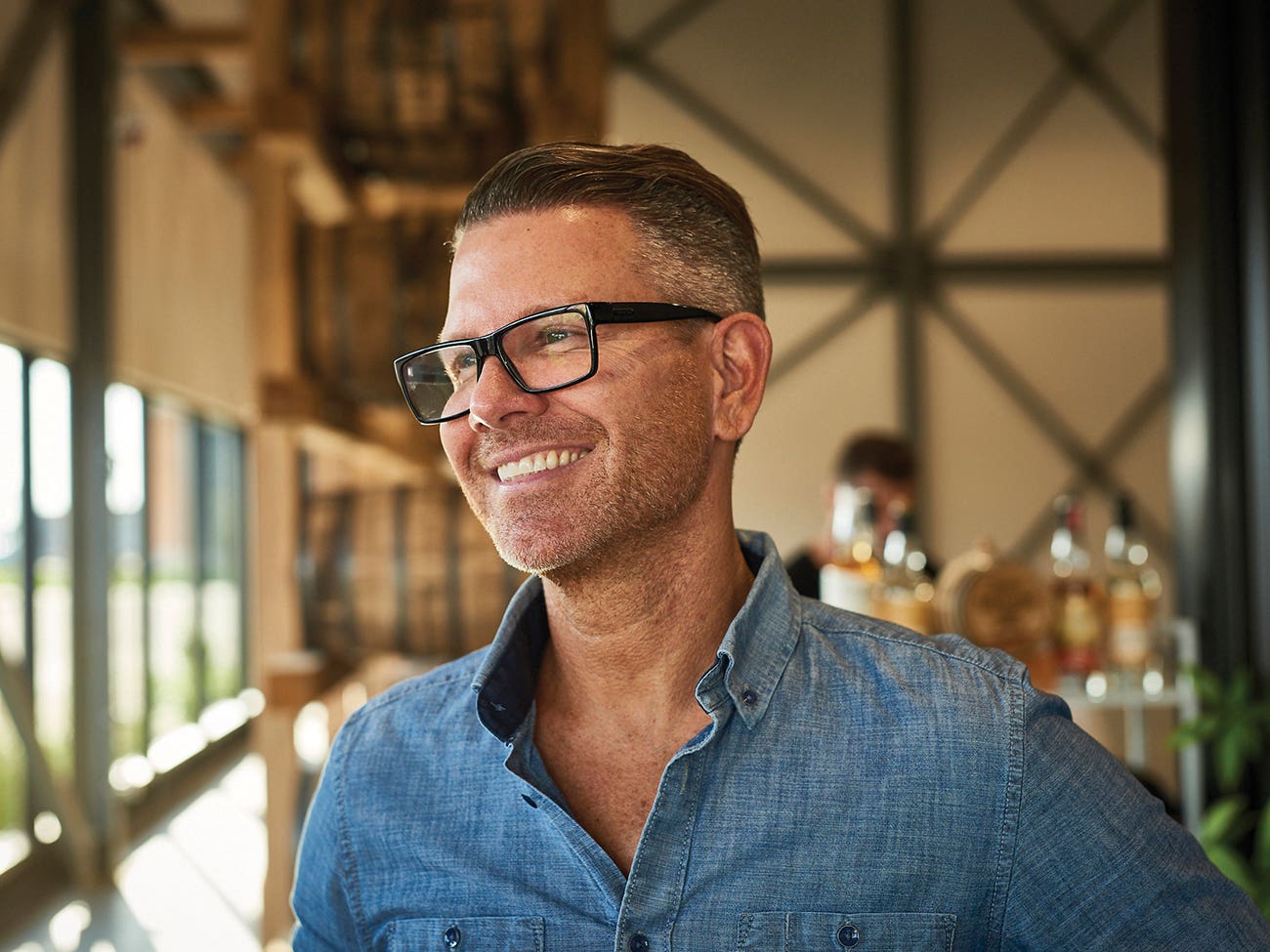 AiR Distillerie is an extraordinary project launched by Pierre Mantha, whose goal is to push the boundaries of convention by offering innovative, exciting and one-of-a-kind spirits.
Abundant raw materials
A friend of his who was travelling in Colombia gave him the initial idea for the business. "He said, 'In Quebec you have so much water, which is the main ingredient in spirits. Open a distillery!'" That got our flamboyant businessman thinking. What interested him about the idea wasn't so much the alcohol—"For me, drinking means trouble"—nor the distillation process—"I knew nothing about distilling"—but the idea of building a cool-looking factory that resembled an open kitchen.
The owner of an immense industrial lot on the outskirts of the city, Mantha recalled that one of his neighbours had tapped into a water vein in the area. "I called him to confirm that there was actually a source of groundwater out there in that neglected patch near Highway 50. He said yes. I had it excavated, then invested in a filtration system. That solved my water problem!" For the corn he needed to make the neutral spirit, he simply approached the nearby Deschardins family farm, which had been cultivating the grain for four generations.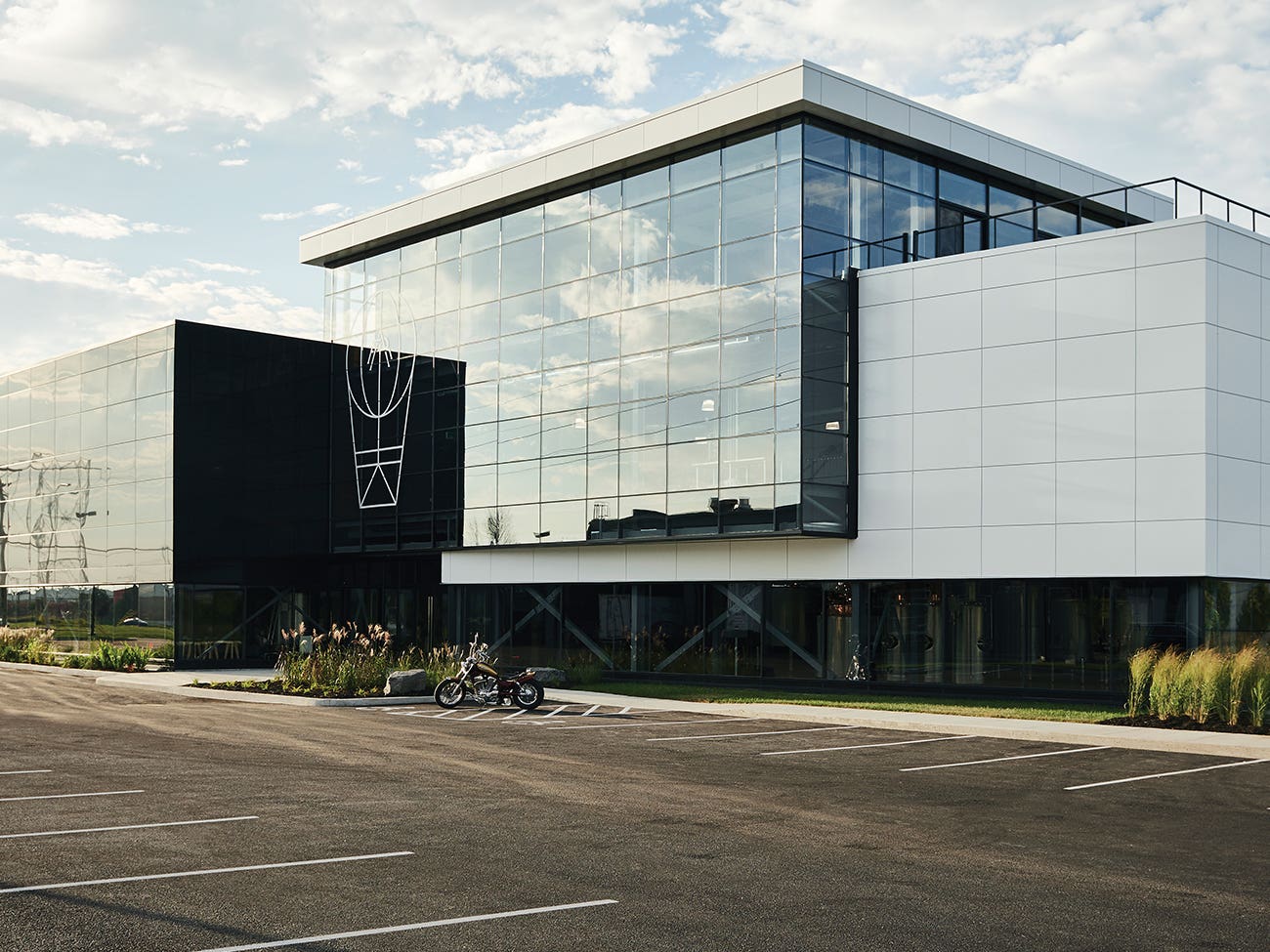 A crazy idea
The intrepid visionary then had to learn more about the world of distillation. For one year, he toured distilleries in the United States. "California, Florida, Louisiana… I visited a good 20 places. Surprisingly, not one of them had functional equipment. And none were able to tell me how many bottles they had sold," he states.
He had no intention of making a distillery that would be just a hobby, nor of hiding it away in a secret shed somewhere. He was going all the way! "The trend now is to learn about the provenance of foods and to watch the chef at work. That's what guided me towards an artisanal facility in a transparent space and the creation of unique recipes made from 100% local products. From the grain to the glass, everything is made in-house," he says.
With his natural charisma and iron will, our "adrenaline-burning hustler" was able to convince his backers. Five million in investments and three years of construction later, the factory was in place. In the spring of 2018, everything was ready to start bottling. First appeared a light vodka with 30% alcohol, followed by Waxwing Bohemian Gin, which is already ranked amongst Quebec's best gins, then Kilinger Rye, a rye-and-corn-based rye whisky, and Mayhaven, the country's first ginger liqueur.
Each product was inspired by a non-conforming artist — a perfume maker, a pyrotechnician, a DJ — which is where the name AiR, or "Artist in Residence," comes from, not to mention its location next to the airport. "In fact, Pierre is the artist!" explains Pat Chartrand, AiR's Marketing Director, smiling. "He's the one with drive, and we're here to drive the rest of the team."
In line to become the largest distillery in Quebec in terms of volume, AiR Distillerie produces 300,000 bottles annually and will soon have a dozen brands on the market in Quebec, Ontario and South America. Mantha's next challenge? To make the distillery a tourist destination renowned for its tastings from Toronto to Los Angeles. "I want Quebecers to be proud of what we've accomplished, of what we've made here. And this is just the start!"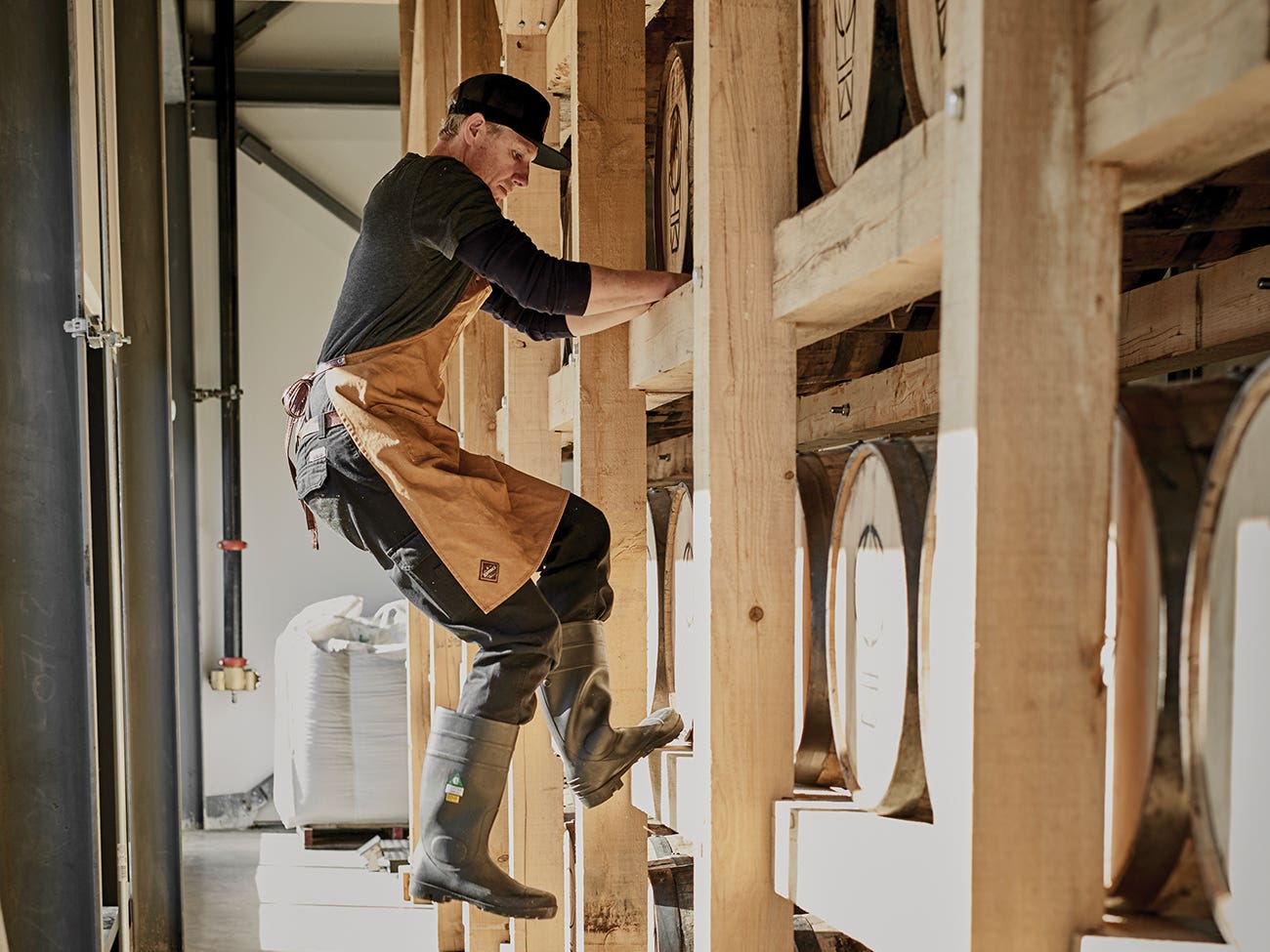 Distillerie Artist in Residence Vodkalight Vodka

|

750 ml

Canada

,

Quebec

Not available

Online

Available

In store
Artist in residence distillerie vodkalight
The first light vodka made in Canada (with 30% alcohol), this low-calorie, coconut- and sweet corn-flavoured spirit is a leader in its category. Serve it over ice with soda water and lime, or even with cranberry juice or kombucha. Like wine, it pairs well with fish.
Distillerie Artist in Residence Waxwing Bohemian Dry gin

|

750 ml

Canada

,

Quebec

Available

Online

Available

In store
Artist in residence distillerie waxwing bohemian
This gin, redolent of berries (juniper, wild rose and rowan) and with a natural golden colour evokes the boreal environment of its ornithological namesake, the waxwing. Serve it with tonic or over ice. Perfect as an aperitif, with cheese, cold cuts, or tapas.
Distillerie Artist In Residence Ginger Liqueur

|

750 ml

Canada

,

Quebec

Not available

Online

Available

In store
Arstist in residence distellerie mayhaven
This "illuminating spirit" with 30% alcohol is the first ginger liqueur made in Canada. Lightly spiced with a touch of lime, Mayhaven can be served as a shooter, an aperitif, or a digestif. Moscow Mule: 1 oz. (30 mL) Mayhaven (which replaces the ginger beer) + 1 oz. (30 mL) Vodkalight + lime juice + soda water.
Distillerie Artist in Residence Kilinger Rye Whisky

|

750 ml

Canada

,

Quebec

Not available

Online

Available

In store
Artist in residence distillerie kilinger rye
This white rye whisky inspired by 1850s-style gangsters is made from 49% rye and 51% corn that was locally grown. Gentle on the palate thanks to its distillation in copper stills, it can be served with cola, lemon-lime soda, or ginger ale.